RM hybrid machines save the environment from emissions and unnecessary noise. They also save the operator up to 25% in fuel costs. Find out why SARL Galgani TP & Recyclage has now brought an RM MSC8500e hybrid screen to the Côte d'Azur in addition to their RM 100GO! crusher.
| | |
| --- | --- |
| Country: | France |
| Machines: | RM 100GO! + RM MS105GO! RM MSC8500e 3D |
| Material: | C&D waste, asphalt, natural rock |
| Feed material: | 0-600 mm |
| Final aggregate size: | Crusher: 0,35 mm Screen produces four fractions: 0/4mm, 4/8mm, 8/20mm, 20/35mm |
| Final material use: | Varies by fraction: road base, backfill, aggregate for concrete |
The Côte d'Azur in France is world famous as a travel destination. Wherever tourism is an important source of income, construction companies often need to comply with special restrictions to avoid disturbing tourists and to protect the environment. This applies to Eric and Pierre Galgani in Vence, about 30 km west of Nice. "There are regular inspections to check compliance with noise and dust regulations in our region," says General Manager Eric Galgani. However, this is only one reason why the two company owners went for a hybrid screen from the RM Group at the beginning of this year: "The RM MSC8500e already saves us up to 25% on diesel costs during operation. And because a suitable power supply is available our site in Vence, here we can screen all-electric. Also, instead of producing three factions at the same time, we can now produce four. This is not only good for business, but also for conserving nature and our planet," says Eric Galgani.
Eric Galgani being interviewed
No problems, no downtime and high throughput
"Disposing of construction and demolition waste is expensive and increasingly difficult. That's why we started mobile recycling 15 years ago," Galgani says. Having experimented with jaw crushers, it quickly became clear that impact crushers produce better quality final aggregate. "The RM 100GO! is the right size of machine for our site here in Vence, where it spends most of its time. It produces a perfect value aggregate and the throughput for this size of machine is impressive. What is more, with the RM crusher we do not have any problems or downtime. The crusher just keeps running," says Galgani, satisfied. However, if help is needed, RM sales partner I.M.H. is quickly on hand. About one-third of the feed material is natural stone, while two-thirds is recycling material such as construction waste and sometimes asphalt. "Our two divisions, earthmoving and recycling, cross-fertilise each other. in 2015, we opened a second recycling site in Tanneron," says Galgani.
Clearly defined fractions needed for road construction
"Over time, our need to screen the crushed material to exact fractions also grew. 4/8 material in particular is needed for backfilling," explains Galgani. Whereas the old screen could only produce three fractions, the RM MSC8500e 3D adds a fourth fraction in just one pass. Screen produces 0/4, 4/8, 8/20 and 20/35 mm material. "The screen works extremely fast and extremely well. Having collected the material, we are usually finished within one day, sometimes just half a day. It's perfect because we can fold it away back into the transport position and park it to one side in just 10 minutes," is how Galgani describes the daily routine. Now that the business is thriving, the cousins are on the lookout for another potential recycling site in the region.
The combination of hybrid crusher and hybrid screen saves up to 30% fuel
Currently, the RM MSC8500e 3D is mainly used as a stand-alone screen fed by a wheel loader. By choosing a hybrid machine, the managing partners of SARL Galgani are already thinking ahead, because combined with an RM hybrid crusher they have an overall solution that saves up to 30% on the cost of fuel compared to crushers and screens driven by conventional diesel engines.
About SARL GALGANI:
SARL Galgani TP & Recyclage is a real family business. Cousins Eric and Pierre Galgani run the company. Eric's sister Sandrine and her husband Christophe are also involved, as are the sons of the managing directors. In total, the two cousins currently employ 22 people. The business segment includes earthmoving, road construction, sewer works, demolition and recycling. In addition to the site in Vence, there is also a larger depot in Tanneron. From here, the company covers the entire Département Alpes-Maritimes within a radius of approximately 50 kilometres. Exciting fact: Crushing seems to run in the family. Their grandfather bought a quarry in the region in the 1930s, where even back then a mobile crusher was in operation. After a few years, however, quarrying was banned there. In 2007, the current company "rediscovered" mobile crushing.
Our crushers in action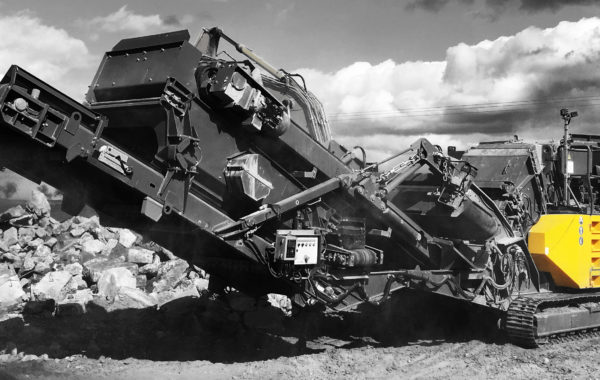 The RM 100GO! is the star among the mobile crushers – a mobile power pack for every application. It is ready for action within minutes and can handle a wide variety of materials extremely quickly. Weighing in at only 29 t when empty, it crushes up to 250 tonnes of material per hour.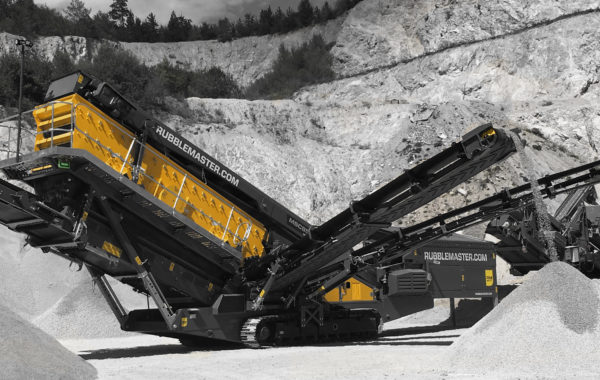 Produce up to five fractions in a single pass – that is what the RM tracked MSC series screens can do to give you a decisive advantage in the market. Depending on requirements, you can use 2-deck or 3-deck machines in quarries, for gravel and sand or for rubble.