Australian company NTEX is specialized in resource recovery. Following the desire to stand out and get the best out of their work, NTEX acquired a RUBBLE MASTER crusher, RM 120X, which was a game changer and a great success for the company.
Country
Australia
Customer
NTEX Demolition recycling and civil construction
Machine
RM 120X
Material
Concrete, C&D waste, asphalt
Feed material size
Depends on application
Final aggregate
Type 1 Fill – road base,

Type 2 Fill – crushed aggregate,

Type 3 Fill – subbase aggregate,

Select Fill, general fill, asphalt

Final material use
Varies by fraction: construction, road base, backfill, aggregate for concrete
Established in 2010, NTEX is a leading player in the delivery of civil projects, demolition services, and the recycling of construction and demolition waste. The company accomplishes a wide range of projects for clients in local, state and federal government, Defence, and private industry. NTEX provides a variety of services, which include crushing of C&D waste, asphalt, and concrete, depending on the customers' needs. Each project is unique and requires an individual approach: customers can bring the material for crushing and recycling to NTEX, or NTEX brings their equipment to the customers' job site and processes materials directly on the premises.
In recent years, NTEX has taken unique and innovative approaches to delivering high-quality projects and is now regarded as a key influencer on demolition methodology, defining industry policy and standards. Purchase of RM 120X was a big change for the company, as it brought their recycling projects to the whole new level. "We started crushing waste concrete and asphalt in 2020 and at the beginning we had a much smaller machine. As the time passed and our projects grew, we have realized that there is actually a really good market for not only the services, but also the end products that we were producing. Therefore, we decided to invest in another machine that would have higher capability. That is when we came across RUBBLE MASTER. Thanks to the Australian dealer, Tricon Equipment, we were able to research and learn about the crushing technology and processes used in RM crushers.", says Eileen Breen, NTEX business development manager.
Innovative technology that impresses
"What we really like about the machine is all the innovative features and the technology used for crushing. What is especially valuable for us is the ability to refeed the material until we get the desired end fraction, as well as the attached magnets that take out the metal, allowing us to further recycle it. Another highlight is the windsifter, which enables the separation of plastic parts. Thanks to all these features, the end aggregate is very clean and has a very high quality standard, it has been tested and certified by the Australian authorities for further use for the construction projects", adds Eileen Breen.
Crushed material complies with the Australian standard
After being processed with RM 120X, the crushed material is used again as raw material for construction projects. For example, the crushed C&D waste from the recent demolition project at the Waterfront in Darwin, Northern Territory of Australia, was certified by Australian authorities as type 2 aggregate and is being reused on the same job site for the building pad in the construction of a new Cultural Centre.
"Thanks to RUBBLE MASTER we have got a really clean end product. What's important, is that we can crush and screen up to Australian standards. This means that the aggregate has a very high standard, it's been tested and certified for further use. It is a superior product that comes out of RUBBLE MASTER. We are impressed with what we are able to produce", stated Eileen.
Allrounder in recycling
NTEX focuses on very environmentally tricky types of projects, covering rehabilitation and remediation works, as well as resource recovery. They find ways to reuse, repurpose or recycle a lot of different materials such as general concrete, concrete blocks, pads, and bricks. These projects wouldn't be complete without demolition jobs, which NTEX completes with their RM 120X. "On average, we can achieve about 93% resource recovery rate on our demolition projects which is very high. On some projects, we have up to a 98% resource recovery rate. We are always looking for ways to improve that and RM 120X is definitely helping us with it", sums up Eileen.
Our crushers in action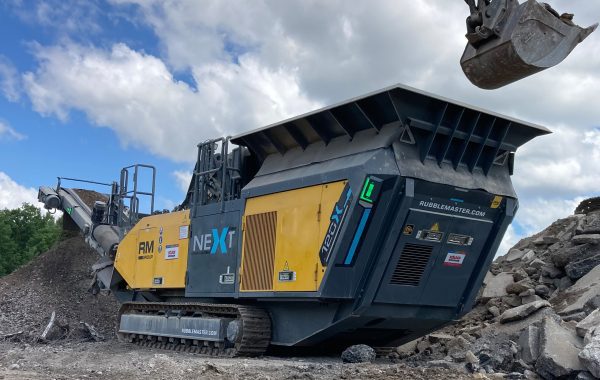 With its proven compactness and high throughput capacity, the RM 120X delivers enhanced safety and maximum flexibility. The interaction between the machine operator and the crusher enables maximum efficiency with maximum convenience.