The aim of many companies is to make full use of the potential of their employees, to promote young talents, to take into account their life situation and to offer women equal opportunities. This is not new for RUBBLE MASTER, but has been lived practice for more than two decades. With success! Because with a flexible part-time model especially for female managers, the company offers women an attractive perspective in which both the company and the female employees benefit from numerous advantages.
DIFFERENT WORKING TIME MODELS FOR MORE FLEXIBILITY
At RUBBLE MASTER, working hours are not the only yardstick for management performance. "First and foremost, it takes appropriate professional and social skills; everything else is a question of organisation and not the number of hours per week," emphasises Günther Weissenberger, CFO of the RM Group. Therefore, it is a matter of course for RUBBLE MASTER that leading teams does not happen exclusively on a full-time basis, but must also be possible in part-time models.
Through different working time models tailored to the employee, the RM Group offers its female managers maximum flexibility, especially in times of starting a family. In this way, mothers can also fulfil their leadership aspirations and family planning in the long term. With this programme, RUBBLE MASTER has been able to promote numerous female managers in recent years. Currently, more than 50 % of female managers are in part-time employment.
"Thanks to the flexible working time models, it is possible for me to fulfil my role as a mother as well as my role as a manager at RUBBLE MASTER. The family atmosphere and the mutual support of colleagues are an additional factor for good, reliable cooperation, even when I am not in the house."

JULIA ASCHENWALD, Head of Administration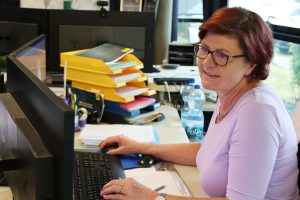 "More than 20 years ago, RUBBLE MASTER was already a pioneer in this area and was very accommodating to me at that time. I think it is easier, especially for women with children, to take responsibility and to lead efficiently and purposefully."

ELISABETH ZITTMAYR, Head of Wear & Spare Parts