Following the Bauma Shanghai 2020 trade fair, an RM 120X accompanied by an HS5000M screen went to one of the region's largest construction companies: concrete and brick manufacturer Dongyang Beijiang New Construction Materials Co, Ltd. in Zhejiang on the east coast of China. They were impressed by the machinery's Austrian origins, its throughput, performance, technology, smart NEXT connectivity, and the high quality of its components and spare parts. The crusher's first job is the construction of a reservoir for supplying water to the local population.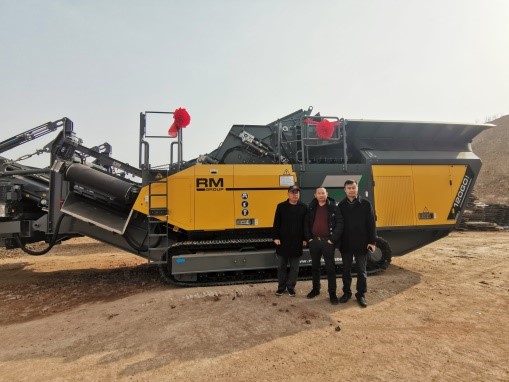 This construction project involves the RM 120X crushing chalcanthite from a nearby quarry to produce construction material in sizes of 0-7, 7-20 and 20-45 mm. As the construction of the reservoir progresses, the crusher supplies gravel directly to the concrete mixing plant. The project is scheduled to last three years and will involve the processing of between two and three million cubic metres of natural stone.
Within a short time of arriving on site, the new crusher had made a strong impression on its new owner. Not long after, a change of location was necessary, and the crusher was able to cover the distance of about one kilometre using its own remote-controlled crawler gear, without the need for a trailer or transport vehicle. With the help of the light signals on the Performance Indicator and the Operations Assist interface, the status of the machine is clearly visible to the operator. The light signals provide information on loading and machine status and can be seen outside the danger zone or from the excavator cab. RM GO! SMART also provides continuous information on the status of the machine in real time.