Mobile RM products on the road to success
In 2018 the world market leader in the production of mobile crushers for recycling C&D waste and processing natural rock recorded the most successful year in the company's history to date (+38%) and 2019 will also see the continuation of its successful course. "The ongoing further development of our entire product range and the spirit of innovation experienced in our company ensure a sound order intake and play a decisive role in our results," says CEO and founder Gerald Hanisch with satisfaction. "Worldwide demand for RM has increased again this year (2019). The integration of Maximus into the RM Group has also been highly successful, so the focus is now on implementing our market strategy," adds CFO Günther Weissenberger.
In addition to extending its product range, RM's success lies above all in its unique corporate culture, its internal innovation processes and the members of the RM Family. "We intend to continue growing continuously and successfully in the future – and that requires internal measures in order to live up to this claim," says Hanisch.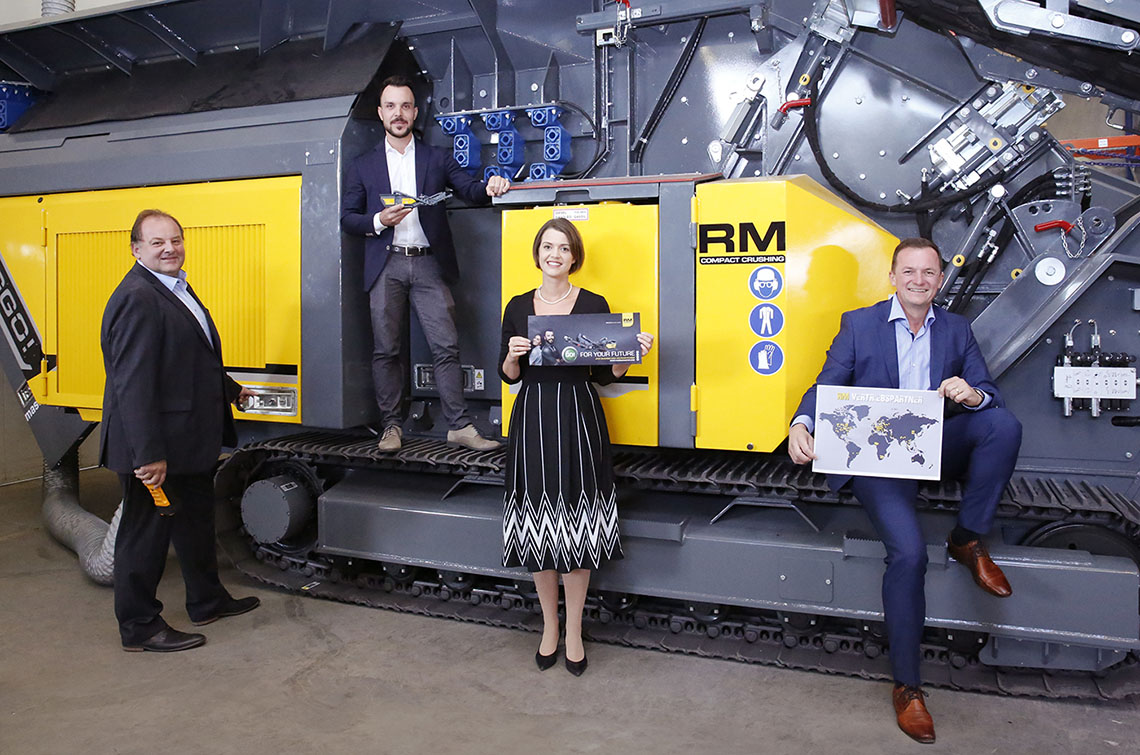 New management team with a vision for the future
RUBBLE MASTER has brought in a new level of management in order to remain a leading pioneer in the industry and set new standards in the future. "RM is preparing for the future – preparations for further growth are ongoing," confirms Operations Manager Manfred Nowak. With 20 years of management experience, the trained fitter/toolmaker and engineering college graduate takes his new responsibility in the areas of production, purchasing, supply chain, warehousing and IT seriously. Solution driven, focusing on processes and preparing for the future are just as important to Nowak as a strong employee focus.
With a career of 28 years at his previous company, Chief Sales Officer Christian Spicker brings with him many years of wide-ranging experience: "RUBBLE MASTER is a company with clear values that are immediately apparent. The transparency and openness were noticeable from the very first moment." The engineering college graduate also sees young people holding the key to the future: "As an innovative and exciting employer, we want to be a link to educational institutions, universities and technical colleges." Christian Spicker is a strategist who takes the whole picture into consideration and is responsible for sales, marketing, after sales and parts.
Markus Gaggl, Chief Technology Officer, has a passion for this industry and understands how the market is changing and what is needed. "To provide our customers with the highest flexibility, in future we will focus even more on the configurability of our products," says Gaggl. Having graduated in Digital Business & Leadership, he was Senior Product Manager at RUBBLE MASTER until 2018. After one and a half years of reorientation, he has now returned to the company: "It was as if I had never been away – like coming back to your family after a trip around the world" Gaggl is responsible for product management, engineering, innovation management and digital services. This is where he will be able to put his implementation strength and his vision of future market needs to best use.
Julia Aschenwald, Head of Administration, is also enthusiastic about the RM Family: "Despite consistent growth, RUBBLE MASTER never loses touch with people. That is why I am delighted to be part of the RM Family." Apart from her passion for numbers, loyalty to the company is one of her priorities. Since graduating from Steyr University of Applied Sciences, Julia Aschenwald has been Head of Accounting at the company for five years and is now responsible for all RM's administration.
Expanding production in Linz
The Linz-based engineering company has laid the cornerstone for further growth by appointing a new management team. Another important step in the expansion strategy is extending the Linz-Pichling site. A competent team of employees and long-standing relationships with suppliers and network partners signal a clear commitment to Linz as a production location. CFO Günther Weissenberger confirms that "RM is committed to the Linz location and will expand the location step by step over the next few years according to the master plan that we have developed. In order to promote further growth, we have decided to expand our management team in order to support the company's development together."