Every portable impact crusher should have these radio remote control features
Maximize convenience. Minimize safety hazards.
Without being able to control all crusher functions on your remote control you struggle to keep crushing and risk safety.
At RUBBLE MASTER we understand that you can't afford numerous laborers to accomplish various tasks. That's the reason why we offer a radio remote control that helps you dominating your crushing operation. If you are missing functions on the radio remote control you
Get out of the cab and within the crusher danger zone
Struggle to react to crushing hazards
Delay emergency stops
RUBBLE MASTER gives you more control over your portable impact crusher
Every portable RUBBLE MASTER crusher comes standard with a radio remote control. The following functions give you a basic set of control over your portable impact crusher:
Controls for the crawler tracks
Proportional tracking makes precision movements for loading and unloading the crusher easy. The RUBBLE MASTER portable impact crusher will track & crush simultaneously so that you can back up the machine and windrow finished product in front of the crusher.
Tracking speed
The crusher tracks can be operated in a turtle or rabbit mode. The turtle mode offers torque and precision for loading and unloading the machine from a trailer. The rabbit mode allows a fast movement accross the jobsite.
Track activation
By default, the track controls are not enabled and tracking needs to be activated manually via this push button. The machine signals through lighting and the horn that it is ready for tracking.
If the controls for the crawler tracks are not being used for several seconds the tracking mode is deactivated automatically.
Emergency stop

The e-stop button shuts down the entire portable crushing plant

Attention: upon pressing the e-stop in operation the remaining hopper inertia fills up the crushing chamber with material.

Feeder speed
Stepless adjustment of the default hopper feed speed
Feeder start/stop
The feeder can be activated only when the crusher and discharge conveyors are operational.
Feeder zero speed
Feeder stops conveying forward but stays in motion.
Feeder max speed
As long as the button is pressed the feeder accelerates to its max speed to push material forward hard.
RM Release System
As long as the button is pressed the impact wall is pushed back hydraulically to resolve material blockages.
Magnet conveyor
Start/stop with the rebar discharge left or right
Horn
Conveyors start/stop
Starts the conveyors in the correct sequence to avoid material blockages or spillages.
Main conveyor reverse
When hopper and crusher are turned off the main conveyor can be run in reverse by keeping the conveyor start/stop button pressed for a couple of seconds.
Side discharge conveyor start/stop
Activate the fines conveyor underneath the pre-screen (optional)
Information display

The information display shows you the most important stats of your machine such as

Error codes
Coolant temperature
Engine load
Engine speed
Hopper speed (in % of max speed)
Current tracking mode (turtle vs rabbit)
Magnet discharge direction
An information display, performance indicator, status lighting, and the RM XSMART telemetry app provide even more clarity on the condition and operational status of your machine.
RUBBLE MASTER portable impact crushers provide comprehensive machine to human communication to support operators so that you can react faster, reduce downtime, and risk less safety.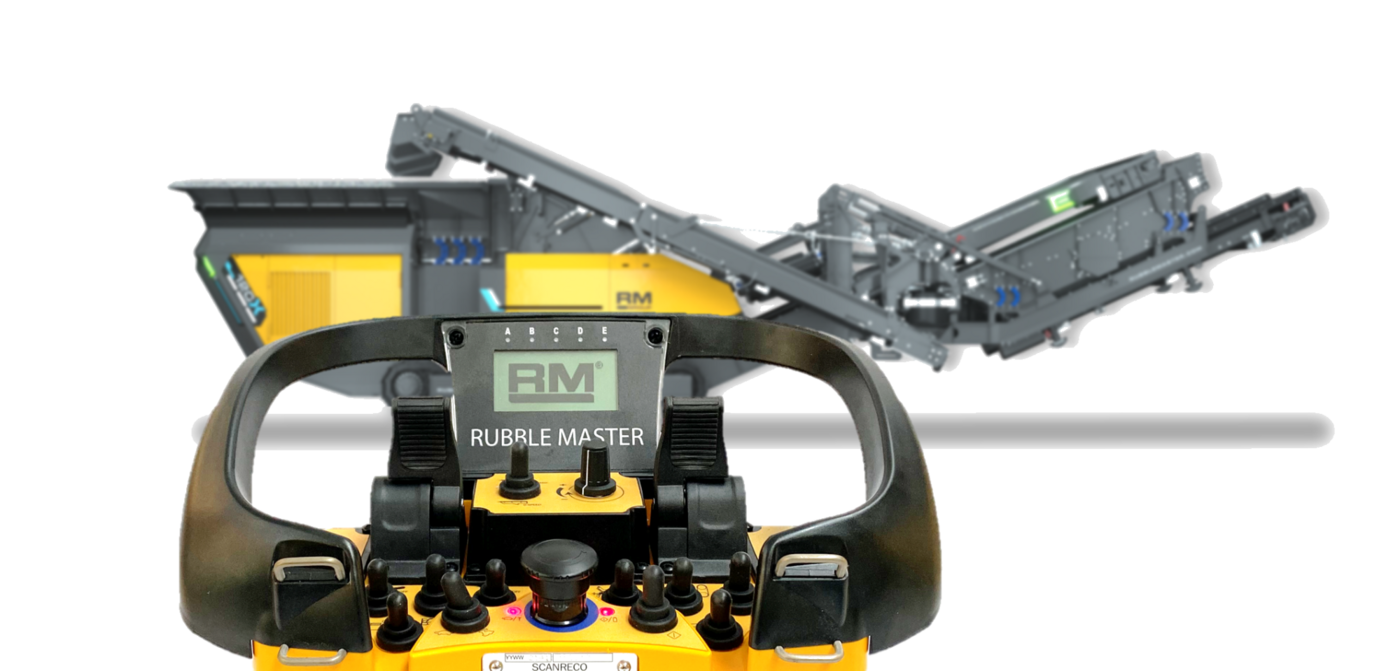 Information display
X
Every portable RUBBLE MASTER crusher features an information display with the most important machine stats.
Performance indicator
X
All NEXT generation portable RUBBLE MASTER crushers feature a performance indicator to show the current utilization of the machine.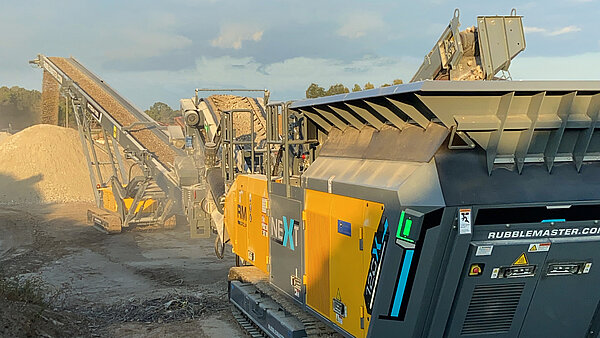 Status lighting
X
Every NEXT generation portable RUBBLE MASTER crusher comes with status lighting that shows the condition of the machine.
Green: ready to crush
Yellow: service needed or tracking mode
Red: error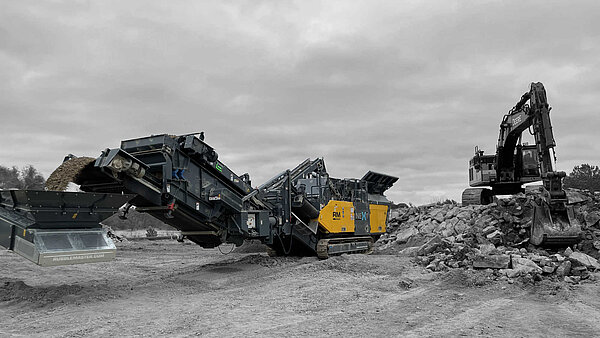 Connect your phone to your portable impact crusher to access even more information.
Jobsites and work schedules tend to get busy and it is hard to stay on top of all the moving parts. At RUBBLE MASTER we understand, that you want to keep crushing and therefore our RM XSMART telemetry assist you in accelerating processes so that you can focus on dominating the jobsite.
Keep track of the machine condition
Error codes with trouble-shooting guidelines
Check fuel and DEF elevels
Share jobsite reports with your back-office or client
Track tonnages (with optional belt-scale)
Zero belt-scale (with optional belt-scale)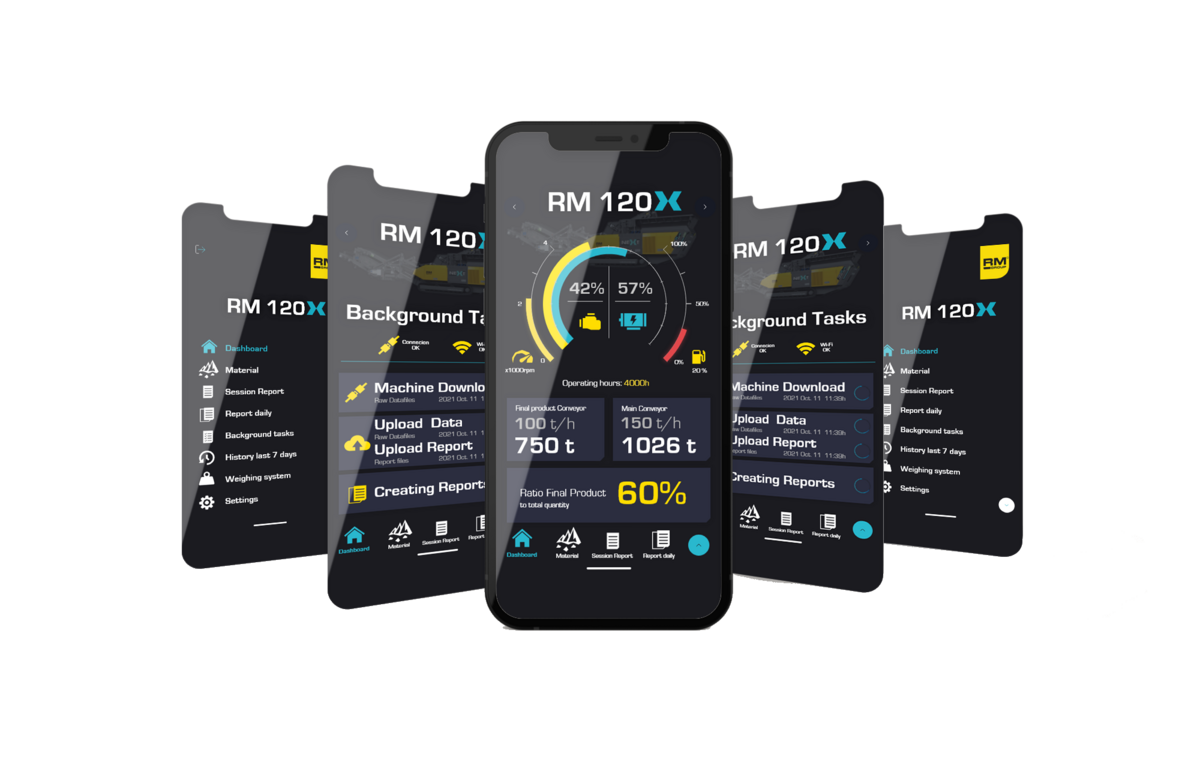 Get our Best Advice
Join over 16,000 people who receive practical crushing & screening tips every month.