Mobile Topsoil Screener
Dominate your jobsite with a topsoil screen that works as hard as you!
watch video
RM HS3500M 4' x 9' Mobile Topsoil Screener
Segregate clean topsoil from oversize, clay, and debris.
Crushing 101 LIVE WEBINAR feat an expert contractor panel - Apr 6, 2023 02:00 PM Eastern Time - Practical tips on how to get started with mobile concrete crushing. - Register today
Turn your inert soils into money with a mobile topsoil screen
Screened topsoil is processed with a screening plant and sifted through a mesh screen. The screening process seggregates and debris, stones and clay clumps. This type topsoil is very appealing to look at and a good choice for growing different plants, or lay a lawn.

Higher Quality Product
Screened topsoil is a uniform product that can be raked, graded and installed easily. It is used as a top layer for growing a lawn, planting vegetables or for gardening.

Increase Your Profits
Turn an inert material or low value material into a high value commodity.

Take Control of Your Own Material
Using quality products is part of your good reputation. Owning a topsoil screener allows you to manage what you put into your own screened topsoil so that you have a consistent high quality.

Inert material is taking up space and costing money.
If your topsoil screener is not versatile enough you...
---
limit yourself growing your business
waste time with an underpowered machine
struggle with screening efficiency
miss job opportunities that increase your ROI
RUBBLE MASTER mobile topsoil screens make you more money!
Maximize profits. Minimize downtime.

One Machine, Multiple Applications
Works well in topsoil screening applications as well as heavy-duty scalping applications and precision aggregate screening.

Heavy Duty
They are designed to take the brunt. Bulky material in your feed, such as rock, boulders, concrete slabs, doesn't hurt the machine.

3-Way Split
Produce 2 or 3 finished products.
How does a topsoil screener work?
Material is fed into a hopper feeder that conveys the material directly onto the screen-box. Hence, a scalping screen is also called a direct feed screen. The screen-box has 2 screen decks and is mounted inclined on coil springs. A hydraulic driven motor with inbalance weights brings the screen box in a vibrating motion. The vibration pitches the material forward over the screen decks and the screen segregates the material by size. Oversize material can move freely over the top deck and is discharged to the front of the machine. Mid-size and fine-size material (screened topsoil) are stockpiled on each side.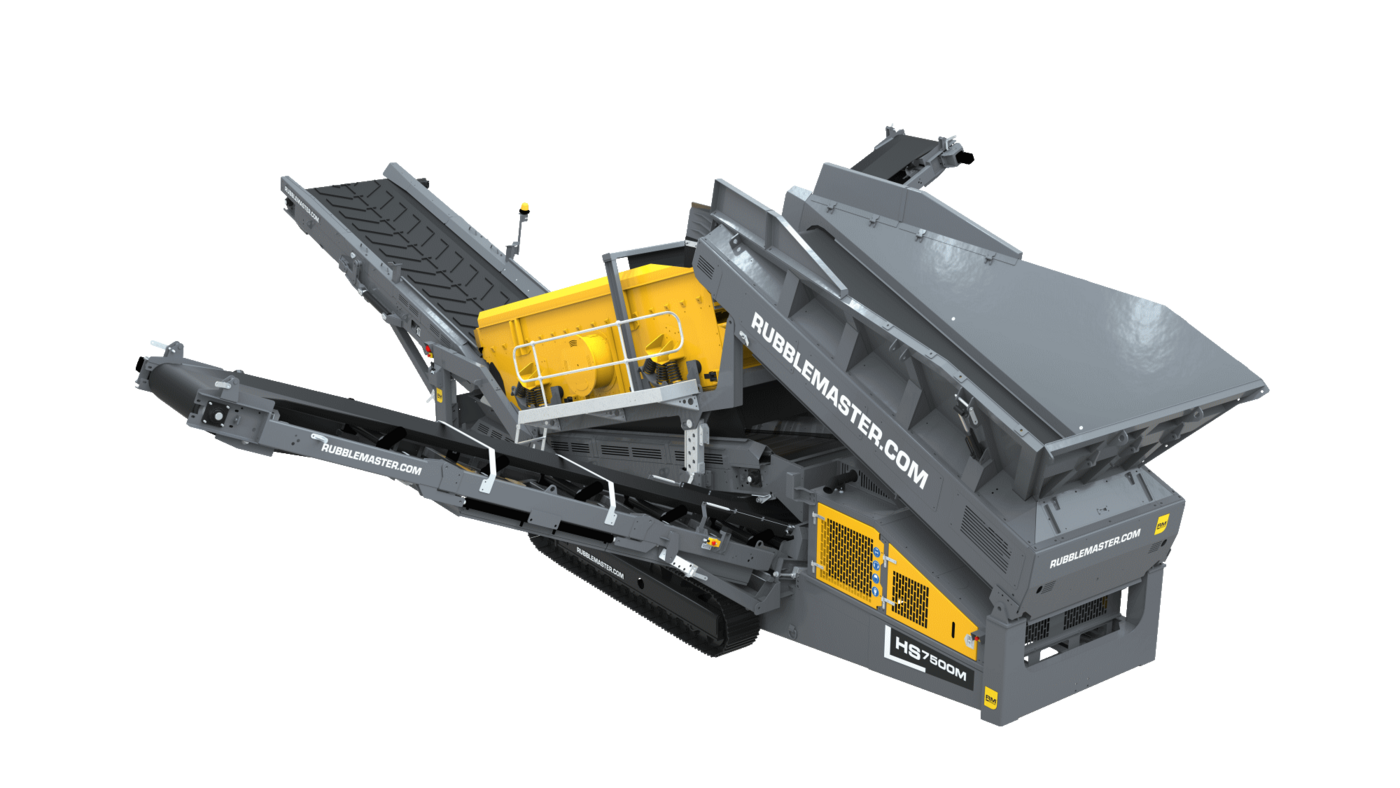 Large feed hopper
X
Designed to be fed by excavators or wheel loaders. The feed conveyor belt ensures a smooth material transfer onto the screen.
Double Deck Screen-Box
X
The top deck takes the brunt in case any oversize pieces such as rocks, concrete slabs, or stumps are buried in your feed material.
Common top deck configuration for topsoil screening:
Punch plates for heavy contaminated soils
Finger screens (as displayed) for sticky materials
Square mesh with a thicker wire diameter for fairly clean soils
The bottom deck does your ½" topsoil precision screening and can be equipped with a wide range of screen media.
Common bottom deck setups for topsoil screening:
½" square mesh mesh for maximum precision
½" x 3" slotted (elongated) mesh for maximum production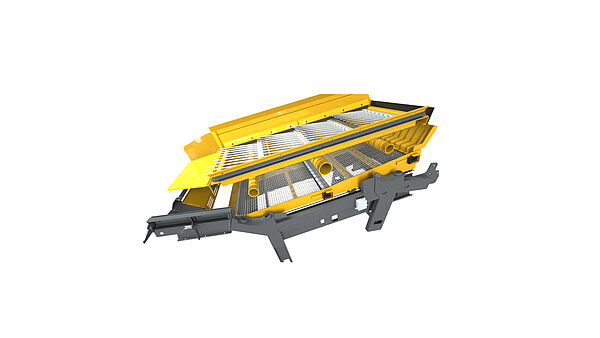 Easy stockpiling of screened topsoil
X
Discharge conveyors are adjustable in height and fold hydraulically over the top for transport.
Contaminants are discharged without any obstructions
X
Oversize material such as rocks, roots, and stumps flow freely over the top deck and are discharged in front of the topsoil screen.
Scalping Screens Can be Equipped with the Largest Variety of Screen Media
The top deck screen media is typically heavy-duty to take the brung of the infeed material while the bottom deck does your final precision screening. Common top deck screen media is punch plate, finger screens, or heavy duty mesh. On the bottom deck, elongated screens or square mesh screens are commonly used.

RUBBLE MASTER topsoil screens can be used in contaminated soil remediation to segregate buried C&D waste from the soil.
---
When removing old infrastructure anything can happen. RUBBLE MASTER's heavy-duty screening plants can be fed large chunks of material so that you can segregate soil from heavy oversize pieces to be able to reduce your disposal and trucking costs.
Screening topsoil at a housing project in Ontario
The RM HS3500M is a compact scalping screen ideal for contractors who want to screen excavated soil products but also other materials.
Screening contaminated sandy topsoil in Florida
The RM HS5000M is ideal for excavated materials with bulky contaminants such as branches, roots and other debris.
Screening topsoil in New Jersey
The RM HS5000M screener has a highly aggressive screen-box to avoid the need to re-screen your waste product.
Talk to an Expert
Since 1991, RUBBLE MASTER has brought numerous innovations to the market. We're crushing & screening experts and work closely with contractors and aggregate producers world-wide.