The RM GO! Principle enables operators to run our equipment efficiently so that you can maximize profits and minimize downtime.

Simple Controls
Common sense solutions. Easy to understand pictograms and color codes.

Intuitive Operation
It does not take a lot of training to master the equipment.

Fast Processes
We look at crushing from moving the equipment & setup to daily maintenance and running the equipment. Everything is carefully thought out to minimize downtime and maximize profis.

It takes more to run crushing & screening equipment efficiently. Material processing knowledge is tribal, hard to find, and takes years of experience to build up.
---
If you don't have easy to use equipment, you...
can't utilize your machine to its full potentiala
eat away at profits by running the machine incorrectly
waste time learn everything the hard way
risk safety while operators try to figure out a problem
Turn your materials into money with less hassle.
Simplicity and safety increase efficiencies and profits.

Go Anywhere, Anytime
Aggregate equipment is bulky, heavy, and difficult to move. RUBBLE MASTER machines are designed from scratch with mobility in mind, so you get the freedom to move anywhere and save transport costs.

Ground-Based Service
Many machines require operators to climb ladders to access service points. RUBBLE MASTER equipment can be serviced with your feet on the ground, so that you are faster with your daily maintenance and reduce the risk of injuries.

Radio Remote Operated
You have to stay outside the safety perimiter while running your crusher. RUBBLE MASTER crushers are fully radio remote operated, so that you can control your cruhser conveniently from your cab and eliminate the need of running down a material pile every time you need to adjust a setting.

Get the Most Out of Your Equipment
---
Overfeeding or underfeeding your crusher slows you down. The Performance Indicator visualizes the utilization of the machine and helps operators find the sweet spot of the machine so that you can maximize production and improve your feeding skills.

Dominate Your Jobsite
---
RUBBLE MASTER machines do more than just get the job done. We think of crushing besides crushing. Our service and daily maintenance routines are simple and intuitive (e.g. stickers for lube points and lube schedule) so that you can start crushing faster with less hassles.
No stacker or loader? No problem.
Many jobs don't have enough material or room to justify mobilizing a stacking conveyor. RUBBLE MASTER Compact Crushers can track & crush simulateneously, so that you can windrow your material and keep crushing.
Total Crusher Control Convenient from Your Cab
Once started a RUBBLE MASTER crusher can be controlled conveniently via the radio remote control. In many applications the crusher can be operated by one operator, so that you get the freedom to run on your own anytime without a ground man.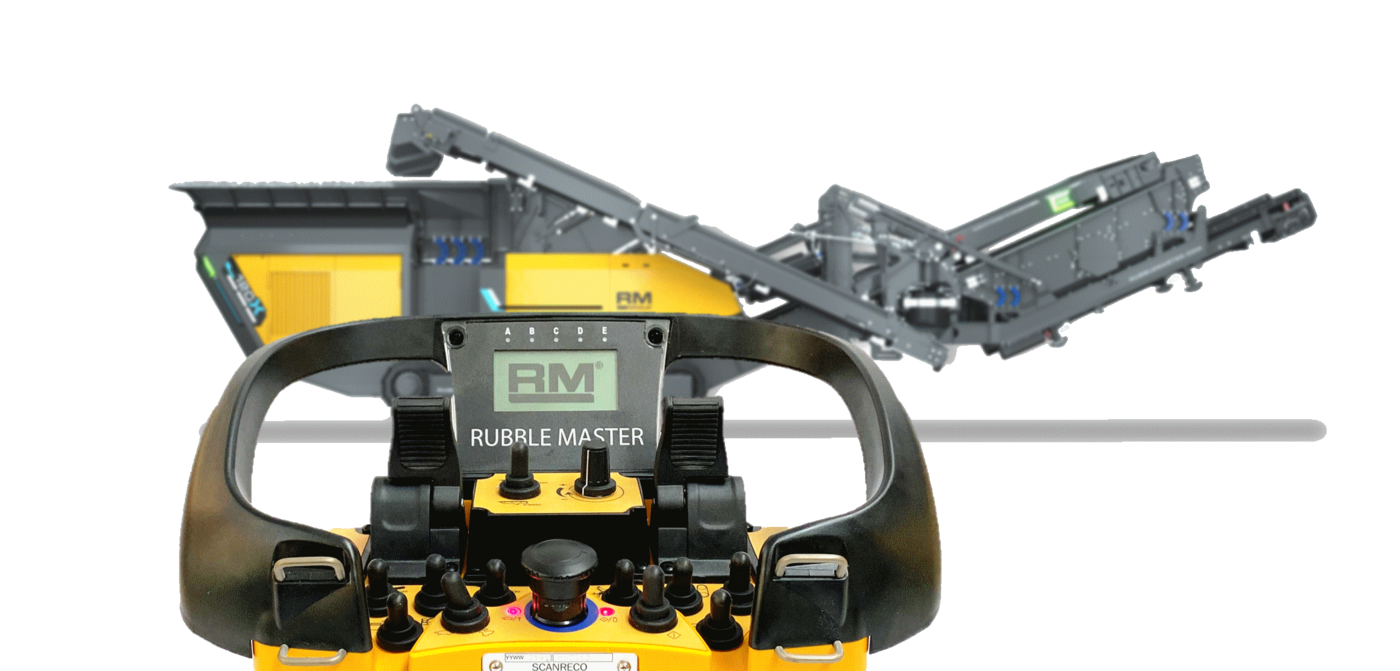 Information display
X
Engine load
Feed speed
Error codes
Track Control
X
Track & crush simultaneously.
Start-Stop Conveyor Belts
X
Discharge conveyor belts (on/off)
Overband magnet conveyor (left/right/off)
Side-discharge conveyor (on/off)
Operating a RUBBLE MASTER
is just…awesome.
---
Don't just take our word for it.
"Much more user friendly. The usability, the access to everything. Everything is readily available and there is no safety that you are risking with a RUBBLE MASTER. They designed this thing to be as userfriendly as it can be. My guys thanked me time and time again that we have bought this one because it is so much easier on them."
Bryce Swaim, BTS Equipment
15 Minutes From Trailer to Crushing
Show up at the jobsite and GO!
Talk to an Expert
Since 1991, RUBBLE MASTER has brought numerous innovations to the market. We're crushing & screening experts and work closely with contractors and aggregate producers world-wide.