Tracked Conveyors
Stockpile crushed, screened, and shredded materials efficiently to improve your bottom line right off the bat.
Tracked Conveyors
Stockpile crushed, screened, and shredded materials efficiently to improve your bottom line right off the bat.
Pair your crusher, screen, or shredder with a tracked conveyor to maximize production and minimizing operating costs.
Tracked conveyors are the best way to transfer materials. RUBBLE MASTER MTS-Series 50' and 80' stacking conveyors are highly mobile and work well with mobile crushing & screening plants.

Move more material in a day
Stacking conveyors keep your crusher, screen, or shredder at peak performance.

Create better stockpiles
Efficient use of speace eliminating material segregation, compaction, and contamination.

Reduce operating costs. Maximize profits.
Tracked stackers run at a fraction of the cost of a wheel loader. Cut labor costs.

Improved jobsite safety
Wheel loaders and other moving equipment are a significant work hazard.

Reduced loader dependency
Get the freedom to run with a skinny crew and a lower investment.

Ideal for contractors on the move
RUBBLE MASTER tracked conveyors fold hydraulically for transport and can be moved on a lowboy trailer.

The best processing operation will cost you a lot of money if your wheel loader doesn't keep up with your quota.
---
It's a fact -- stacking conveyors make your operation more efficient.and improve your bottom line. At RUBBLE MASTER we have various size tracked-mounted stacking conveyors so you can pair your crusher or screen with the right size stacker.
50' and 80' tracked conveyors to match small and large crushers, screens, and shredders
RUBBLE MASTER MTS-Series tracked stackers are highly mobile and fit most mobile crushing & screening plants.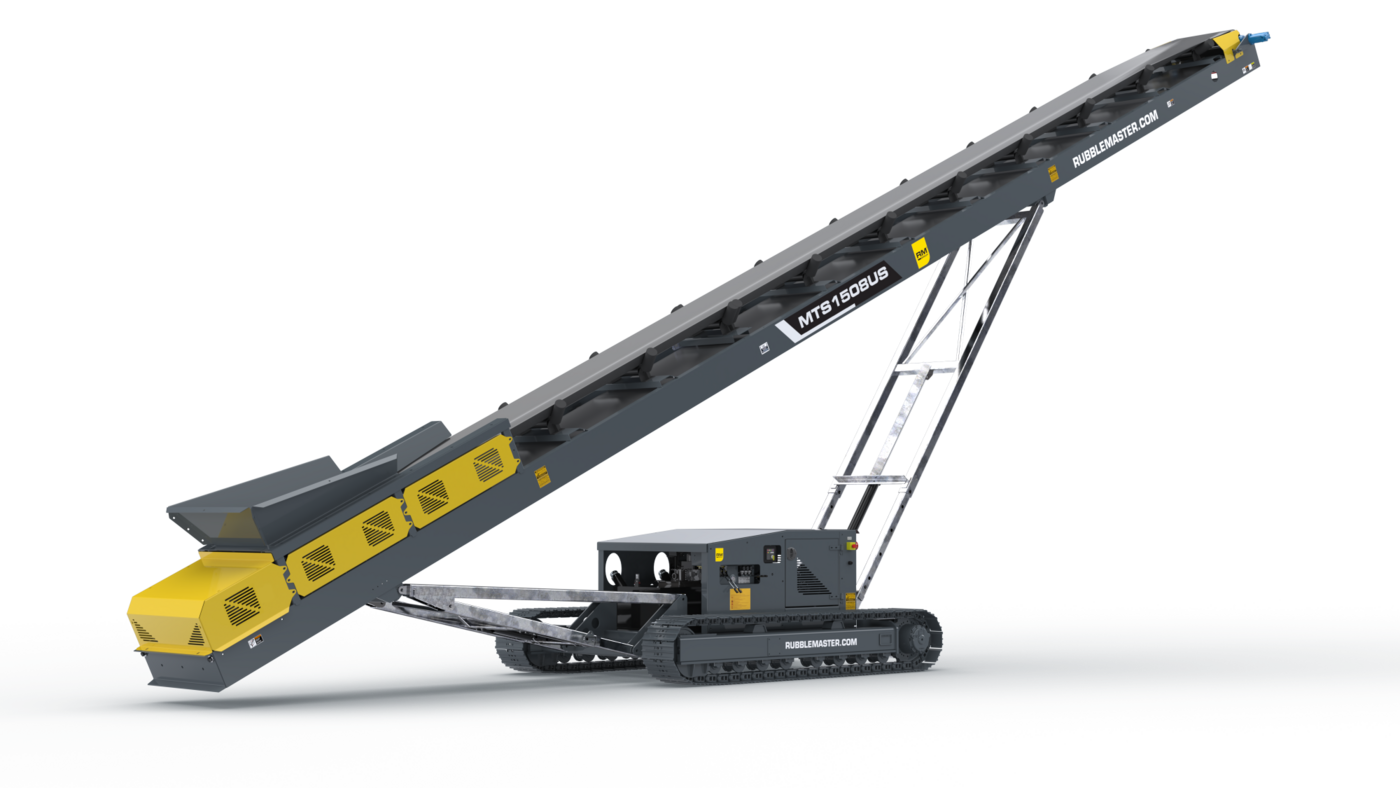 Low feed height
X
Easy material transfer from a crusher, screen, or shredder.
Fuel saving engine
X
Cut your fuel burn in half compared to a wheel loader.
Folds/Lowers hydraulically for transport
X
Get the machine ready for transport quickly and easily.

Go Anywhere, Anytime
---
RUBBLE MASTER understands that when it comes to mobile processing you can't afford to lose money to lengthy setup times. You need to show up and GO!. That's why our line of tracked stackers are easy to setup within minutes without the need of special hand tools so that you can see profits coming off the belt faster.
4 Ways Tracked Conveyors Save Dollars Right Off the Bat
(1) Eliminate the Wheel Loader and Improve your Operating Costs
Moving material with a wheel loader is the most costly way of moving mateiral from the crusher, screen, or shredder to its final stockpile. Besides wear and tear and fuel costs you use your loader for a relatively "menial job" instead of using it at another job to make more money.
A CAT 966 medium-size wheel loader costs you approx $100 per hour and up to $150 per hour with an operator. While a loader might burn 4 - 4½ US gal of fuel an hour a stacking conveyor burns 1 - 2 US gal per hour cutting your fuel burn easily in half.
Example cost calculation stacking conveyor vs wheel loader

| | | |
| --- | --- | --- |
| Crushing hours | 40 | hours |
| Loader hours (assuming the loader does not run all day) | 25 | hours |
| Cost to operate the loader per hour (what you could bill out to a customer) | $100 | per hour |
| Total loader operating costs per week | $2,500 | per week |
| Monthly lease payment for a tracked stacker starts at $1,500 | $375 | per week |
| Stacker fuel costs @ $5.50 per US gal and a fuel consumption of $2 US gal / h | $440 | per week |
| Cost savings | $1,685 | per week |
(2) Minimize Labor Costs
Good opreators are often hard to find and get paid much more than minimum wage. Using a tracked stacker eliminates the need for an operator so that you can use him elsewhere.
No expensive overtime costs
No holidays or sick leaves
In some instances, your material processing operation becomes a one-man operation.
Loader operator costs
Example cost calculation - labor cost savings

| | | |
| --- | --- | --- |
| Loader operator salary | 14 | per hours |
| Labor cost savings | $560 | per week |
(3) Maximize production and value produced
Tracked stackers allow for a continuous production and reduce downtime.
No material runs
No running empty
No wait time
Ni interruptions because a truck needs to be loaded
Mobile material processing plants have limited stockpile capacities with their onboard main discharge conveyors.As a result, it is often a full time job to keep material from piling up against the head drum. Using a tracked conveyor minimizes idle time and maximizes production.
| | | |
| --- | --- | --- |
| Estimated crusher capacity | 150 | tons per hours |
| Running an additional 30 minutes a day equates | 300 | tons of material |
| Additional value produced (assuming a material price of $6 per ton) | $1,800 | worth of material |
(4) Less Capital Spend and Improved Cash Flow
Cash flow is essential to keep your business growing. On average a CAT 966 wheel loader retails in the high $400k range which holds you back from growing your business with other needed equipment. Tracked stackers cost a fraction of wheel loader, are highly durable, and have with a little maintance a long lifespan.
3 Steps to Own your Tracked Conveyor

Get in Touch with Us
Fill out the form below and let us know your project. Whether you are looking to purchase or rent a machine we accomodate your needs.

Get The Equipment
We'll pair you with a material processing expert to help you choose the right machine that meets your needs and makes you money. We can even help you find the right financing for your new investment.

Get It Done
Dominate the jobsite with machinery that holds up its end of the bargain. You'll spend time getting the job done - not hauling material or fixing your machines. You'll look forward to watching money coming out of your new machine every day you're on the job.

Smooth Material Flow = More Profits!
---
At RUBBLE MASTER, we don't just care about the equipment - we care about what our equipment does for your team and for your bottom line. Our mission is to keep you from losing money to high operating costs or wasting time with inferior material processes - so you can take back control of your operations and dominate the jobsite.
Talk to an Expert
Since 1991, RUBBLE MASTER has brought numerous innovations to the market. We're crushing & screening experts and work closely with contractors and aggregate producers world-wide.