Best of Crushing & Recycling
The RM 90GO! Mobile Crusher has been the workhorse for 20 years. When most crushers are too big and others are too small the RM 90GO! is just right. The most Powerful and Compact Crusher.
The RM 90GO! has proven to be a good mix between production capacity and mobility.
Easy to Use
Built for operators who don't run the crusher every single day. The RM 90GO! comes with simple controls and convenient features to assist you with operating the crusher. Safe to Use
Safety first crusher design from ground-based service to a fully radio remote controlled operation.
Your Customers will be Impressed, Your Competitors Jealous
Despite the compact size the RM 90GO! can put out a lot of material.

Spec Material
Ideal for base and subbase products that meet spec.

Closed Circuit Crusher
Crush and screen simultaneously in a closed or open loop

Self Regulating Feeder
Feeder speed is adjusted automatically to deal with performance peaks.
Built to Last
The RM 90GO! crushes tough materials that don't come in convenient sizes or shapes.

Rebar Liberation & Segregation
Ideal for processing reinforced concrete and C&D waste.

RM Release System
Keeps you crushing by letting uncrushables and oversize material pass.

Get More Done in a Day
Simple common sense solutions ensure you are productive and safe.
Built with operators, for operators
The RM 90GO! is built according to the RM GO! Principle making it the easy and safe to use.

Easy and Safe
Common sense solutions to get you home to your family safely.

One-Man Operation
The RM 90GO! doesn't need a big crew to run.

Radio Remote Operated
Total control of the crusher from your cab.
Screen-Attachment
Changes as quickly as your job requirements.
Changes as Quickly as Job Requirements
Closed loop configuration
Produce a spec material in a single pass.
Large range of products
from 1/2"- to 3"-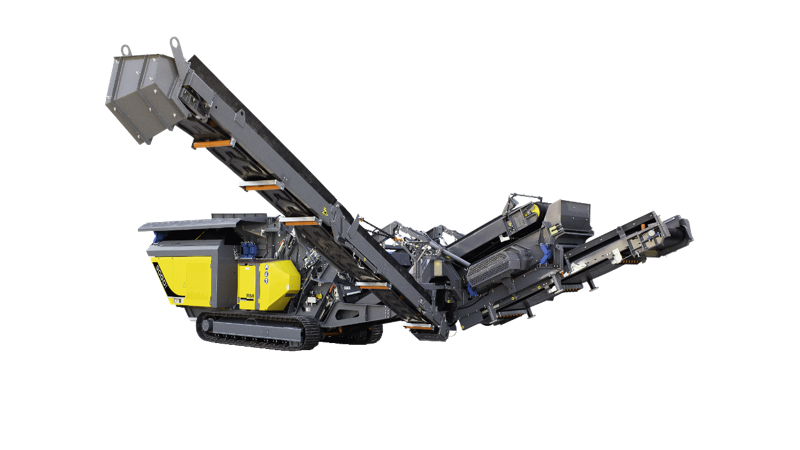 2 Way Split
Produce a spec product and an oversize product
Clear Stone Product
Ideal for construction site entrances
Open loop configuration
Produce a non-spec product
Maximum throughput
Ideal for an initial reduction in size
Diesel-Electric Drive
The RM 90GO! uses a highly fuel efficient diesel-electric drive improving your bottom line.

Fuel efficient
Save up to 30% on fuel compared to conventional diesel-hydraulic plants.

Works well in extreme temperatures
No heating up of hydraulics in winter and no overheating in summer.

Less than 30 gal
Low operating and maintenance costs.
Move Anytime, Anywhere
The RM 90GO! is can be moved easily between jobs because of its hydraulic folding conveyors. The machine can be broken down to its transport position with one man within 15 minutes.

Easy to Mobilize
Makes on-site crushing easy and efficient

Use Your Existing Trailers
Can be floated on the same trailer as a 25 ton excavator

15 Minutes
from trailer to crushing
Ideal for On-Site Crushing
Besides RUBBLE MASTER's unmatched mobility the RM 90GO! mobile crusher is ideal for on-site crushing because of its small footprint, low noise emissions and it's unique ability to track & crush simultaneously. This unique feature eliminates the need of an additional wheel loader or stacking conveyor on-site.

Low Noise Emissions
Suprisingly quiet crushing operation.

Small Footprint
Ideal for urban job-sites where real estate comes at a premium.

Continuous Track & Crush
Eliminates the need for an additional wheel loader or stacking conveyor on-site.
Producing #57 stone with a scalping screen
A RM 90GO! in combination with a RM HS5000M 5'x12' scalping screen produces 3 final products. Concrete fines, #57 stone and oversize.
Crushing concrete - 2 final products
A RM 90GO! crushes concrete down to a 3/4"- base product and an oversize product for construction site entrances.
Crushing 3"- concrete in British Columbia
A RM 90GO! (previously a RM 80GO!) is being used to process concrete down to a 3"- product without its screen attachment.
On-site recycling made easy
RUBBLE MASTER's RM 90GO! is a perfect combination between performance and mobility making it the #1 mobile crusher in its class.
Crushing blast limestone from a retention pond
A new subdivision was built and a retention pond was blasted. The blast limestone was crushed down to a 1 1/4"- base material and some oversize material for construction site roads.
Crushing asphalt to a base material
Excavated asphalt material is crushed down to a 1.5"- base material to be re-used on new construction projects.
From trailer to crushing in less than 15 minutes
One operator can setup the RM 90GO! on the job within 15 minutes without the need of any special hand tools.
RM 90GO! Crushing Concrete Washout
The RM 90GO! processes concrete washout at a decommissioned ready-mix plant to a 3/4"- base material to get the site ready for a new tenant.
RM 90GO! walk-around video
Join crushing & screening expert Geoffrey Faber on a tour around the RM 90GO! mobile compact crusher.
Capacity

180 tph

200 TPH

Inlet opening

860 x 650 mm

34" x 25"

Ideal feed size

500 mm

20 "

Crusher unit

4-bar rotor

4-bar rotor

Feed unit

2.6 m³

3.4 yd³

Prescreen Grizzly (standard)

1,050 x 800

41" x 31½"

Engine

194 kW

260 HP

Drive

diesel-electric

diesel-electric

Screen-box

1,100 x 2,300 mm

4 x 8 ft

Transport dimension

13,470 x 2,550 x 3,050 mm

44'2" x 8'5" x 10'

Weight

28,400 kg

62,500 lbs

Dust suppression

Engine compartment light

Hammer changing device

Magnet

Hydraulic folding return conveyor

Radio remote control

RM Release System

Track & Crush
What Makes the RM 90GO! So Special?
Listen to what our customers have to say.
"What's unique about Gerald Hanisch and RUBBLE MASTER is that they are always listening and looking for any possible improvements for the equipment."
Dave Schielein, Ironhustler Excavating
Talk to an Expert
Since 1991, RUBBLE MASTER has brought numerous innovations to the market. We're crushing & screening experts and work closely with contractors and aggregate producers world-wide.