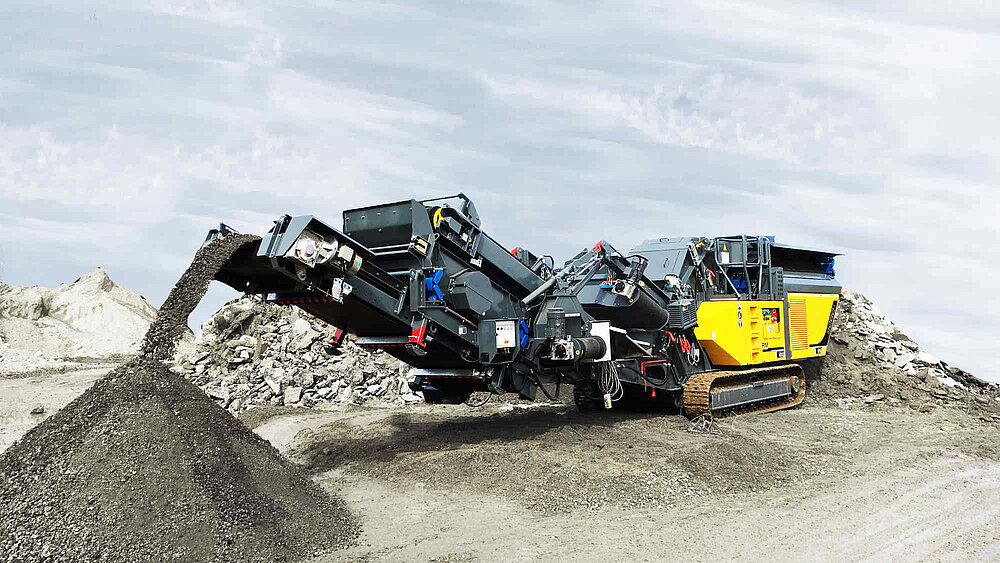 RM 90GO!
Compact Impact Crusher
WE MOVE. Benefit from our warehouse clearance! - Get 15% on All Parts and Up to 25% on Select Hammers. - [Hurry] ⏰ Get discounted parts while supplies last. ORDER NOW
The Absolute Best Compact Impact Crusher for On-Site Crushing
When crushing on-site you need mobility and performance. The RM 90GO! is the complete package that allows you to tackle small and large crushing jobs so that you can do more job and grow your business faster. Performance
Some have to choose between performance or mobility. You chose both. Ease of Use
A new experience operating a compact impact crusher. Common sense solutions make the hardest parts of crushing easy. Safety
Build from the ground up with operator safety in mind so you can trust your guys around the machine.
Your Customers will be Impressed,
Your Competitors Jealous.
For more than 30 years, we've designed and manufactured our compact impact crushers to deliver best-in-class performance without sacrificing mobility

Spec Material
Ideal for base (e.g. ¾"-) and subbase material (e.g. 3"-) that meet spec. Adjustable gradation and output size. High quality cuboid aggregates.

Closed-Circuit Crusher
The RM 90GO! Compact Impact Crusher features a 4' x 8' on-board screen for closed circuit production of spec material..

Self Regulating Feeder
Performance peaks can stall a compact impact crusher. The self-regulating feeder adjusts the speed, so that you process your material smoothly and keep crushing.
Dominate Concrete Crushing Jobs with Ease

Extra Strong Magnet
Built to liberate and segregate encapsulated rebar effectively to produce a clean end-product.

Smooth Material Flow
Optimized feeder design to reduce the risk of overfeeding and blockages. Integrated pre-screen to bypass fines to reduce wear.

Heavy-Duty Belting as Standard
Smooth "aggregate" conveyor belts struggle to withstand rough applications. That's why we use a multi-ply chevron RIP-STOP belt so that you can keep crushing when the belt gets punctured.
The RM Release System Keeps You Crushing Longer
Materials don't come in convenient sizes or shapes. In case the material doesn't fall into the action radius of the impactor you can open the apron via the radio remote control so the material gets caught by the rotor and you keep crushing.
Operate with the Touch of a Button
The operation of a RUBBLE MASTER compact impact crusher is unlike any other crusher. We focus on making machines less complex so that you can start crushing without the lengthy training necessary because we believe everybody should be able to operate a crusher.

Simple & Intuitive
We've taken the complexity out of mobile crushers. Because "safety and ease of use" is our top priority!

Radio Remote Operated
Run the crusher conveniently & safely from the cab.

One-Man-Operation
No need for a large crew or specilized knowledge.
Do More Jobs with One Machine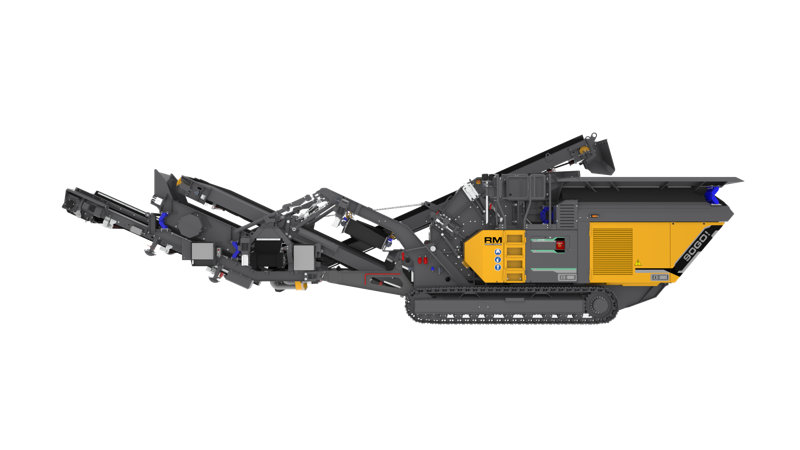 Closed-circuit
Crush & screen simultaneously to produce a DOT spec material (e.g. ¾"- base material).
Adjustable output size
Easy change of screen media and crusher settings from ½"- to 3"-.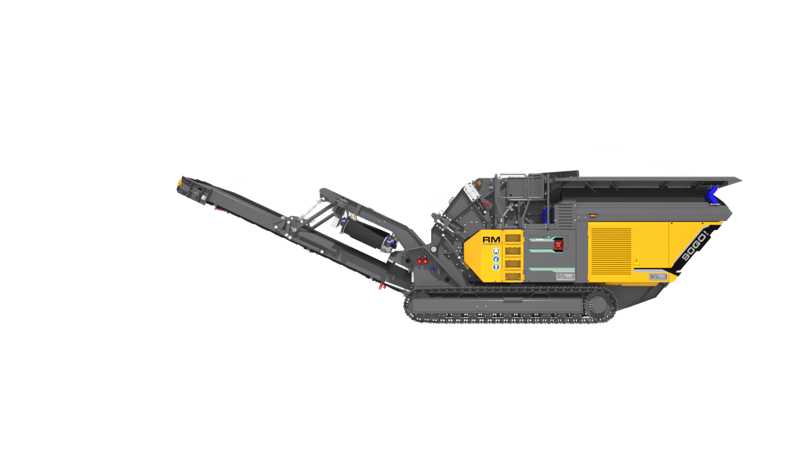 Open-circuit
Screen attachment can be detached hydraulically to produce a non-spec product (e.g. 3" fill).
Maximum throughput.
Minimum wear.
Ideal for an initial reduction in size.

Adapts as Quickly as Your Job Requirements
Save Up to 30% in Fuel With our Diesel-Electric Direct Drive
compared to traditional diesel-hydraulic compact impact crushers

Since 1991 We are the Experts in Electric Crusher Drives
We utilize the most reliable electric motors and feature refined controls.

Works Well in Extreme Temperatures
No heating up of hydraulics in winter and no overheating in summer.

Save big on hydraulic fluids
Our small hydraulic system (30 gal) is used for auxiliary functions only. Say goodbye to bursting hoses, leaks, and DEP citations.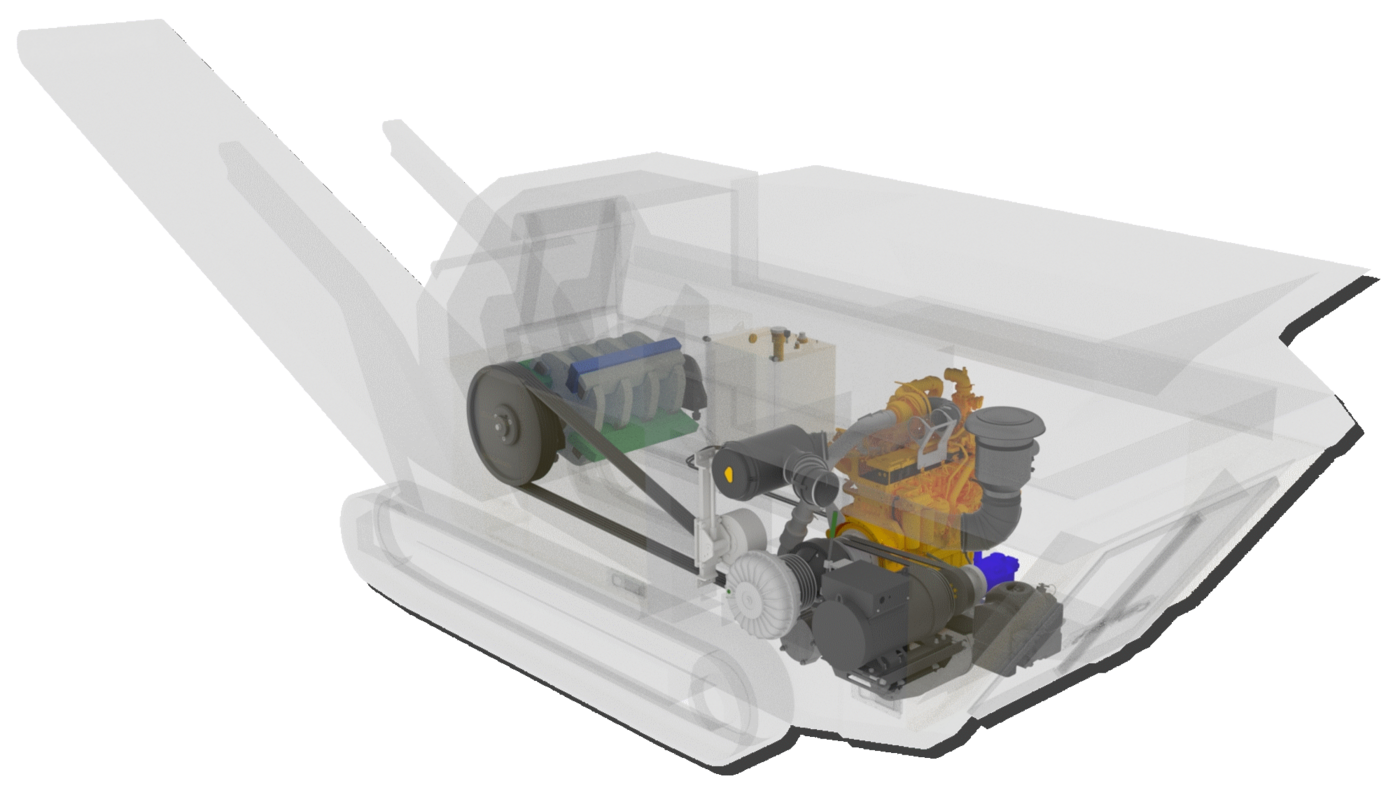 Direct-drive
X
When the manual twin-disc clutch is engaged the rotor is directly driven by the diesel-engine.
Generator
X
The generator produces the power for running the shaker motors of the feeder and screen attachment as well as the motors for the conveyors.
Small hydraulic pump
X
The crusher doesn't need the hydraulics while in operation. The relatively small hydraulic system is used to operate cylinders during the machine setup and daily maintenance, and for tracking the machine.
Clutch assembly
X
The clutch assembly consists of a manual twin-disc clutch and a hydraulic coupling for a soft start.
Move Anytime, Anywhere
Say goodbye to burdensome permitting, escorts, and long setups. You'll be finished with the job before your morning coffee cools.

Precision Movements
The refined controls allow for exact maneouvers on the job and while loading.

Fits on Most Trailers
Use the same trailer you use for your excavator.

15 Minutes From Trailer to Crushing
A single operator can get the crusher ready without the need of special hand tools.
Perfect for Any Jobsite
Contractors are facing thinner margins due to an increase in smaller jobsites, neighbors' complaints, and longer trucking times. One versatile RUBBLE MASTER machine can crush any on-site material volume, from just a few hundred tons to very high volumes, virtually putting money back into your pocket.

Bar None - The Quietest Crusher
Suprisingly quiet crushing operation.

Small Footprint
Ideal for on-site crushing where there is little room for setting up large crushing spreads.

Track & Crush Simultaneously
Eliminates the need for an additional wheel loader or stacking conveyor on-site.
RM 90GO! walk-around video
Join crushing expert Geoffrey Faber on a tour around the RM 90GO! compact impact crusher.
Crushing asphalt
Impact crushers are asphalt crushers. The RM 90GO! turns peeled asphalt into a 1" base material.
Crushing concrete - 2 way split
The RM 90GO! produces 2 products simultaneously - a ¾"- base material and a ¾"-3" clear stone product.
Crushing concrete and producing #57 stone
A RM HS5000M scalping screen is used after the compact impact crusher to produce concrete fines and #57 stone.
Crushing basalt
The RM 90GO! compact impact crusher 20" basalt without the need of a primary jaw crusher. Finished product: 2"- (50 mm-)
Crushing limestone
Limestone was blast for a retention pond. The RM 90GO! produced a base material for temporary construction roads.
Crushing asphalt & millings
A RM HS5000M scalping screen was used to segregate fines / finished product before crushing. The RM 90GO! turn the overs into a 1"- base material.
Crushing concrete washout
The site of an old ready-mix plant was developed, and all the buried washout concrete was processed by a RM 90GO! compact impact crusher.
Compact Crusher Maintenance | Daily Checks
Matt Colby explains a good daily routine before you start crushing.
Capacity

200 tph

220 TPH

Inlet opening

860 x 650 mm

34" x 25"

Ideal feed size

500 mm

20 "

Crusher unit

4-bar rotor

4-bar rotor

Feed unit

2.6 m³

3.4 yd³

Prescreen Grizzly (standard)

1,050 x 800

41" x 31½"

Engine

194 kW

260 HP

Drive

diesel-electric

diesel-electric

Screen-box

1,100 x 2,300 mm

4 x 8 ft

Transport dimension

13,470 x 2,550 x 3,050 mm

44'2" x 8'5" x 10'

Weight

28,400 kg

62,500 lbs
Operating a RUBBLE MASTER
is just…awesome.
---
Don't just take our word for it.
"What's unique about Gerald Hanisch [owner of RM Group] and RUBBLE MASTER is that they are always listening and looking for any possible improvements for the equipment."
Dave Schielein, Ironhustler Excavating
Talk to an Expert
Since 1991, RUBBLE MASTER has brought numerous innovations to the market. We're crushing & screening experts and work closely with contractors and aggregate producers world-wide.