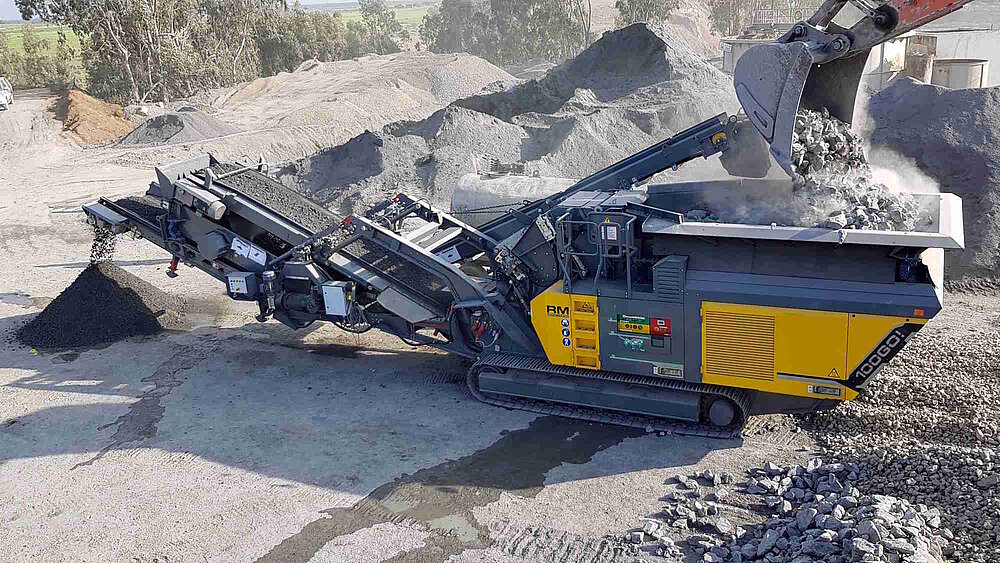 RM 100GO!
Tracked Impact Crusher
The Tracked Impact Crusher for Pros
When production counts, you can count on the RM 100GO! Tracked Impact Crusher. If you don't have a reliable machine, you're leaving money on the job. The high-performance impact crusher along with its simple & intuitive controls puts more product on the ground. Performance
This powerful crusher weighs less than 75,000 lbs and can be mobilized easyily in most states and provinces. Ease of Use
A new experience operating a tracked impact crusher. Common sense solutions make the hardest parts of crushing easy. Safety
Build from the ground up with operator safety in mind so you can trust your guys around the machine.
Don't Get Fooled by Its Size. Our Tracked Impact Crusher Punches Over Its Weight Class.
For more than 30 years, we've designed and manufactured our crushers to deliver best-in-class performance without sacrificing mobility.

3 Crushing Stages on a
Single Impact Wall
Our proprietary impact crusher has proven time and time again to perform brilliantly in recycle and rock applications.

Maximum Reduction
The first crushing stage features toothed baffle plates for maximum reduction upon the first impact.

Cuboid Aggregates
Customers Want to Buy
The powerful impact crusher provides multiple setting to adjust your final gradation so you hit spec guaranteed.
Built to Keep You Crushing Longer
We understand that if your crusher is down your crew is down and you are bleeding money. That's why all components come out of "one mold" to ensure a smooth material flow, so you can minimize downtime and maximize profits.

Self-Regulating Feeder
Performance peaks can stall an impact crusher. The self-regulating feeder adjusts the speed, so that you process your material smoothly and keep crushing.

Jam Detection & Overload Protection
Material blockages can result in serious belt damage. RUBBLE MASTER tracked impact crushers shut down the operation automatically to reduce the risk of damages.

Fast Adjustments
Every minute you spend idling costs you. This is why, we designed everything for efficiency, from changing wear parts to adjusting your crusher geometry.
Removes Blockages by The Touch of a Button with the RM Release System.
Materials don't come in convenient sizes or shapes. In case the material doesn't fall into the action radius of the impactor you can open the apron via the radio remote control so the material gets caught by the rotor and you keep crushing.
We Make the Most Burdensome Parts of Crushing Easy.
The operation of a RUBBLE MASTER compact impact crusher is unlike any other crusher. We focus on making machines less complex so that you can start crushing without the lengthy training necessary because we believe everybody should be able to operate a crusher.

Simple & Intuitive
We've taken the complexity out of mobile crushers. Because "safety and ease of use" is our top priority!

Radio Remote Operated
Run the crusher conveniently & safely from the cab.

One-Man-Operation
No need for a large crew or specilized knowledge.
Get More Clarity. Make Better Decisions.
The RM XSMART telemetry app gives you access to more data and allows you to track tonnages (only with optional belt scales) conveniently form your cell phone or computer. Optimize your processes and get more done in a day.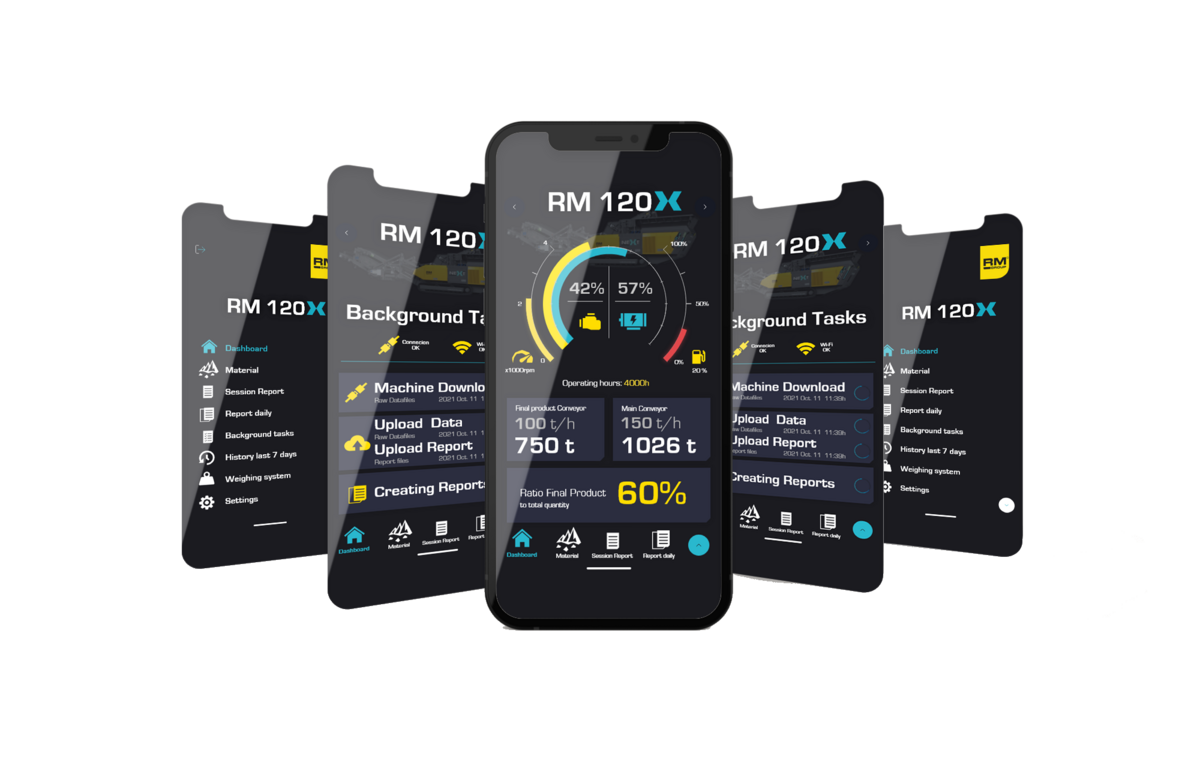 Best of All you Can Trust Your Guys Around the Machine.
The RM 100GO! Tracked Impact Crusher is built from the ground up as a crusher for novice operators providing protection from injuries and protection of your investment.

Ground Based Service
Low-mounted engine design makes light work of your dailies and keeps your feet on the ground.

Meet The Highest
Safety Standards
A 2-hand operation of hydraulics, safety pins, sensors, and guards reduce the risk of operator error and injury.
Do More Jobs with One Machine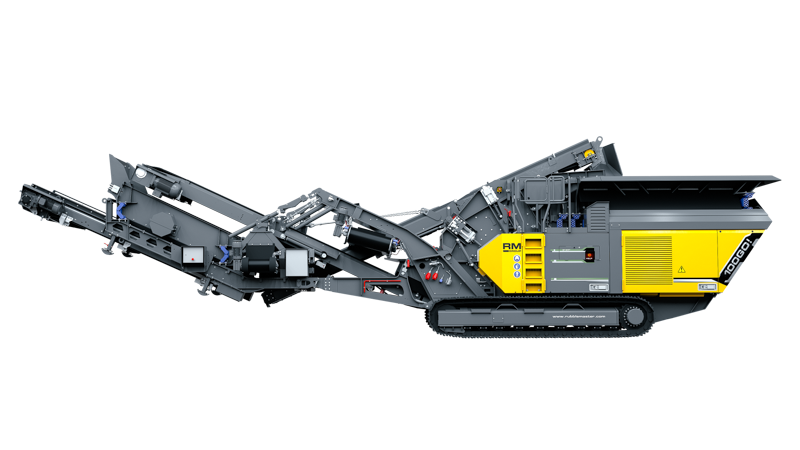 Closed-circuit
Crush & screen simultaneously to produce a DOT spec material (e.g. ¾"- base material).
Adjustable output size
Easy change of screen media and crusher settings from ½"- to 3"-.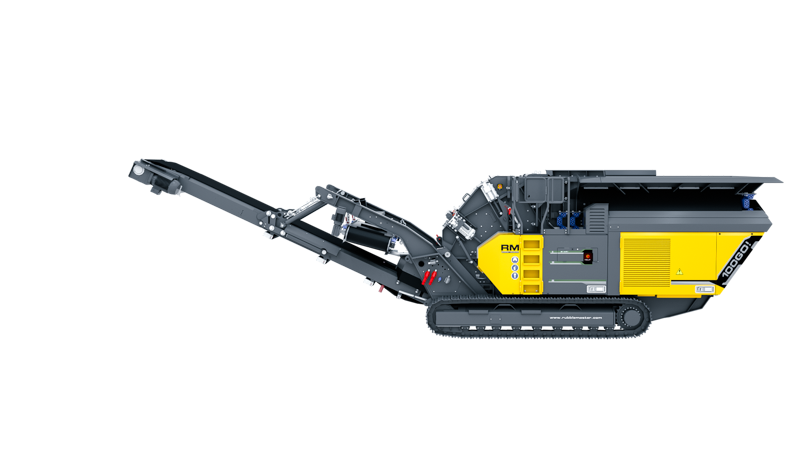 Open-circuit
Screen attachment can be detached hydraulically to produce a non-spec product (e.g. 3" fill).
Maximum throughput.
Minimum wear.
Ideal for an initial reduction in size.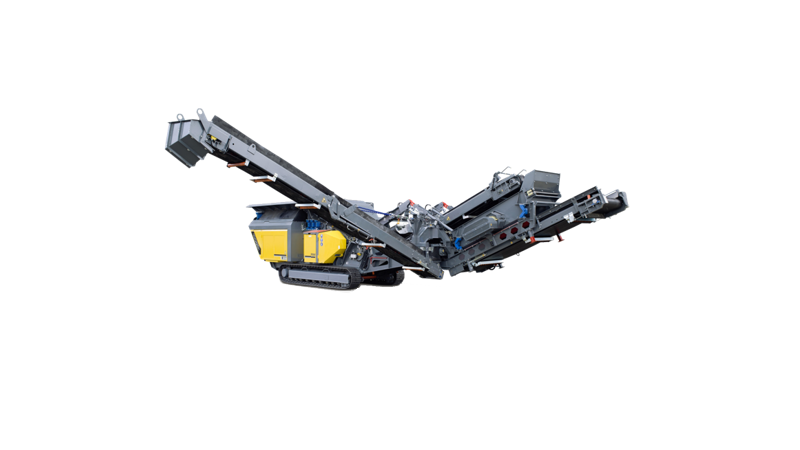 2-Way Split
Produce a spec product and an oversize product
Hydraulic swivel conveyor
Easy to swing out conveyor

Adapts as Quickly as Your Job Requirements
Save Up to 30% in Fuel With our Diesel-Electric Direct Drive
compared to traditional diesel-hydraulic tracked impact crushers

Since 1991 We are the Experts in Electric Crusher Drives
We utilize the most reliable electric motors and feature refined controls.

Works Well in Extreme Temperatures
No heating up of hydraulics in winter and no overheating in summer.

Save big on hydraulic fluids
Our small hydraulic system (30 gal) is used for auxiliary functions only. Say goodbye to bursting hoses, leaks, and DEP citations.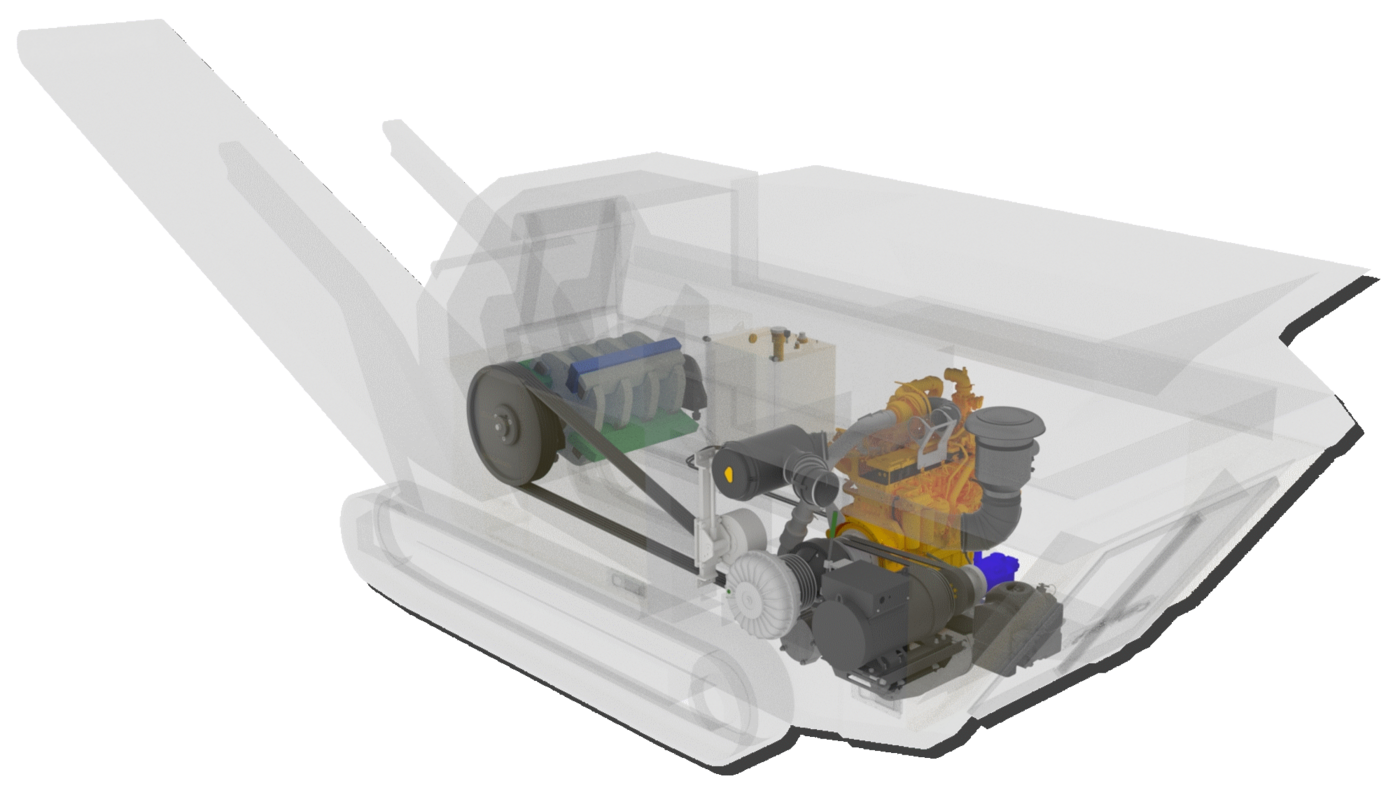 Direct drive
X
The rotor is directly driven by the diesel engine via a manual twin-disc clutch and hydraulic coupling for a soft start.
Generator
X
The generator produces the electric power to run conveyor belts, feeder, and shaker motors.
Small hydraulic pump
X
The small hydraulic system is needed to operate auxiliary functions such as cylinders to setup the machine and adjust the crusher geometry as well as tracking the machine.
Go Anywhere, Anytime
Many crushers in this class require special permits and more than one load to float. The RM 100GO! tracked impact crusher weighs approx 75,000 lbs and is not considered a super-load in many states. This gives you the freedom to do more jobs faster.

Precision Movements
The refined controls allow for exact maneouvers on the job and while loading.

15 Minutes From Trailer to Crushing
A single operator can get the crusher ready without the need of special hand tools.

Fits on Most Trailers
Use the same trailer you use for your excavator. Single move.
Perfect for Any Jobsite
Contractors are facing thinner margins due to an increase in smaller jobsites, neighbors' complaints, and longer trucking times. One versatile RUBBLE MASTER machine can crush any on-site material volume, from just a few hundred tons to very high volumes, virtually putting money back into your pocket.

Bar None - The Quietest Crusher
Suprisingly quiet crushing operation.

Small Footprint
Ideal for on-site crushing where there is little room for setting up large crushing spreads.

Track & Crush Simultaneously
Eliminates the need for an additional wheel loader or stacking conveyor on-site.
Crushing limestone in Austria
RM 100GO! crushing limestone and feeding into a MSC8500M 5' x 18' triple deck screen producing 4 finished aggregate products.
Crushing RAP
RM 100GO! crushes asphalt and millings down to a 9/16"- RAP product that is split up into a coarse RAP and fine RAP product with an additional screener.
Crushing washout concrete
RM 100GO! in an open circuit configuration crushes washout concrete to a 3"- product.
Secondary crushing after a mobile jaw crusher
The RM 100GO! tracked impact crusher processes 8" basalt rock after a jaw crusher producing a 1 1/4"- final product in a closed loop configuration.
Crushing concrete
The RM 100GO! tracked impact crusher turns concrete into a 1.5"- base material. This unit also features a wind sifter to segregate lightweight materials.
Crushing limestone and producing 5 end products
This RM 100GO! features a HYBRID drive option, which generates enough electricity to power 2 RM CS4800 compact screens.
Crushing river gravel in Chile
The RM 100GO! tracked impact crusher produces a spec material in a single pass.
Asphalt recycling
Insane RAP crushing at 400+ TPH. The RM 100GO! tracked impact crusher runs in a closed loop with the RM MSC10500M 5' x 22' triple-deck incline screen.
Crushing limestone in Sicily
Feeding 27"- (700 mm-) limestone and producing a 2"- (50 mm-) base material in a single pass.
Capacity

250 tph

275 TPH

Inlet opening

950 x 700 mm

37" x 28"

Ideal feed size

560 mm

22 "

Crusher unit

4-bar rotor

4-bar rotor

Feed unit

3.3 m³

4.3 yd³

Feed height

3,000 mm

9' 10"

Prescreen Grizzly (standard)

1,500 x 900 mm

4'11" x 2'11"

Screen-box

1,300 x 3,000 mm

4 x 10 ft

Engine

242 kW

325 HP

Drive

diesel-electric

diesel-electric

Transport dimension

14,700 x 2,860 x 3,155 mm

48'3" x 9'5" x 10'5"

Weight

33,600 kg

74,500 lbs
Operating a RUBBLE MASTER
is just…awesome.
---
Don't just take our word for it.
"Out of all the crushers we have tried the RUBBLE MASTER puts out the best product around. This machine is putting out product people are waiting in line to buy".
Joe Maggio, Joe Maggio Construction
"The main reason for RUBBLE MASTER is customer service. The second reason that machine does a great job crushing. The third reason my guys understand the machine."
Danny Salomon, Broadway Recycling
Purchase Your Crusher the Easy Way
RUBBLE MASTER Finance provides leasing and financing solutions to keep your business productive, efficient, and competitive within the industry by offering a suite of financing products that can be customized to meet the most complex budgetary needs
Talk to an Expert
Since 1991, RUBBLE MASTER has brought numerous innovations to the market. We're crushing & screening experts and work closely with contractors and aggregate producers world-wide.