Our largest tracked impact crusher that is not a super load in many states
Many producers need to choose between performance and mobility. The RM 100GO! tracked impact crusher weighs less than 75,000 lbs so that you get the freedom to do a wider variety of jobs from small single-day jobs to large crushing jobs with a single machine. High Performance
Best throughput capacity in its class without sacrificing mobility. Easy to Use
Making money has never been this easy. RUBBLE MASTER reduces complexity and sophistication in running and maintaining crushers. Safe to Use
Safety is our top concern so that you can trust your guys around the machine and ensure that they get back to their families safely.
RUBBLE MASTER tracked impact crushers punch over its weight class
Our proprietary impact crusher features a 4-bar rotor and a simple 3-stage single-apron for more power and simplicity. So you can get more done faster with the easiest crusher adjustments. Without a simple crusher design you struggle to find the perfect setting and waste time with trial and error to get it right.

One Mold to Make it Pretty Fast
At RUBBLE MASTER we understand that tonnage counts. So we design everything from the feeder to the screen attachment in-house for a smooth material flow and efficient operation.

Multiple Crusher Adjustments
Simple and fast adjustment of crusher geometry and rotor speeds.

Self-Regulating Feeder
The feed hopper slows down and speeds up depending on load.
Built to Last
RUBBLE MASTER crushers have been designed from scratch for crushing reinforced concrete and materials that don't come in convenient sizes and shapes.

Easy to Change Wear Parts
Make light work of your dailies.

Excellent Rebar Liberation
Built for crushing reinforced concrete

Intelligent Operator Support
Shutdown and lock-out procedures to prevent damages and injuries.
Built With Operators, For Operators
The RM 100GO! is built from the ground up as an easy to use crusher with a radio remote control and easy accessability to engine, screen-deck and crushing chamber.

Ground Based Service
No reason to climb on top to do any kind of maintenance.

Common Sense Solutions
Simple push buttons instead of computer panels.

Easy to Work On
Excellent accessability and ease of use ensure you are up and running quickly.
Screen-Attachment
Changes as quickly as your job requirements.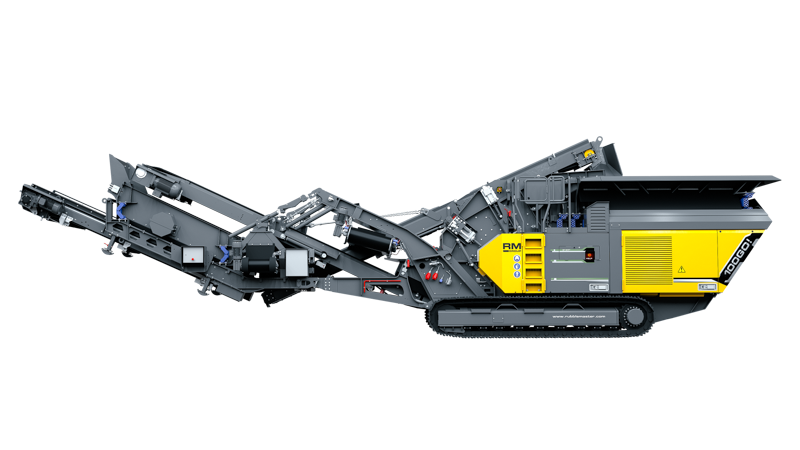 Closed Circuit Plant
Spec material in a single pass.
Easy to change screen media
Produce 1/2"- to 3"- material
2-Way Split
Produce a spec product and an oversize product
Hydraulic swivel conveyor
Easy to swing out conveyor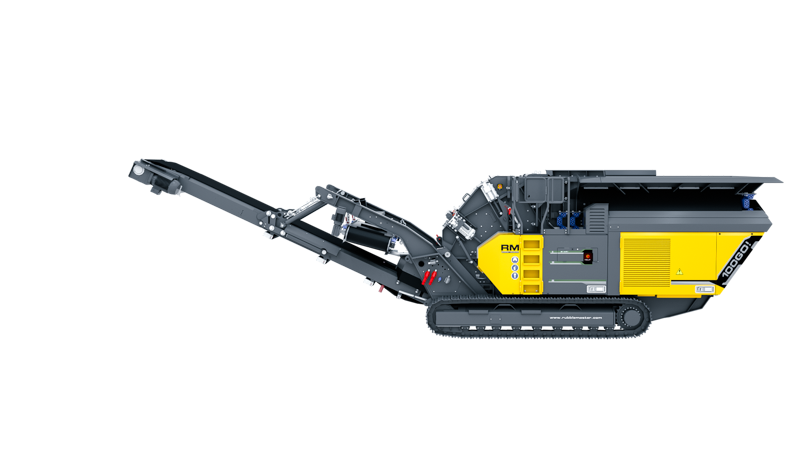 Detachable Screen-Box
Easy change from open to closed loop production.
Open CircuitPlant
For maximum capacity producing a compactable aggregate

One Machine, Multiple Products
Go Anywhere, Anytime
RUBBLE MASTER took the compact design philosophy to a full size crusher. The RM 100GO! weighs fully loaded approx 75,000 lbs and is not considered a super-load in many States. Same size mobile impactors weigh in the excess of 95,000 lbs and require multiple loads or special permits to mobilize.

Easy to Mobilize
Single move from site to site

15 Minutes
from trailer to crushing

One Man Operation
no special hand tools needed for setup and teardown.
Diesel-Electric Drive
The RM 100GO! uses a proven and powerful diesel-electric drivetrain. Contrary to many traditional crusher manufacturers RUBBLE MASTER has been using this highly efficient drivetrain since our beginning in 1991 because of its many benefits over the lifetime of a machine.

Burns Less Fuel
compared to same size diesel-hydraulic plants

Works Well in Extreme Temperatures
No overheating in summer and no heating-up in winter.

Lower Maintenance Cost
Electric systems are easier to troubleshoot and cheaper to maintain.
Happy Communities, Happy Life
As a contractor your need to deal with neighboring communities, construction related noise, traffic and construction site hazards. The RM 100GO! has a low profile on the job and doesn't require a lot of support equipment so that you get the freedom to utilize your crusher at more jobs without worrying about complaints.

Low Noise Emissions
Surprisingly quiet crusher

Continuous Track & Crush
Back-up the crusher and windrow the material without leaving your cab.

Dust Suppression
Hook up a regular garden hose to keep dust emissions to a minimum.
RM 100GO! crushing rock
RM 100GO! crushing limestone and feeding into a MSC8500M 5' x 18' triple deck screen producing 4 finished aggregate products.
Crushing RAP
RM 100GO! crushes asphalt and millings down to a 9/16"- RAP product that is split up into a coarse RAP and fine RAP product with an additional screener.
Crushing blacktop to a 3/4"- material
RM 100GO! processes asphalt and millings into a 3/4"- base material to be reused in the construction process.
Crushing washout concrete
RM 100GO! in an open circuit configuration crushes washout concrete to a 3"- product.
Secondary Crushing with a RM 100GO!
RM 100GO! crushes 8" basalt rock after a jaw crusher producing a 1 1/4"- final product in a closed loop configuration.
RM 100GO! crushing concrete
RM 100GO! is being fed out of an unprepped pile of material producing 1 1/2"- finished product.
Capacity

250 tph

275 TPH

Inlet opening

950 x 700 mm

37" x 28"

Ideal feed size

560 mm

22 "

Crusher unit

4-bar rotor

4-bar rotor

Feed unit

3.3 m³

4.3 yd³

Feed height

3,000 mm

9' 10"

Prescreen Grizzly (standard)

1,500 x 900 mm

4'11" x 2'11"

Screen-box

1,300 x 3,000 mm

4 x 10 ft

Engine

242 kW

325 HP

Drive

diesel-electric

diesel-electric

Transport dimension

14,700 x 2,860 x 3,155 mm

48'3" x 9'5" x 10'5"

Weight

33,600 kg

74,500 lbs
Talk to an Expert
Since 1991, RUBBLE MASTER has brought numerous innovations to the market. We're crushing & screening experts and work closely with contractors and aggregate producers world-wide.