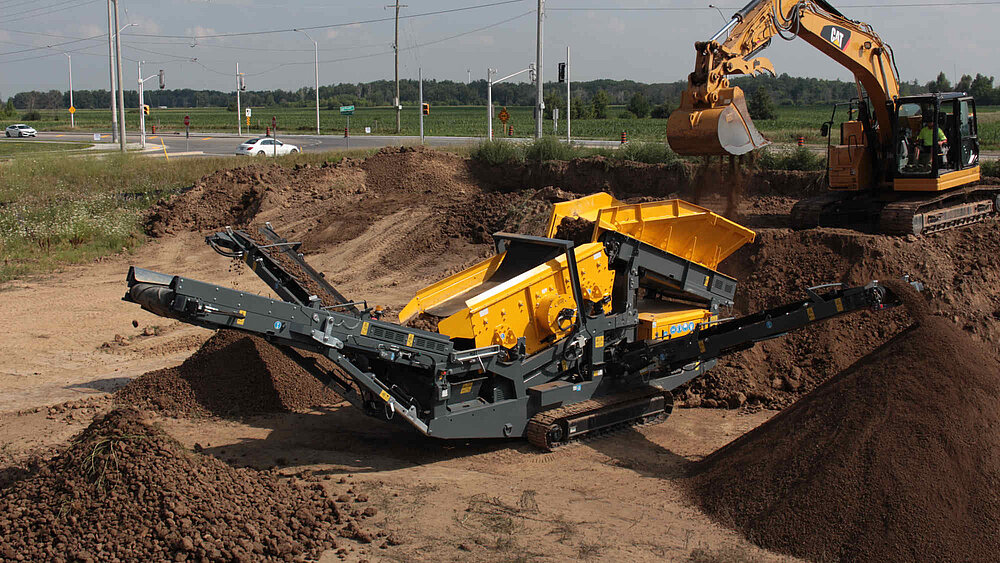 RM HS3500M
Mobile Scalping Screen
WE MOVE. Benefit from our warehouse clearance! - Get 15% on All Parts and Up to 25% on Select Hammers. - [Hurry] ⏰ Get discounted parts while supplies last. ORDER NOW
Small, But Powerful Screening Plant
The RM HS3500M is a small screening plant designed for maximum productivity and superior screening efficiency. It can be used for heavy duty scalping as well as precision screening applications. The highly aggressive screen can cater for a wide variety of applications and materials such as topsoil, aggregates, sand & gravel, excavated C&D waste, mulch, asphalt millings and more.

3 Way Split
Produce 3 finished products

One machine, multiple applications
Process C&D waste, asphalt, millings, sand & gravel,soil, mulch and more.

Small Footprint
Ideal for tight job-sites and contractors who are on the move.
Low feed height
8' (200 mm) feed height.

6.5 yd³ Feed Hopper
Large standard hopper. Optional hydraulic folding hopper wing plates.

Adjustable conveyor speeds
Feed conveyor and discharge conveyor speeds can be adjusted easily to achieve top performance.
Move Anytime, Anywhere
The RM HS3500M provides excellent mobility on the road and on the job. Hydraulic folding conveyor allows for easy and quick setup. Over top folding side conveyors ensure conveyor belt longevity and ease of setup.

Fast setup
15 minutes from trailer to screening

One-man operation
The RM HS3500M can be setup without any special hand-tools.

Easy to move
Use the same trailers you use to move a mid-size excavator
RM HS3500M screening topsoil
The RM HS3500M can produce a beautiful screened topsoil commodity and segregate wood, roots, fabrics and other debris.
Screening shredded materials
A RM HS3500M compact scalping screen was used to segregate fines and oversize particles from shredded car parts.
Debut of the RM HS3500M
Introducing the RM HS3500M at the World of Asphalt 2019 show in Indianapolis, IN.
Capacity

200 tph

220 TPH

Screen-box

2,743 x 1,220 mm

4 x 9 ft

Screen-decks

2

2

Screen angle

14°

14°

Feed unit

5 m³

6.5 yd³

Engine

55 kW

75 HP

Drive

Diesel-hydraulic

Diesel-hydraulic

Stockpile height tail conveyor

3,430 mm

11'3"

Stockpile height fines conveyor

3,145 mm

10'4"

Stockpile height mids conveyor

3,145 mm

10'4"

Weight

16,500 kg

36,400 lbs

Transport dimension

9,880 x 2,550 x 3,190 mm

32'5" x 8'4" x 10'6"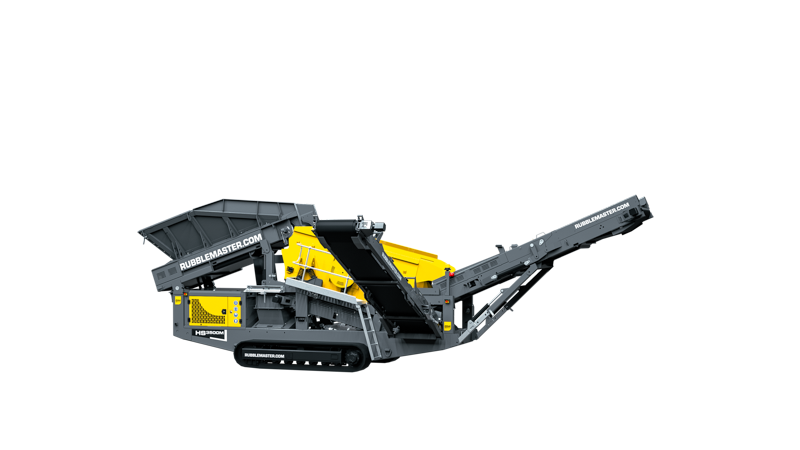 Talk to an Expert
Since 1991, RUBBLE MASTER has brought numerous innovations to the market. We're crushing & screening experts and work closely with contractors and aggregate producers world-wide.