Produce a spec material in a single pass with a closed-circuit impact crusher.
Crush, screen, and stack your materials.

High Performance
RUBBLE MASTER closed-circuit impact crushers provide the best throughput capacity in their class without sacrificing mobility.

Easy to Use
Making money has never been this easy. RUBBLE MASTER reduces complexity and sophistication in running and maintaining crushing equipment.

Safe to Use
Safety is our top concern so that you can trust your guys around the machine and ensure they get back to your family safely.

Without the ability to produce more finished products you are held back from growing your business.
---
At RUBBLE MASTER we understand, that if you can't use your product you haven't achieved anything. That's why our closed-circuit impact crushers come with a versatile screen-attachment and return conveyor to maximize the application range and accelerate the return on your investment.
RUBBLE MASTER's Closed-Circuit Impact Crushers Adjust as Fast as Your Job Requirements
Maximum flexibility. Less changeover time.

Produce a Screened Finished Product
Meet engineer spec.

Stockpile a second oversize product
Ideal for producing an additional clear stone product.

Easy Switch from Open to Closed Circuit Crushing
When producing non spec products screening slows you down and increases wear. The screen-box and return conveyor assembly can be detached from the machine easily and quickly so that you maximize production and profits.

Change screen-media conveniently with your feet on the ground
Screen media is bulky and difficult to handle. The screen-attachment lowers to the ground hydraulically, so that you can change screens conveniently and fast.

Fast Setup On the Job
The screen-attachment and return conveyor erect hydraulically so that a single operator can get the machine ready without the need of any hand-tools.

Wide-range of screen media
Use square mesh and specility wire to maximize production.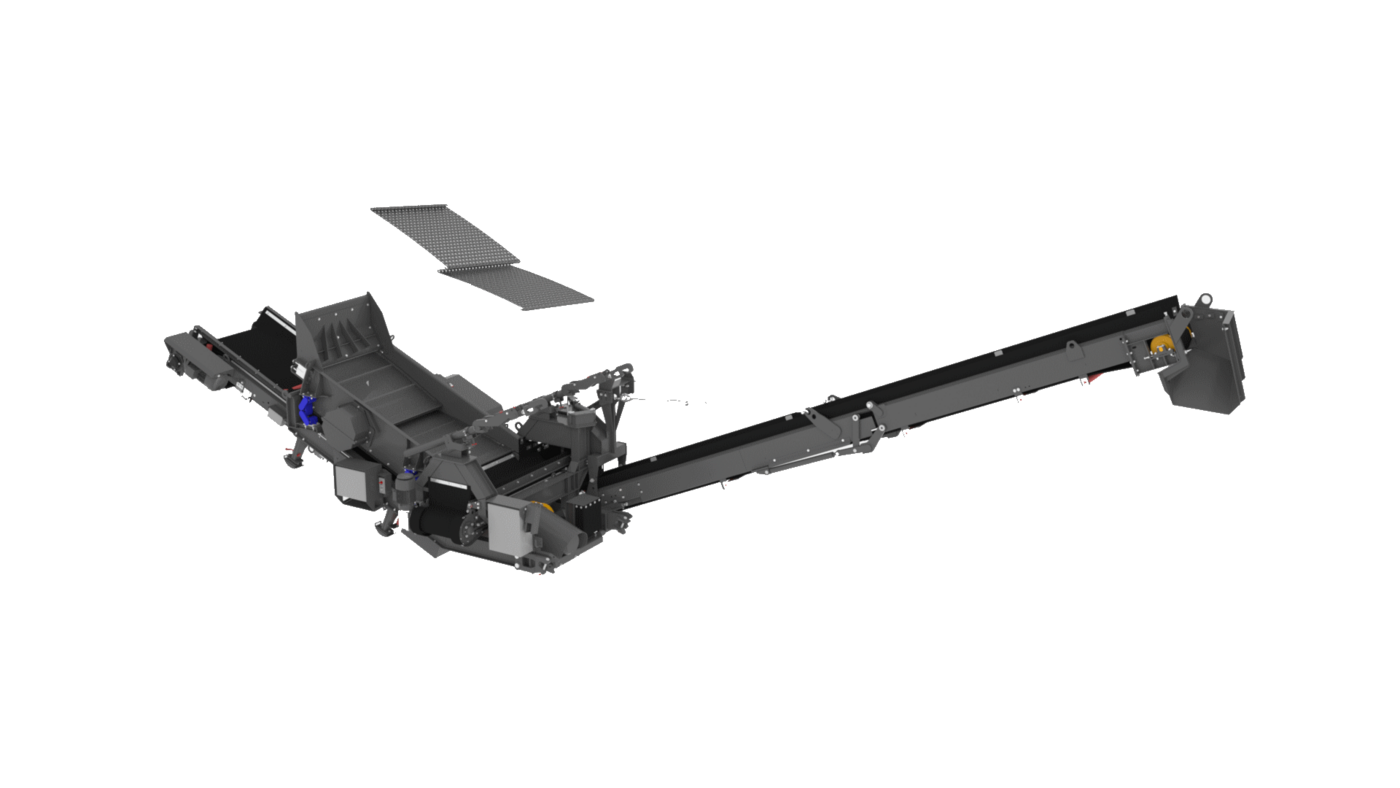 Return conveyor
X
Oversize material is recirculated back to the feed hopper. The return conveyor can swing out 90° for stockpiling oversize material (except RM 70GO! 2.0).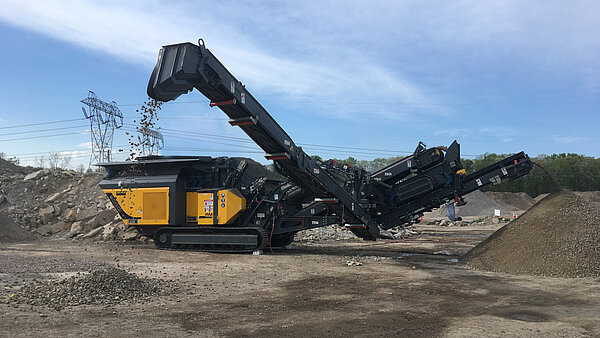 Single-Deck Screen
X
The RUBBLE MASTER screen attachment features a sloped single deck screen to improve screening efficiency.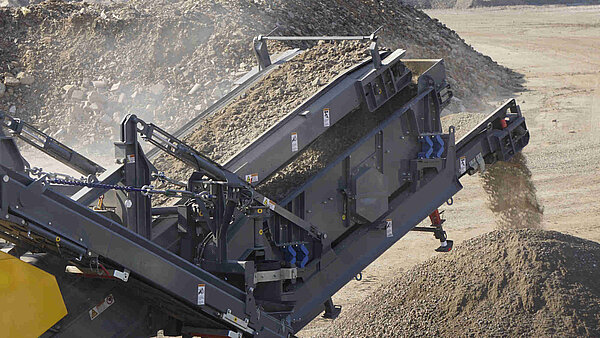 Cross-conveyor
X
The cross-conveyor transfers oversize material to the return conveyor. The cross-conveyor can discharge oversize material and contaminants to the side by reversing the discharge direction.
Get the freedom to run open or closed within minutes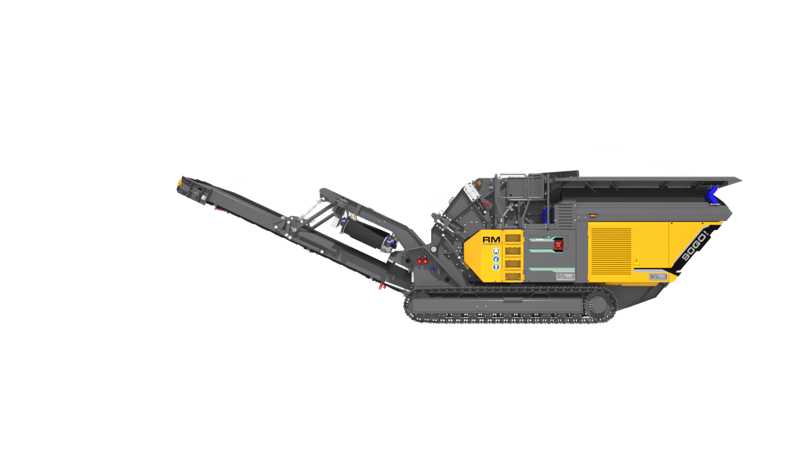 Open-Circuit Crushing
The screen attachment and return conveyor assembly can be easily detached to produce a non-spec material for subbase or fill (e.g. 3"-).
Maximium production. Minimum wear.
Crushing open circuit doesn't limit your crusher production and improves your bottom line when producing a non-spec material.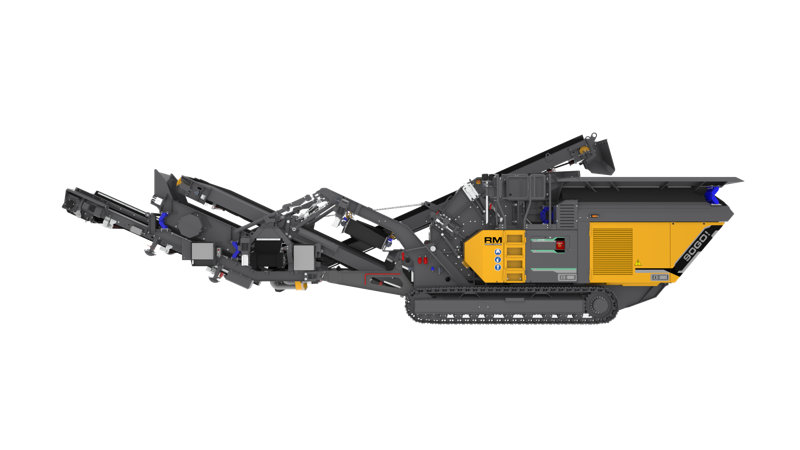 Closed-circuit setup
The return conveyor recirculated the material back into the hopper.
Spec material in a single pass
Produce a DOT approved spec material (e.g. ¾"- base material).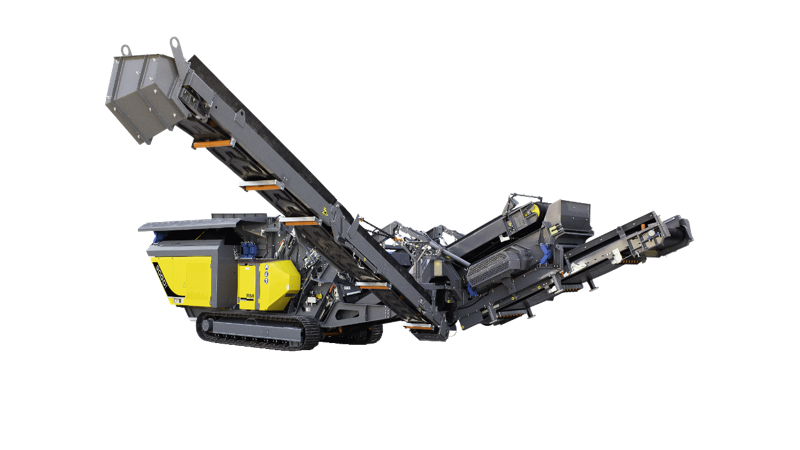 2-Way Split
The return conveyor swivels hydraulically 90° so that you can stockpile your oversize material (e.g. ¾"-3" clear stone).
Maximize products and production
An additional non-spec clear stone product can be used for temporary construction roads and soil stabilization.

Maximum flexibility. Less changeover time.

An easy way to get rid of the trash in your closed-circuit system
---
Petromat, fabrics, and other contaminants clog your screen and slow you down. The cross conveyor can be reveresed easily so that you can discharge trash to the side and keep crushing.
An optional windsifter can be installed to blow out leightweight materials to reduce clogging and cleaning downtime.
Work with Us
Since 1991, RUBBLE MASTER has brought numerous innovations to the market. We're crushing & screening experts and work closely with contractors and aggregate producers world-wide.