Mobile Scalping Screen
The RM HS5000M mobile scalping screen has been designed for maximum productivity and superior screening efficiency. It can be used for heavy duty scalping as well as precision screening applications. The highly aggressive screen can cater for a wide variety of applications and materials such as topsoil, aggregates, sand & gravel, excavated C&D waste, mulch, asphalt millings and more.

3-Way Split
3 finished products

One machine, multiple applications
Process C&D waste, asphalt, millings, sand & gravel,soil, mulch and more.

Easy access
Hydraulic lifting screen-box to change screen media conveniently.

Adjustable conveyor speeds
Feed conveyor and discharge conveyor speeds can be adjusted easily to achieve top performance.

Multiple settings
With a wide selection of screen media and screen-box adjustments operators can customize the scalping screen to suit your exact application.

Optional 2-Way Split
Produce only 2 products instead of 3.
Move Anywhere, Anytime
The RM HS5000M provides excellent mobility on the road and on the job. Hydraulic folding conveyor allows for easy and quick setup. Over top folding side conveyors ensure conveyor belt longevity and ease of setup.

Easy setup
One operator can set up the screen without the need of any special hand tools.

Fast setup
15 minutes from trailer to screening with hydraulic folding conveyors.

Easy to move
Use the same trailers you use to move a mid-size excavator
Crushing concrete and producing #57 stone
A RM 90GO! mobile crusher in combination with a RM HS5000M scalping screen are used to produce 3 products - concrete fines, #57 stone and 3" clear stone.
RM HS5000M Screening Topsoil
Segregating topsoil from roots, clay, stones and miscellanous debris.
Screening sticky sand & gravel
Processing wet sand & gravel prior to the crushing process. A RM HS5000 with a highly aggressive top-deck finger-screen setup was used to achieve a high output capacity with sticky material.
Screening C&D waste
Heavy duty scalping applications segregate fines and dirt from C&D waste for a cleaner end product.
Scalping asphalt millings
A RM HS5000M and a RM 70GO! process asphalt millings down to a 1 1/2"- product. The scalper takes the brunt of the load segregating fines prior to the crushing process.
Capacity

300 tph

330 TPH

Screen-box

3,660 x 1,420 mm

5 x 12 ft

Screen-decks

2

2

Screen angle

15° - 20°

15° - 20°

Feed unit

6 m³

7.8 yd³

Engine

97 kW

130 HP

Drive

Diesel-hydraulic

Diesel-hydraulic

Stockpile height tail conveyor

2,580 - 3,735 mm

8´6" - 12`3"

Stockpile height mids conveyor

3,670 mm

12'

Stockpile height fines conveyor

3,870 mm

12´8"

Transport dimension

13,440 x 2,730 x 3,200 mm

44´1" x 9´0" x 10´6"

Weight

24,500 kg

54,013 lbs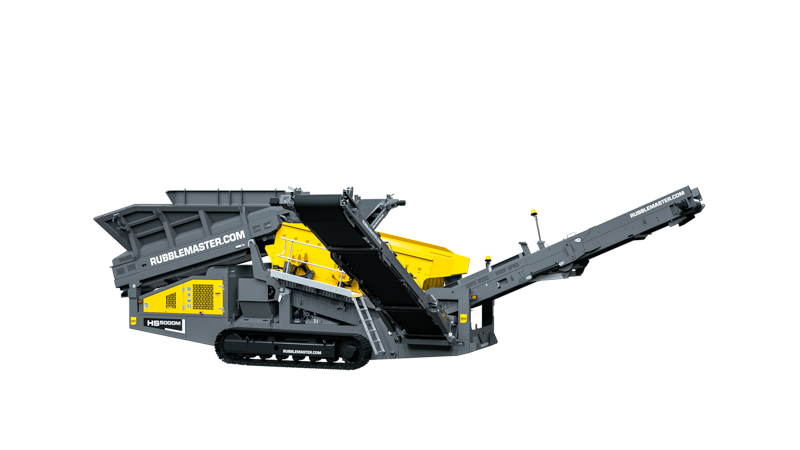 Talk to an Expert
Since 1991, RUBBLE MASTER has brought numerous innovations to the market. We're crushing & screening experts and work closely with contractors and aggregate producers world-wide.