Mobile Impact Crushers
Ideal for recycling, primary and secondary crushing applications.
Mobile Impact Crushers
Ideal for recycling, primary and secondary crushing applications.
WE MOVE. Benefit from our warehouse clearance! - Get 15% on All Parts and Up to 25% on Select Hammers. - [Hurry] ⏰ Get discounted parts while supplies last. ORDER NOW
Recycling & Rock Crushing
Mobile impact crushers are used to recycle concrete and asphalt and process natural rock. They are easy to move on and between job-sites, which allows operators to crush on smaller job-sites. Best of all they often come with an on-board screen attachment to produce spec products eliminating the need for additional screening equipment on-site.

Do More Jobs with One Crusher
Mobile impact crushers can process a variety of input materials from reinforced concrete and asphalt as well as soft and hard rock.

Meet Your Spec
Machine configuration can be adjusted to produce a multitude of finished products. The aggregate quality is far superior than with other type crushers because of its gradation and cuboid material shape.

Easy to Move
Ideal for on-site crushing to eliminate trucking and disposal costs or for custom crushing.
Cuboid aggregates produced by a mobile impact crusher.
Mobile Impact Crushers
that Make You More Money
RUBBLE MASTER builds the most versatile, job-friendly suite of mobile impact crushers available. We unite performance and mobility so that you can tackle more jobs and grow your business faster.
Are you ready for the production without the hassle?

High Performance
Mobile impact crushers featuring a high throughput capacity without sacrificing mobility.

Easy to Use
Making money has never been this easy. We build machines that are simple to operate and easy to maintain so that even novice operators dominate the jobsite from day one.

Safe to Use
Safety is our top concern so that you can trust your guys around the machine.
Save up to 30% in fuel with our
diesel-electric direct drive
RUBBLE MASTER mobile impact crushers use a proven and powerful diesel-electric drivetrain. Contrary to many traditional crusher manufacturers RUBBLE MASTER has been using this highly efficient drivetrain since our beginning in 1991 because of its many benefits over the lifetime of a machine.

Burns Less Fuel
compared to same size diesel-hydraulic plants

Works Well in Extreme Temperatures
No overheating in summer and no heating-up in winter.

Low Maintenance Costs
Electric systems are easier to troubleshoot and cheaper to maintain.
To be clear our mobile impact crushers are compact and light but far from slow!
RUBBLE MASTER is the global market leader for mobile compact crushers. Our low-mount engine design reduces steel structure to a minimum without jeopardizing performance. Best of all: it makes maintenance and moving the machine easy.

Ground Based Service
We keep your feet on the gorund so that you don't need to climb the machine with power tools or heavy wear parts.

Easy to Mobilize
Use your existing trailer to move the mobile impact crusher. Easy permits. From trailer to crushing within 15 minutes.

Low Feed Height
Easy to feed with an excavator or loader. Easy to pair with an adjacent jaw crusher or screening plant.

Traditional high-mount engine
X
Engine compartment sits above the main conveyor which requires operators to climb the machine for maintenance. It also makes the discharge tunnel longer risking easier material blockages.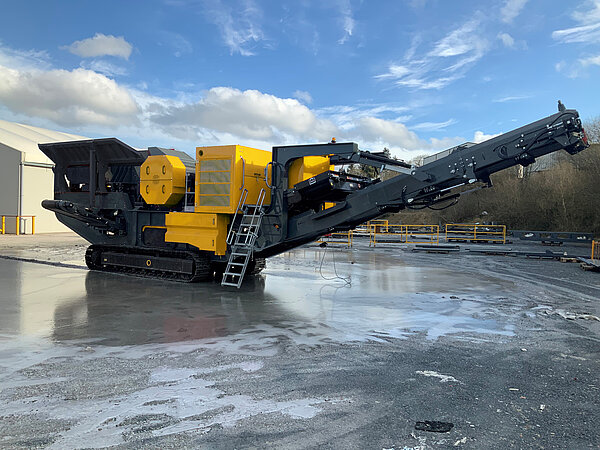 Low-mount engine (compact crusher)
X
The engine is placed underneath the hopper, which is a void area with many traditional mobile impact crushers.
Less steel = lighter machine
Shorter exit tunnel = less blockages
Easy maintenance = faster maintenance
Faster maintenance = more crushing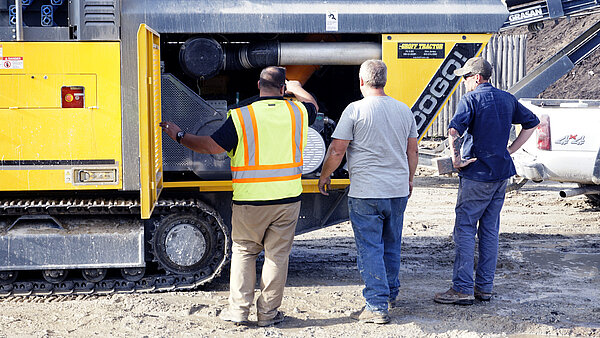 Operating a RUBBLE MASTER
is just…awesome.
---
Don't just take our word for it.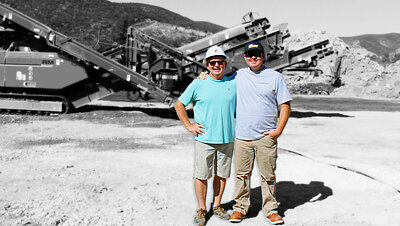 There is no safety that you are risking. My guys have thanked my time and time again for purchasing this machine over another one because it is so much easier on them.
Byrce Swaim
BTS Equipment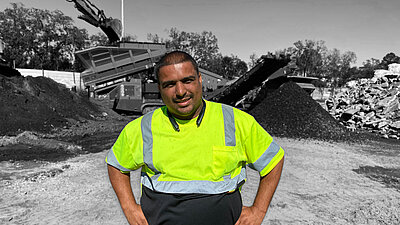 This machine puts out a lot of material, but most importantly, it is easy enough so my guys can troubleshoot many issues themselves.
Danny Salomon
Broadway Recycling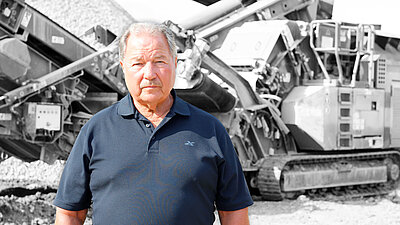 What makes a RUBBLE MASTER a RUBBLE MASTER is its compact dimension and the high troughput capacities that we achieve paired with an easy radio remote controlled operation.
Dave Schielein
Ironhustler Excavating
Talk to an expert
Since 1991, RUBBLE MASTER has brought numerous innovations to the market. We're crushing & screening experts and work closely with contractors and aggregate producers world-wide.