Turn your reclaimed asphalt pavement into money with a RUBBLE MASTER RAP Crusher
Mobile impact crushers and mobile screens for the efficient processing of reclaimed asphalt pavement.
Turn your reclaimed asphalt pavement into cash with mobile impact crushers and screens that work as hard as you.
Maximize production. Minimize operating costs. High Reduction Ratio
It is hard to process small asphalt millings into even smaller particles. RUBBLE MASTER's proprietary impact crusher design features a high reduction radio so that you can crush RAP efficiently and maximize your production. High Quality Fractionated RAP
Easy to adjust crusher settings to achieve superior product gradation. Minimize Downtime
Simple and fast processes keep you crushing longer so that you put more product on the ground in a day.

Processing large quantities of asphalt millings requires high reduction and screening capacity.
---
If your RAP crusher and screen are not in synch you...
are held back by bottle necks
waste time rehandling small / finished products
experience unnecessary wear
risk material build-up and spillage
RAP Crushers & Screens to Tackle Large Amounts of Asphalt Millings
Maximize your profits while minimizing downtime.

High Performance
RUBBLE MASTER mobile impact crushers provide the best throughput capacity in their class without sacrificing mobility.

Easy to Use
Operating a crusher doesn't have to require years of experience. Our crushers make material processing easier than ever, so you can put any operator on your RUBBLE MASTER with confidence.

Safe to Use
Safety is our top concern so that you can trust your guys around the machine and ensure that they get back to their families safely.

Keep your screen clean = keep crushing
---
At RUBBLE MASTER we understand that you need good access to the screen deck to change your screen media and remove any contaminants. The screen attachment can be lowered to the ground hydraulically so that you can replace panels faster and with comfort and reduce your downtime. Also the main discharge conveyor can be folded up for fast and easy access during the day, so that you can clean your screen deck efficiently and keep crushing.

RAP Crusher with Advanced Feeder to Maximize Performance
---
RUBBLE MASTER impact crushers adjust the feed speed automatically according to the crusher load so that you maintain constant high performance. An optional 2-deck pre-screen segregates fines prior to the crushing process.
Our radiator works brilliantly with crushing asphalt continuously
Many diesel-hydraulic impact crushers struggle with crushing asphalt continuously because of asphalt dust building up inside the radiators leading to overheating issues and loss of power. Diesel-electric crushers require less cooling and get away with smaller radiators, so that you face less maintenance and downtime.

Wide-core radiator
Smooth material flow. Less dust build-up. Easy to clean.

Stays clean longer
The radator's location is not directly exposed to dust.

Easy access
The radiator pack is easily accessible from the ground.
3 Steps to Own your RUBBLE MASTER

Get The Equipment
We'll pair you with a crushing and screening expert to help you choose the right machine that meets your needs and makes you money. We can even help you find the right financing for your new investment.

Get The Training
Once you get your new machine, we'll train your staff onsite - your material, your machine. We design our machines for easy single-operator use, so your team will feel confident and safe using your RUBBLE MASTER crusher or screener.

Get It Done
Dominate the jobsite with machinery that holds up its end of the bargain. You'll spend time getting the job done - not hauling material or fixing your machines. You'll look forward to watching money coming out of your new machine every day you're on the job.

Incease Production by Adding a Mobile Screening Plant
---
Processing asphalt millings is as much a screening job as a crushing job. Removing fines prior to the crushing process increases total tonnage output while lowering your wear cost, so that you make more money faster.
Processing RAP
A RM 100GO! processes asphalt slabs and millings to a 9&16"- product in a closed circuit setup before feeding it to an incline screen to further split it into a coarse RAP and fine RAP product.
Processing asphalt millings
A RM HS5000M scalping screen was used to remove fines prior to the crushing process.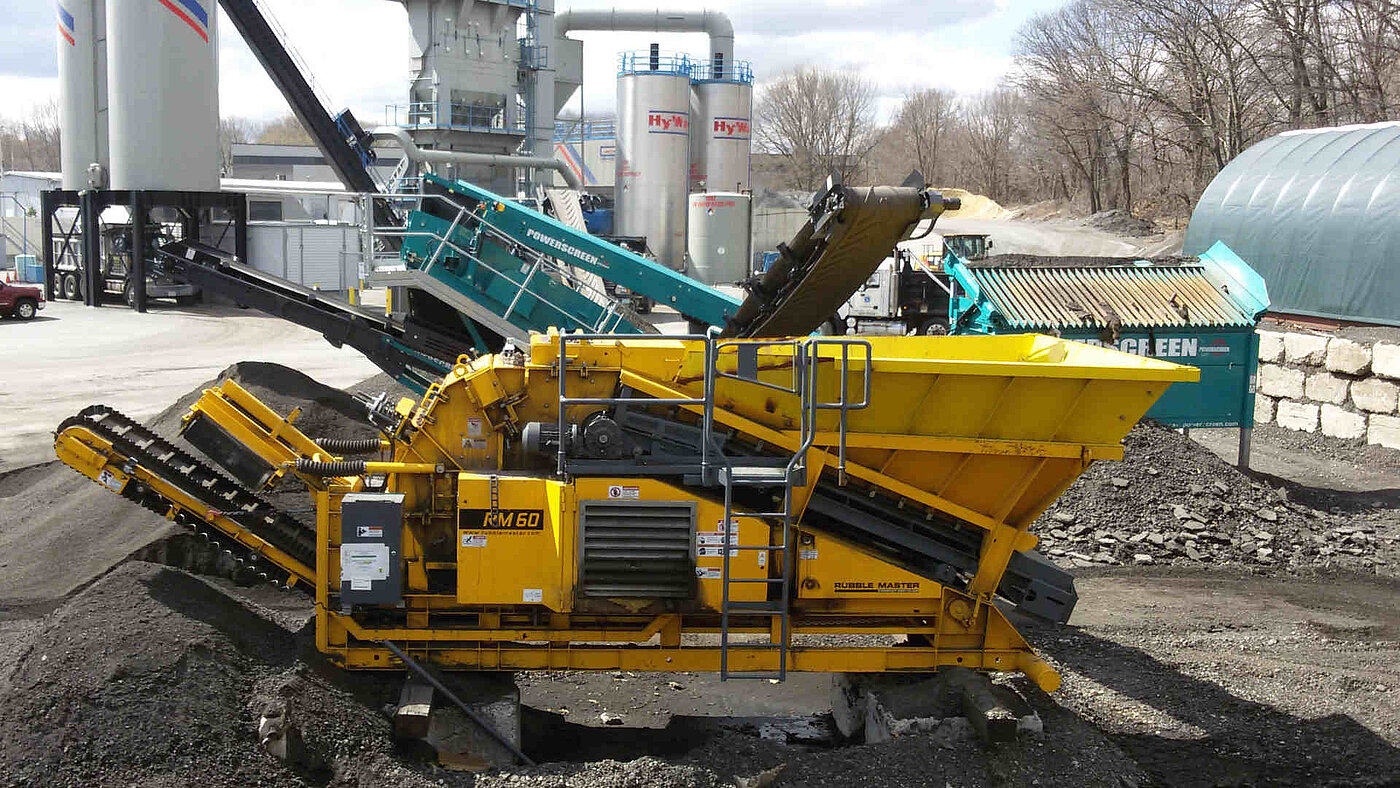 Processing oversize
An incline screen was used to screen a 1/2"- RAP product and a RM60 Compact Crusher was used to process the oversize chunks.
Talk to an Expert
Since 1991, RUBBLE MASTER has brought numerous innovations to the market. We're crushing & screening experts and work closely with contractors and aggregate producers world-wide.