Operating costs affect your bottom line
At RUBBLE MASTER we look at crushing in its entirety. We understand that you can't afford to be down or waste money on high operating costs. Our diesel-electric drives maximize your profits while minimizing downtime.

Cut your fuel bill by up to 30%
compared to traditional diesel-hydraulic crushers.

Cut your fluids costs
RUBBLE MASTER crushers operate a small hydraulic system for auxiliary functions only.

Cut your downtime
Electric drives maintain its performance in the harshest conditions and over time.

You work too hard to waste your profits on high operating costs
---
If you don't use an efficient diesel-electric drive in your crusher, you...
spend more money on fuel
face higher costs changing oil and maintaining a hydraulic system
waste time chasing hard to identify errors
have to keep up with cleaning your radiator
Diesel-electric drives are highly-efficient and convenient to work with
Reduce losses. Increase efficiencies. Make more money.

Reversible Conveyor Belts
The direction of all conveyor belts can be reversed by the press of a button to undo a blockage or to adjust your belt tracking.

Individual Start/Stop
Run conveyor belts individually for maintenance or to clear a belt before transport without firing up the entire machine.

Works Well in Extreme Temperatures
No overheating in the summer time and no heating up in winter.

Jam Detection & Overload Protection
Lower risk of damaging a conveyor belt or other components if something gets wedged in.

Low Noise Emissions
Surprisingly quiet crusher.

Easy Troubleshooting
Electric errors are easy to trace and repair.
How do diesel-electric direct drives work?
The diesel-engine runs a generator to produce the power for all auxiliary drives (such as discharge & transfer conveyors). The impact crusher rotor is directly driven by the diesel-engine via a v-belts delivering the full power of the diesel engine. A manual twin-disc clutch engages and disengages the rotor and the crushing operation. A hydraulic coupling is used for a soft start of the rotor.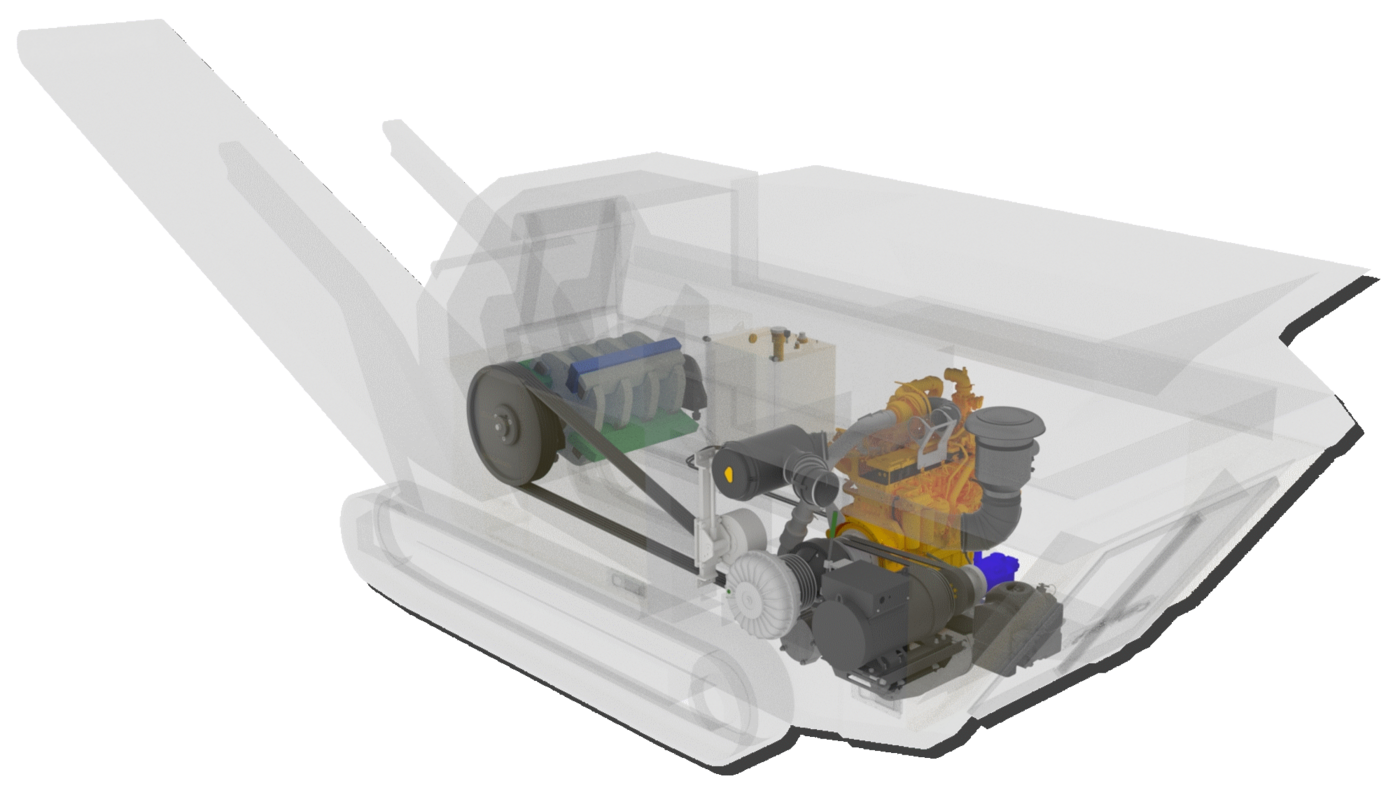 Generator
X
Electric powered auxiliary drives
Feed hopper
Discharge conveyors
Screen attachement
Direct drive
X
Crusher rotor is directly driven by the diesel engine via v-belts.
Clutch assembly
X
Manual twin-disc clutch to engage/disengage the crusher. Soft start via a hydraulic coupling.
Hydraulic pump
X
Small hydraulic system to operate cylinders and tracking the machine.
What are the disadvantages?
Really, there are not a lot. The biggest flex of any hydraulic plant over an electric plant is the easy stepless adjustment of motor speeds (e.g. feed speed, rotor speed, conveyor belts) through a simple flow valve. Electric drives require additional power electronics to get this accomplished. Our crushers can both adjust the rotor and the feed speed.
Our radiator works brilliantly with crushing asphalt continuously
Many diesel-hydraulic impact crushers struggle with crushing asphalt continuously because of asphalt dust building up inside the radiators leading to overheating issues and loss of power. Diesel-electric crushers require less cooling and can use smaller radiators, so that you face less maintenance and downtime.

Wide-core radiator
Smooth material flow. Less dust build-up. Easy to clean.

Stays clean longer
The radiator's location is not directly exposed to dust.

Easy access
Radiator swings out 90° for cleaning.
(except RM 70GO! 2.0)
3 Steps to Own your RUBBLE MASTER

Get The Equipment
We'll pair you with a crushing and screening expert to help you choose the right machine that meets your needs and makes you money. We can even help you find the right financing for your new investment.

Get The Training
Once you get your new machine, we'll train your staff onsite - your material, your machine. We design our machines for easy single-operator use, so your team will feel confident and safe using your RUBBLE MASTER crusher or screener.

Get It Done
Dominate the jobsite with machinery that holds up its end of the bargain. You'll spend time getting the job done - not hauling material or fixing your machines. You'll look forward to watching money coming out of your new machine every day you're on the job.

Dominate your jobsite with a quiet crusher
---
Noisy construction machinery result in complaints by the neighbours and the DEP or Ministry of Environment. The highly-efficient diesel-electric drive allows for smaller and less noisy diesel-engines, so that you can run without getting distracted and get the job done. It also increases safety because you can communicate with your crew more easily while the machine is running.

The world is turning to electric drives.
RUBBLE MASTER has been using electric drives for 30 years!
---
Innovation is part of RUBBLE MASTER's DNA. We strive to make our machines more efficient, user-friendly, and safe every day, so that you can dominate your jobsite and grow your business.

Electric drives are proven by the most demanding aggregate producers
---
Aggregate producers world-wide use electric power to run their stationary- or semi-mobile equipment. Why would you run hydraulics on a mobile crushing plant?
Produce more products with the lowest cost-per-ton possible while maintaining full mobility.
Traditionally, very mobile crusher and screen runs its own diesel-engine and is a closed system on its own. RUBBLE MASTER diesel-electric crushers can also power another mobile diesel-electric screening plant, so that you can maximize your profits per ton and dominate your aggregate market.
Why get different machines from different vendors?
---
Our mobile crushers & screening plants come out of one mold. Ingeniously orchestrated crushing & screening solutions make you more money so that you can focus on growing your business. On top, running only one diesel-engine is a home run.
✔️Lowest cost per produced ton
✔️Lower maintenance
✔️Full mobility
When RUBBLE MASTER designs your mobile processing operation, there is zero friction between your crushing & screening plant.
It's simply the most efficient way to produce your aggreates: one partner.
Talk to an Expert
Since 1991, RUBBLE MASTER has brought numerous innovations to the market. We're crushing & screening experts and work closely with contractors and aggregate producers world-wide.