Dominate your Jobsite with a RUBBLE MASTER Asphalt Crusher
High-performance & low operating costs
watch video
RM 90GO! Impact Crusher
Processing asphalt pavement to a spec material in a single pass.
Turn your asphalt into cash with a mobile crusher.
High-quality aggregates for a high-quality operation. Increase Profits
Eliminate disposal fees. Reduce trucking costs. Create your own stockpile of valuable, gradable, and compactable material. Whether you save it or sell it, crushing your asphalt will increase your profits. Minimize Downtime
Simple and fast processes keep you crushing longer so that you put more product on the ground in a day. Zero asphalt related radiator issues. Scale your Business
Whether you add a custom crushing profit center or just want to recycle your material RUBBLE MASTER has the right size machine to support your venture.

Asphalt is a soft but abrasive material and the dust gets everywhere!
---
If you have to work hard to keep your crusher running in asphalt you are losing money and wasting time on cleaning your machine. A RUBBLE MASTER asphalt crusher works brilliantly crushing asphalt at a high-rate continuously, so that you maximize profits while minimizing downtime.
You should get to spend your time dominating the jobsite, not cleaning or unclogging your machine.
Asphalt Crushers for Paving & Sitework Contractors
Maximize your profits while minimizing downtime.

High Performance
RUBBLE MASTER mobile crushers provide the best throughput capacity in their class without sacrificing mobility.

Easy to Use
Operating a crusher doesn't have to require years of experience. Our crushers make material processing easier than ever, so you can put any operator on your RUBBLE MASTER with confidence.

Safe to Use
Safety is our top concern so that you get back to your family safely.
Impact Crushers are Asphalt Crushers
Jaw crushers struggle with processing asphalt (especially in warm environments) because the material gums up in between the jaw ties. Impact crushers deliver the performance and reduction you need to process asphalt efficiently and profitably.

Peeled and Milled Asphalt
Impact crushers can be equipped with high-chrome hammers to extend the wear life and lower your operating costs.

High Quality Aggregates
Cubical product shape.

Superior Gradation
Gradable and compactable aggregates.
3 Steps to Own your RUBBLE MASTER

Get The Equipment
We'll pair you with a crushing and screening expert to help you choose the right machine that meets your needs and makes you money. We can even help you find the right financing for your new investment.

Get The Training
Once you get your new machine, we'll train your staff onsite - your material, your machine. We design our machines for easy single-operator use, so your team will feel confident and safe using your RUBBLE MASTER crusher or screener.

Get It Done
Dominate the jobsite with machinery that holds up its end of the bargain. You'll spend time getting the job done - not hauling material or fixing your machines. You'll look forward to watching money coming out of your new machine every day you're on the job.
Unique Crushing Chamber Geometry to Maximize Reduction & Production
The high reduction-ratio of RUBBLE MASTER impact crushers produces more finished product after one pass so that you reduce oversize material and improve your operating cost.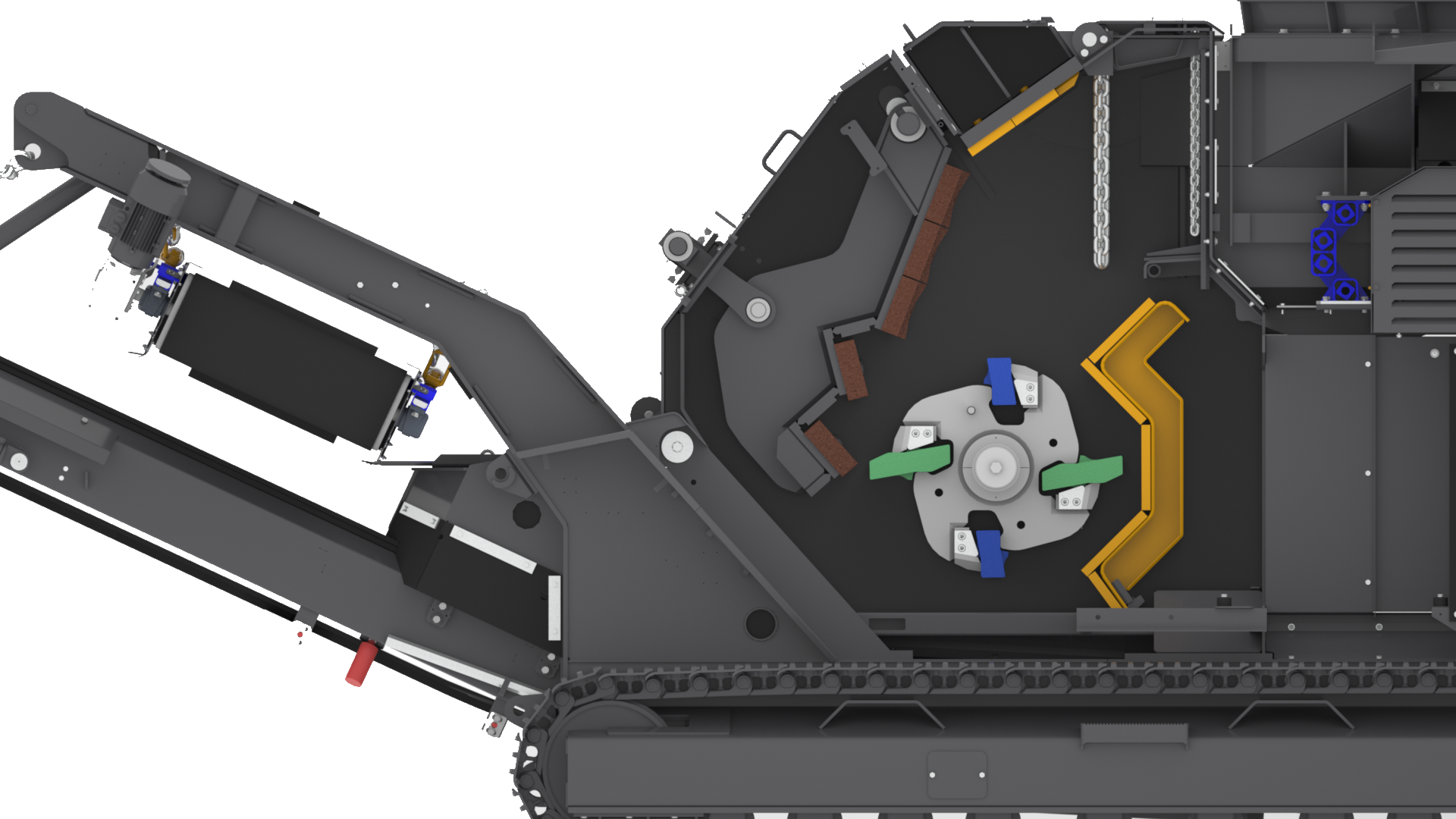 3 Stage Crushing Process for a High Reduction
X
Many crushers feature 2 independent aprons that need to be adjusted independently. RUBBLE MASTER's single apron design allows operators to simply and quickly adjust their closed side setting (CSS) so that you get your settings right all the time and maximize throughput & profits.
4-bar rotor
X
Suitable for recycling (e.g. peeled asphalt or broken concrete) or secondary crushing (e.g. milled or reclaimed asphalt).
Smooth material flow
X
Chevron style conveyors for optimal material discharge and no build-up underneath the rotor.
Pre-screen to bypass fines
X
Fines inside an impactor is like sand-blasting your wearables. RUBBLE MASTER impact crushers come standard with a pre-screen grizzly to bypass fine materials to increase production and lower your wear cost.
Our radiator works brilliantly with crushing asphalt continuously
Many diesel-hydraulic impact crushers struggle with crushing asphalt continuously because of asphalt dust building up inside the radiators leading to overheating issues and loss of power. Diesel-electric crushers require less cooling and get away with smaller radiators, so that you face less maintenance and downtime.

Wide-core radiator
Smooth material flow. Less dust build-up. Easy to clean.

Stays clean longer
The radator's location is not directly exposed to dust.

Easy access
The radiator pack is easily accessible from the ground.
What our customers are saying
The RUBBLE MASTER is versatile enough to produce a wide range of materials. At any given project those needs change. So we can be crushing rock, concrete and asphalt producing a number of different materials. And, the ability to change the configuration of our machine and produce the material that we need is timely and not a tedious task.
Dave Beinhower, E.K. Services Inc.
RM 70GO! crushing peeled asphalt and curbs to roadbase
Crushing peeled asphalt, concrete curbs and sidewalk to a 3/4"- base product with a RM 70GO! compact crusher in a tight contractor yard.
RM 90GO! crushing asphalt to roadbase
Crushing asphalt slabs to a 3/4"- base product with a RM 90GO! mobile crusher.
RM 100GO! crushing asphalt to a base material
Crushing blacktop and millings to a 1.5"- roadbase material to be reused for driveways and parking lots.
Crushing asphalt with a RM 80GO!
Processing asphalt in Ontario to a 3/4"- (A-gravel) base material.
Crushing RAP - Recycled Asphalt Pavement
Processing asphalt and millings to a 1/2"- product.
RM80 impact crusher processing asphalt
One man processing asphalt pile using track&crush to move crusher along the pile.
Talk to an Expert
Since 1991, RUBBLE MASTER has brought numerous innovations to the market. We're crushing & screening experts and work closely with contractors and aggregate producers world-wide.