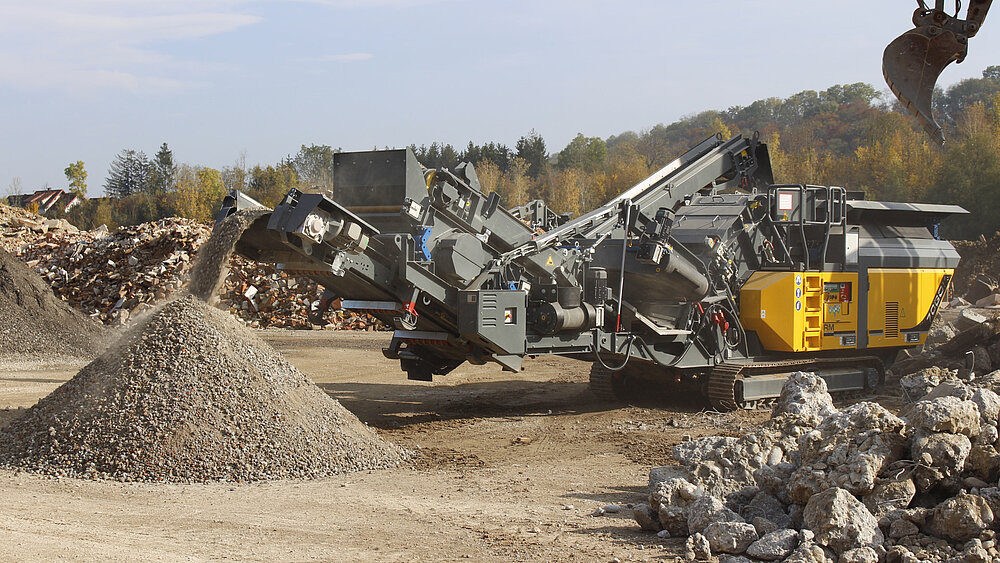 RM 70GO! 2.0
Compact Crusher
WE MOVE. Benefit from our warehouse clearance! - Get 15% on All Parts and Up to 25% on Select Hammers. - [Hurry] ⏰ Get discounted parts while supplies last. ORDER NOW
The most profitable Compact Crusher to turn materials into money.
Make improvements to your material processes on-site or in your yard. Without additional operators or changing your mainline business you can improve your bottom line. Custom Crushing
Create an additional income by crushing for your clients without competing against the big dogs. On-Site Crushing
Crush your own materials on-site and save trucking, material, & disposal costs. Aggregate Production
Produce your stockpile of DOT spec material at a fraction of the cost of purchased aggregates. Ready to go, anytime.
To be clear, it is a compact crusher, but it is much bigger than you think.
While many crushers are too big and expensive, and others are too small and can't meet spec, the RM 70GO! brings power, size, and output quality into one affordable package so that you can make more money with your materials and grow your business.

Your customers will be impressed,
your competition jealous.
Up to 165 TPH depending on specs and materials.

Adjustable Output Size
Produce anything from a ½"- to a 3"- material.

Best Selling Compact Crusher
RUBBLE MASTER has been manufacturing compact crushers since 1991 and is the globale market leader for mobile compact crushers.
Crush Concrete, Asphalt, and Rock into Base and Subbase Materials
RUBBLE MASTER Compact Crushers are impact crushers that feature an on-board screen to produce a wide range of spec materials so that you can do more jobs and grow your materials business faster.

High Quality Products
Meet your material spec

Excellent Gradation
Produce gradable and compactable aggregates.

Rebar Liberation & Segregation
Process reinforced concrete.
Built with Operators,
for Operators
The operation of a RUBBLE MASTER crusher is unlike any other crusher. We focus on making machines less complex so that you can start crushing without the lengthy training necessary because we believe everybody should be able to operate a crusher.

Easy operation
Intuitive controls and simple operator guidance.

Radio remote operated
Run the crusher conveniently & safely from the cab.

One-Man-Operation
No need for a large crew or specilized knowledge.
Best of All You Can Trust Your Guys Around the Crusher
The RM 70GO! Compact Crusher is built from the ground up as a crusher for novice operators providing protection from injuries and protection of your investment.

Intelligent Machine
Sensors shut down the machine in case of an error to reduce the risk of injuries and machine damages.

Safety First Design
A 2-hand operation of hydraulics, safety pins, sensors, and guards reduce the risk of operator error and injury.

Ground Based Service
Low-mounted engine design makes light work of your dailies and keeps your feet on the ground.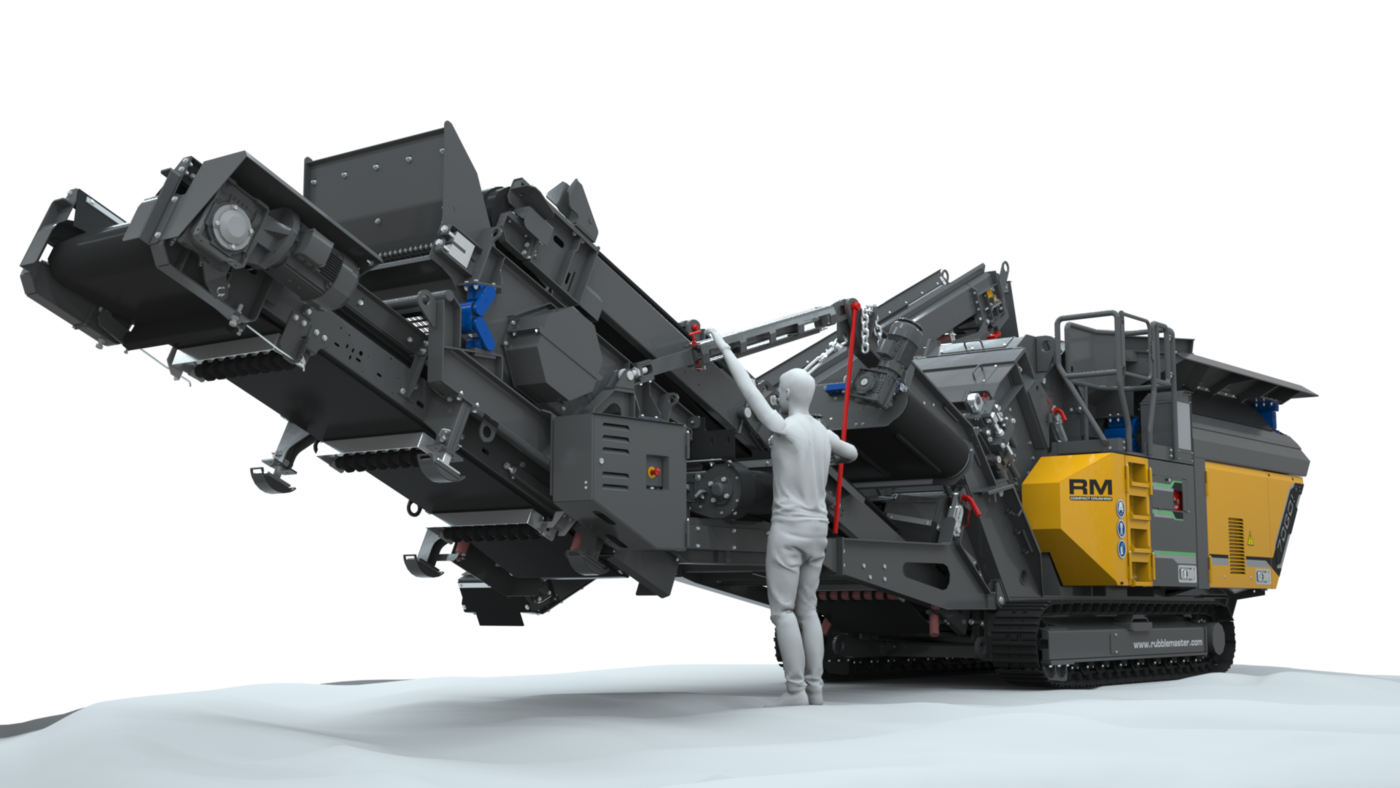 Go Anywhere, Anytime
RUBBLE MASTER always keeps mobility in mind so that you don't have the hassle of burdensome permitting, escorts, and long setup times.

Fast Deployment
15 min from trailer to crushing

Single Move
Move the crusher on the same trailer as your excavator.

Less than 8' wide
Easy permit load.
Tackle small jobsites without a wheel loader or stacking conveyor
Crushed material needs to be moved and stockpiled which requires a loader or stacking conveyor. RUBBLE MASTER can track & crush simultanously to windrow your material so that you can run with minimal support equipment.
No Space, No Problem
If you think you have no space think twice. Our compact crushers are small enough to fit into tight yards, confined jobsites, and indoor jobsites. The ability to crush & track simultaneously doesn't require an additional wheel loader or stacking conveyor.

Small Footprint
One machine does it all. Crush, screen and separate rebar. No additional processing equipment needed.

Low Noise Emissions
Surprisingly quiet machine.

Low Feed Height
Easy to reach into the hopper with your excavator no matter how big or small your pile is.
Crushing asphalt & curb and gutter
A paving contractor in CT operates a RM 70GO! Compact Crusher in a tight yard to process his own asphalt & concrete tear-outs to a spec base material.
RM 70GO! walk-around video
Join crushing & recycling specialist Geoffrey Faber for a walk-around of a 2019 RM 70GO! Compact Crusher.
F.P. Reilly & Sons, Massachusetts
Mike Reilly started processing his own materials with a RM 70GO!. Since he purchased his machine he hasn't paid a single Dollar on disposing materials.
Compact Crusher Processing Concrete
The RM 70GO! 2.0 turns concrete into a high-quality recycled concrete aggregate that meets DOT / engineered spec.
Crushing Basalt to a 2.5"- subbase material
Impact crushers can process various types of rock without the need for a primary jaw crusher.
Crushing asphalt millings in conjunction with a scalping screen
High production with a RM 70GO! Compact Crusher in combination with a scalping screen The scalper segregates fines before crushing to increase total production and lower wear costs.
Capacity

150 tph

165 TPH

Inlet opening

760 x 600 mm

30" x 23"

Ideal feed size

450 mm

18 "

Crusher unit

4-bar rotor

4-bar rotor

Feed unit

2 m³

2.6 yd³

Prescreen Grizzly (standard)

1,000 x 700

39 x 28

Engine

115 kW

155 HP

Drive

diesel-electric

diesel-electric

Screen-box

22 x 444 mm

3.5 x 7 ft

Weight

24,200 kg

53,400 lbs

Transport dimension

13,300 x 2,360 x 3,100

43'8" x 7'9" x 10'2"
Operating a RUBBLE MASTER Compact Crusher
is just…awesome.
---
Don't just take our word for it.
"The thing I like about RUBBLE MASTER most is how simple it is. Even it is a high-tech machine it is not overwhelming."
Nick Hooper
Dependable Demolition
Talk to an Expert
Since 1991, RUBBLE MASTER has brought numerous innovations to the market. We're crushing & screening experts and work closely with contractors and aggregate producers world-wide.