Onsite Concrete Recycling Saves Thousands of Trucking Roundtrips
Case Study
Onsite Concrete Recycling Saves Thousands of Trucking Roundtrips
Case Study
Runway Reconstruction Generates More than
100,000 Tons of Broken Concrete
St. Louis Lambert International Airport (STL) is the primary commercial airport for the St. Louis metro area and parts of eastern Missouri and southern Illinois serving nearly 15.9 million passengers annually. Increased air traffic and aging runways result in the need to reconstruct the runway.
Eric Bruno and the team at Midwest Crushing & Recycling were awarded an onsite concrete recycling contract to turn concrete from the old runway into recycled concrete aggregates for the construction of the new runway.
Midwest Crushing & Recycling operates numerous impact crushers, jaw crusher, and screening plants and provide custom crushing services in southern Illinois, Missouri, and Arkansas. Besides concrete crushing Eric's team has perfected high-volume asphalt recycling using RUBBLE MASTER crushing & screening equipment.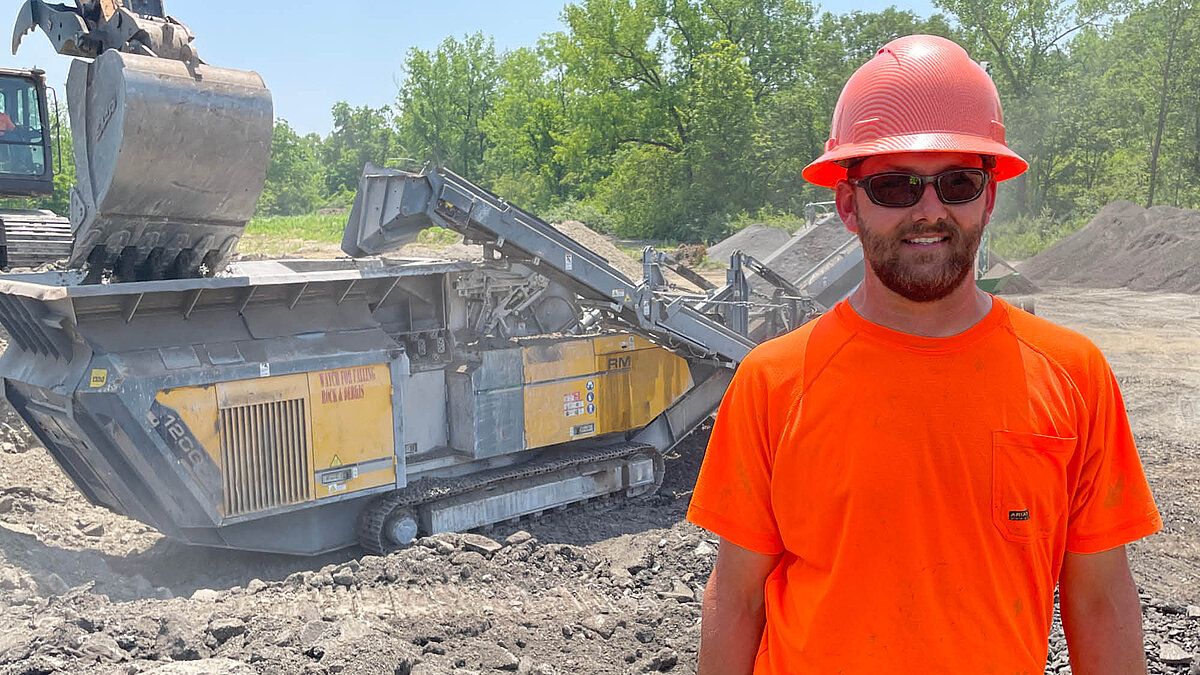 Without Onsite Concrete Recycling the Project Would be Terribly Expensive
Recycling concrete at an airport is no joke. There is not much space to stockpile concrete and it would be difficult to source the dump trucks needed to move concrete offsite. Getting in and out of the airport is a hassle and the amount of traffic a safety risk for flight operations.
Midwest Crushing & Recycling Keeps the Project On-Time and In-Spec with the Right Concrete Recycling Setup
The right jobsite setup is key to maximize production and minimize operating costs. The amount of material and time available called for a solution that required a minimum of material prep and a maximum production. Eric used a 44" x 27" primary jaw crusher for an initial reduction in size that fed into a RM 120GO! mobile impact crusher. The impact crusher fed 2" cuboid aggregates into a RM HS7500M 5'x16' scalping screen to produce a clear stone product for porous drainage and a base material for the new concrete pour.
Dust and Solid Steel Dollies Are Your Biggest Enemies When Recycling Concrete from Runways
Runway concrete is reinforced with up to 1" thick (25 mm) solid steel dollies. If you can't get the dollies out of your feed, you risk breaking your impact crusher blow bars. Learn more about uncrushable items that may break your impact crusher.
The primary jaw crusher took the brunt, and the wide magnet cross-belt over the jaw crusher discharge conveyor extracted the dollies before they got into the impactor. This reduced the risk of breaking hammers significantly, minimized total wear costs, and maximized the total production capacity.
Another challenge was to contain the dust in order not to interrupt flight operations. The proximity to the active runway required the use of the on-board dust suppression system.