Crushing Gravel
RUBBLE MASTER offers a range of mobile impact crusher that work billiantly for processing sand & gravel. On-board screening options help to achive high outputs with minimum wear.
What is a gravel crusher?
A mobile crushing plants reduces gravel in size. Dependnig on your gravel crushing application (material characteristics, input size, desired output size) you can use impact crusher or compression crushers such as jaw and cone crushers. Before and after the crushing process screens may sift throught the material and store it in different stockpiles accoring to their size.

Input material
The material type and its characteristics such as hardness, input size and abrasiveness define the type of crusher and material pre-processing requirements.

Output material
The finished material sizes and quality requirements define the type of crusher and further processing requirements. This could result in an additional crushing or screening stage.

Material volume
The amount of material you need to process defines the size of the crusher or machine class.
Impact Crushers Are Gravel Crushers
RUBBLE MASTER offer a large range of mobile impact crushers to process natural rock and recycling materials.

High Reduction Ratio
High performance even with small infeed material.

Quality Products
Perfectly cubical end product that meets spec. Impact crushers are better suited for fractionating round river rock.

More Materials. More Specs.
Produce a great variety of finished products from crusher run gravel to clear stone products.
Improve your Bottom Line
without Changing your Process
Crushing gravel with a lot of fines can result in accelerated wear. The patented RM Active-Grid is a high-performance pre-screening option to increase production up to 30% so that you can produce more product in a day and grow your business.
A Small Investment with a Huge Return.
Less dowtime. More thourghput. More Money.
Talk to an Expert About Pre-Screening Options
Contact our material processing specialist to evaluate the best pre-screening option for your material processing operation.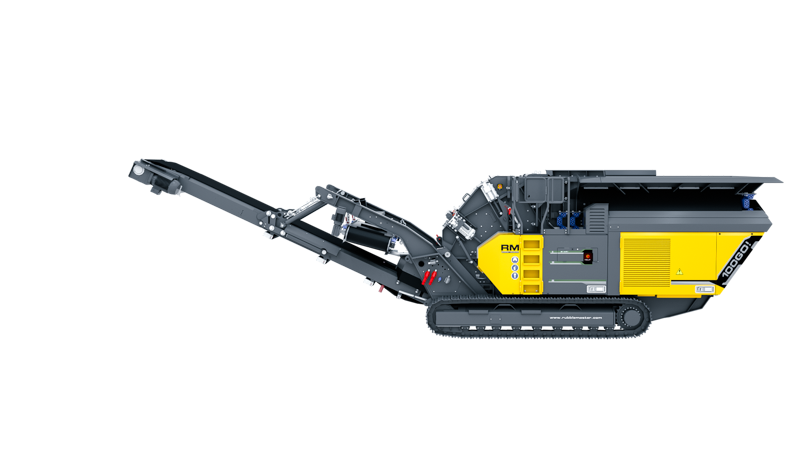 Open Circuit Configuration
No on-board screen for fast and cheap production.
Crusher Run Material
Basic reduction in size to a 2"- to 3"- non-spec material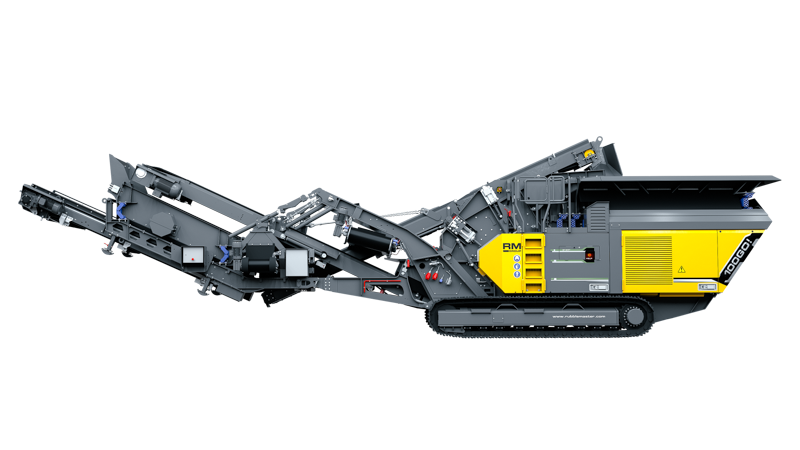 Closed Circuit Configuration
On-board screen and return conveyor
Spec Material
Produce a homogenous spec material (e.g. ¾"-) by eliminating oversize
What is Crusher Run Gravel?
Crusher run (also referred to as crush and run) describes material that passed through the crusher once to do an initial reduction in size. The material is comprised of crushed stone and fines. Crusher run gravel is typically used for driveways and ub-bases, or it is refined further with a screening plant to produce base (surface) materials or clear stone products. RUBLE MASTER's line of mobile impact crushers produce crusher run material up to 3"-. The top size varies greatly if not controlled by a screening plant.
Open Circuit Production
Crushing 16" river gravel with a RM 70GO! Compact Crusher to produce a 2"- crusher run gravel product.
How to seperate gravel and sand?
RUBBLE MASTER offers a range of screening machines to produce spec material such as fines, stone dust, chips, rip-rap, pea gravel, and other clear stone products.
Crushing basalt gravel in Oregon
A RM 100GO! mobile impact crusher with the on-board screen and return conveyor (closed circuit) produces a ¾"- base material.
Crushing gravel in Costa Rica
A RM 100GO! mobile impact crusher in conjunction with a CS3600 compact screener produces 3 finished products.
Replacing a jaw+cone setup
The RM V550GO! is a revolutionary rock crusher with and unparalleled performance and reduction ratio even with hard river rock.
Crushing river gravel in Mexico
A RM 100GO! mobile impact crusher produces 3 end products in conjunction with a RM CS4800 compact screen.
Talk to an Expert
Since 1991, RUBBLE MASTER has brought numerous innovations to the market. We're crushing & screening experts and work closely contractors and aggregate producers world-wide.