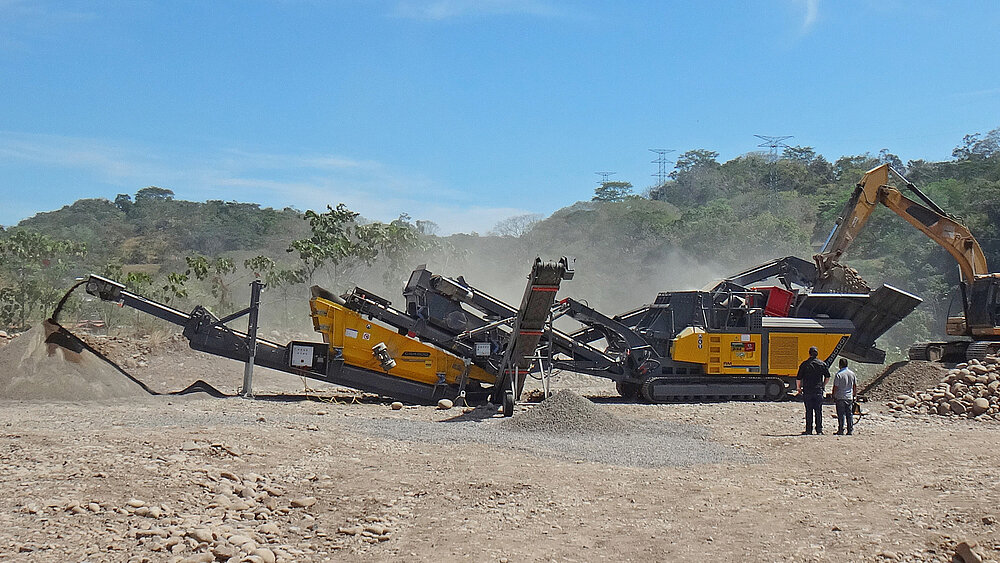 RM V550GO!
Hard Rock Secondary/Tertiary Impact Crusher
WE MOVE. Benefit from our warehouse clearance! - Get 15% on All Parts and Up to 25% on Select Hammers. - [Hurry] ⏰ Get discounted parts while supplies last. ORDER NOW
The Revolutionary Rock Crusher
Your material is too big for a cone crusher but too small for a jaw crusher. The RM V550GO! delivers an exceptional performance when you want to process small material into even smaller material.

Exceptional Reduction Ratio
Crushing from small to smaller in one step. The days of costly jaw and cone crusher trains are over.

Up to 30% Fines
Ideal for producing man-sand (manufactured sand) and grit products.

The Ultimate Jaw & Cone Alternative
Where other impact crushers fail the RM V550GO! has proven its performance and outstanding crusher design.
Hard-Rock Impactor Crushing 10" Granite
The unique VORTEX impact crushing chamber surpasses other impactors in wear and reduction ratio making this machine ideal for processing granite, basalt and river rock.
Lowest Operating Costs
The RM V550GO! can replace a traditional jaw cone, and screening plant setup. Like all RUBBLE MASTER impactors it features all the benefits that make it easy and safe to operate.

One-Man Operation
Your loader operator controls the crusher conveniently from his cab.

3 Machines in 1
Burning half the fuel and maintenance over a traditional setup.

Better Cubical Finished Product
Numerous settings to meet your desired end product.
Designed to be Fed with Wheel Loaders
The RM V550GO! is ideal for processing small amounts of materials or rehandling your stockpiles without the need to setup a costly crushing train including jaw, cone and screening plant.


3-Way Split Crusher Screener Setup
One engine to produce 3 finished products in a closed loop configuration.
Crushing river gravel in Costa Rica without a primary crusher
Crushing granite with a RM V550GO! impact crusher
RM Demo-Show with RM V550GO! + RM 90GO! + RM 100GO!
When Should You Consider The RM V550GO! Over another Impact Crusher
Without a doubt the RM V550GO! is a marvellous and special piece of machinery. Based on the RUBBLE MASTER mobile impact crusher platform it features the same options and design elements.

You Process Rock Only
Similar to a cone crusher the RM V550GO! cannot be fed with slabs or any contaminents.

Feed Size Does not Exceed 12"
If the material is less than 12" it almost doesn't matter how hard or abrasive your rock is.

Your Application is a Challange
You have tried different impactors and wear and the amount of fines are a challange. To get your job done you now require multiple machines that are costly and complex.
Talk to an Expert
Since 1991, RUBBLE MASTER has brought numerous innovations to the market. We're crushing & screening experts and work closely with contractors and aggregate producers world-wide.