Mini Jaw Crusher vs Compact Impact: material quality is key for a small concrete crusher
Case Study
watch video
Dependable Demolition found material quality to be key
Nick Hooper runs a RM 70GO! 2.0 to crush concrete into a high-quality recycled concrete aggregate.
Crushing 101 LIVE WEBINAR feat an expert contractor panel - Apr 6, 2023 02:00 PM Eastern Time - Practical tips on how to get started with mobile concrete crushing. - Register today
Dependable Demolition is a demolition, roll-off, and crushing contractor in McGregor, MN
Nick Hooper started to work in demolition in his late teens. Since then, he has grown his business into structural residential and commercial demolition. He also runs a roll-off business. The ever increasing amount of concrete from demolition jobs, from the roll-off side of his business and people dumping in his yard made him get into crushing. He can reuse the product on his own jobs and sell recycled concrete aggregate to contractors in the area.
Using a small concrete crusher has enabled him to save expensive concrete disposal costs in 2 ways. He could eliminate tipping fees right off the bat which is an immideate cost saving. On top of that, he had a lot of time invested in round-trips of up to 1½ hours which held him back in growing his main line business. When you are running trucks all day long to the landfill you can't take down buildings. Crushing material in his own yard has enabled him to get rid of the broken concrete much faster and turn a profit.
Mini jaw crushers don't produce spec and the material is hard to sell
First, he ventured into a mini jaw crusher and found quickly that the material produced by a jaw crusher doesn't meet spec, is hard to grade, and does not compact well. Without a high-quality recycled concrete aggregate product he struggled using the material on his own jobs but also found that he couldn't sell it easily. The way a jaw crusher works, it yields material that is coarse, elongated, and not consistent. Some parts end up quite rocky whereas other areas had a lot of fines.
In addition, he couldn't feed it fast enough. Without the time and manpower to sit all day to process a pile at a very slow pace he was kept from jobs that made him money and ultimatly growing his business.
The RM 70GO! 2.0 small concrete crusher produces a better quality material at a much higher production rate than a mini jaw crusher
RUBBLE MASTER's small concrete crushers use an impact style crusher that crushes and screens the material in a single pass. Without the ability to screen the crushed product you end up with oversize material and you can't sell your finished product as spec material. The RM 70GO! 2.0 can produce a 3" non-spec material as well as a screened spec material (e.g. ¾"- roadbase). In addition, an oversize clear stone product (e.g. ¾"-3") can be stockpiled for e.g. construction side entrances.
Our small concrete crushers feature all the bells and whistles of a full-size crusher and can produce a DOT spec material.

Go Anywhere, Anytime
Aggregate equipment is bulky, heavy, and difficult to move. RUBBLE MASTER machines are designed from scratch with mobility in mind, so you get the freedom to move anywhere and save transport costs.

Operate with Ease
Heavy equipment is hard to work on and getting more and more complex. RUBBLE MASTER builds crushers & screens that make material processing easier than ever. You can put any operator on your RUBBLE MASTER with confidence.

High Performance on a Small Footprint
While many crushers are too big and others are too small RUBBLE MASTER Compact Crusher provide a good performance and a compact design.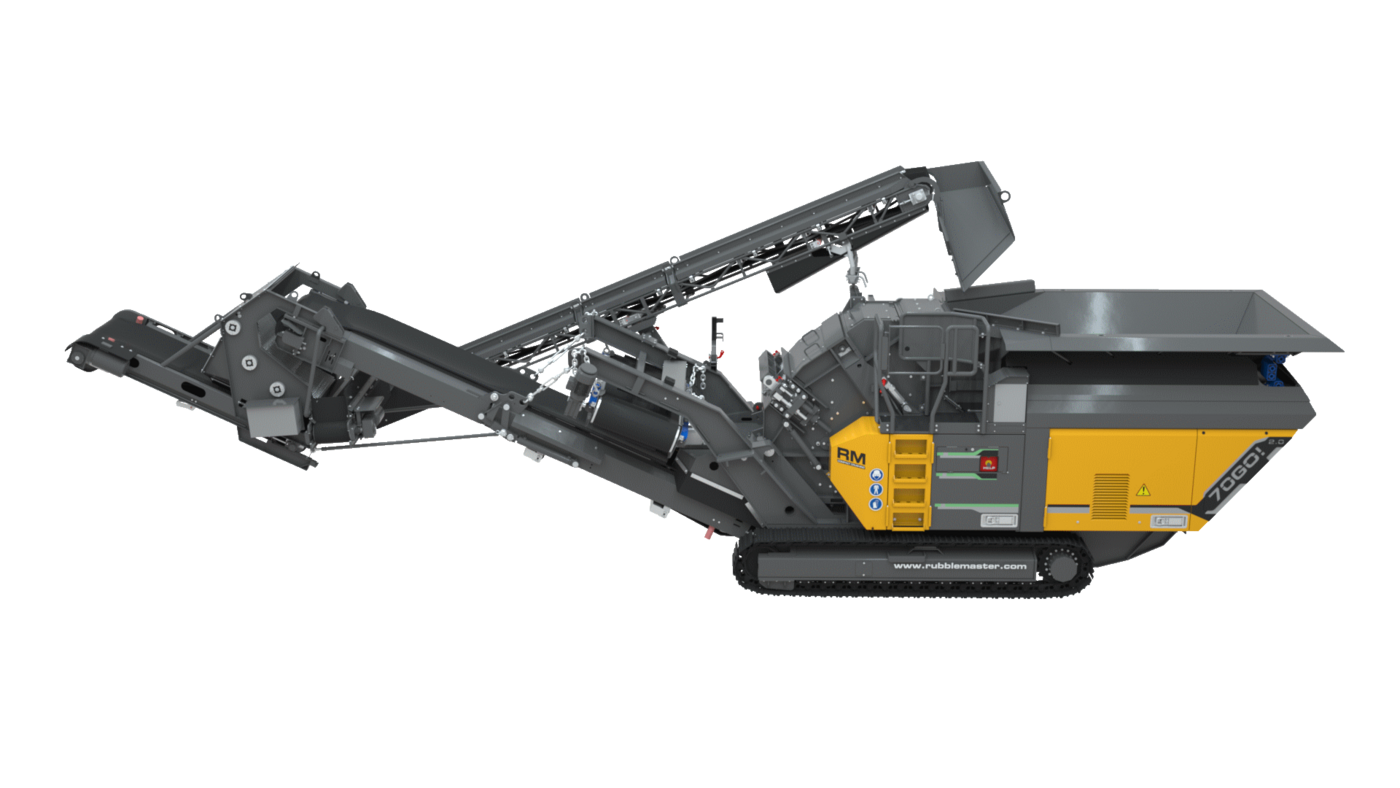 Low Feed Hopper
X
The feed hopper can be easily reached with a smaller excavator. The feed speed is adjustable and the crusher automatically slows down the feed if the machine is pushed too hard. Without the automated assistance tools, operators struggle to maximize production and get the most out of the machine.
Screen-attachment for producing spec material
X
The screen attachment will separate any oversize from the crushed material. The oversize is collected on a transfer conveyor and returned to the feed hopper via the return conveyor to be recrushed to get it down to the desired spec.
Magnetic separator
X
The crushing process liberates encapsulated rebar and the magnet separates rebar from the finished product.

Total crusher control to run easily and safely with a single operator.
Typically, large crushers require a wheel loder or stacking conveyors to move the finished product. The RM 70GO! small concrete crusher can track and crush simultaneously to windrow your material so that you keep crushing and maximize your production.
Operating a RUBBLE MASTER
is just…awesome.
---
Don't just take our word for it.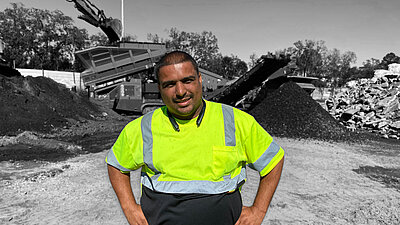 "I wanted to have a small concrete crusher at first to keep my investment low initially. I purchased a RM 70GO! 4 Years Ago and I have built my recycling profit center with it. Now, I own a RM 100GO! doing much larger jobs."
Danny Salomon, Broadway Recycling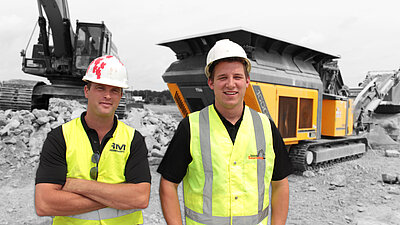 "We have tried bigger machines than ours with the same output as our RUBBLE MASTER".
Calvin Schouten & Wiebren deBoer, Schouten Excavating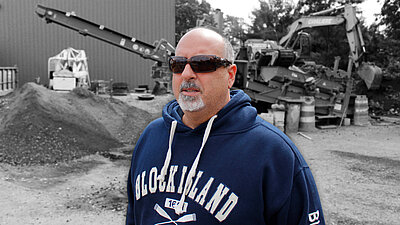 "The RM 70GO! is the perfect size for us. We have not much room but this machine produces base material for our paving projects and gives us the ability to turn around inbound material quickly."
DJ Cavaliere, Cavaliere Industries Inc
At RUBBLE MASTER we understand that your resources are limited and you can't waste time with slow processes.
---
At RUBBLE MASTER, we don't just care about the equipment - we care about what our equipment does for your team and for your bottom line. Therefore we built a range of compact crushers that outperform any mini jaw crusher so that you get back valuable time to focus on your mainline business.
We've been leading the pack in mobile compact crushing for 30 years. We're always innovating new ways to help you achieve high output without the hassle - so you can tackle any job knowing your equipment will hold up its end of the bargain.
Capacity

150 tph

165 TPH

Inlet opening

760 x 600 mm

30" x 23"

Ideal feed size

450 mm

18 "

Crusher unit

4-bar rotor

4-bar rotor

Feed unit

2 m³

2.6 yd³

Prescreen Grizzly (standard)

1,000 x 700

39 x 28

Engine

115 kW

155 HP

Drive

diesel-electric

diesel-electric

Screen-box

22 x 444 mm

3.5 x 7 ft

Weight

24,200 kg

53,400 lbs

Transport dimension

13,300 x 2,360 x 3,100

43'8" x 7'9" x 10'2"

Get our Best Advice
Join over 5,000 people who get our practical crushing & screening tips once a month.