Impact Crusher Blow Bars
A comprehensive blow bar selection guide to maximize your crushing profits!
Impact Crusher Blow Bars
A comprehensive blow bar selection guide to maximize your crushing profits!
Impact crusher blow bars (also called hammers) are the main wear item of horizontal shaft impact crushers and a major cost driver. The purpose of blow bars is to strike material entering the crushing chamber and throwing it against the impact wall causing the material to fracture into smaller particles (see also: how does an impact crusher work). In the process of striking the material blow bars wear out and need to be replaced. They are made out of cast steel with various metallurgical ingrediants optimized for a specific applications. Selecting blow bars that match your application is crucial for achieving a long wear life.
Metallurgical types of blow bars
Blow bars are manufactured in foundries- where they are cast to the manufactureres shape and metallugical specifications. While the crusher hammer shape can be easily copied the metallurgical composition is the actual secret ingredient.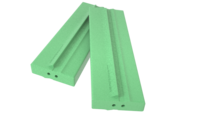 Martensite ceramic hammers
Cast iron martensic hammers with ceramic inlays. While the martensitic alloy provides impact resistance the ceramic inlays improve abrasion resistance. This combination makes them ideal for concrete recycling and primary crushing applications.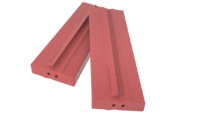 High chrome hammers
High chrome blow bars are used for abrasive applications such as asphalt crushing or natural rock. They tend to be more brittal than martensitic ceramic hammers and thus could crack when impacting uncrushable contaminants (e.g. milling teeth, drilling bits, rebar, tramp iron, aso). This could also mean to maintain a smaller feed size to reduce the risk of breakage.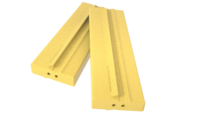 High chrome hammers with ceramic inlays
Similar to the high chrome hammers these feature a longer wear life because of the ceramic inlays. As with any chrome bar, they do no perform well in applications with tramp metal or large feed sizes, but they are effective in highly abrasive applications. For this reason, chrome ceramic blow bars are often used in secondary and tertiary crushing including asphalt crushing applications.
Download our blow bar selection guide
Find the best impact crusher blow bars for your feed material based on your feed size.
What affects impact crusher blow bar wear?
Your blow bar wear life depends on the feed material chracteristics, crusher settings, and your overall crusher operation.
Feed material factors
Feed size: feed size might affect your hammer selection. The bigger the feed the more breaking resitance you need from your hammers. Matensitic hammers with ceramic inlays have a good breaking resistance for primary crushing applications and recycled concrete.
Abrasiveness: depends on the material characterastics. Rock with high silica content and asphalt are highly abrasive materials.
Fines: large amounts of fines inside an impact crusher chew up your wearables quickly.
Moisture: high moisture results in more wear. Take caution when using water for keeping the dust down onsite. Use as much as possible to keep the dust down but as little as possible to keep the wear down.
Crusher factors
Crusher geometry and CSS (closed side setting): if your crusher settings are off you risk higher wear. In case you run an imapct crusher with 2 aprons both settings must be set correctly. RUBBLE MASTER impact crushers feature a single apron with 3 crushing stages that require only one setting to be set correctly.
Rotor speed: the faster the rotor spins the more the material is hit.
The effect of rotor speed on hammer wear

| Rotor speed | Wear | Fines | Oversize material |
| --- | --- | --- | --- |
| Low | less wear | less fines | more oversize |
| High | more wear | more fines | less oversize |
Operational factors
The way how you run your impact crusher affects your wear life greatly.
Fines management: the more fines entering the impact crusher the higher the wear. Fines inside an impact crusher is like sandblasting your consumables. If faced with excessive amounts of fines make sure your pre-screen grizzly stays open or try to seggregate fines with a mobile screening plant first (e.g. a mobile scalping screen). This becomes very important when processing sand & gravel, asphalt millings, or excavated materials with lots of dirt.
Rock-on-rock crushing: if rock impacts rock you achieve a longer wear life out of your consumables. The key for rock-on-rock crushing is a constant and even flow of material. Doing your prep first and bringing in your crusher later allows you to feed the crusher steadily without interruptions. It is also recommended, to build an even pad so that there is no material shift on the left or right side of the feeder, which results in premature hammer wear on one side.
Material prep: tramp iron and other uncrushables cause more wear on your hammers and you face a higher risk of breakage. .By sorting through your pile and feeding with an excavator you can set uncrushables aside before they go into your crusher.
Changing impact crusher blow bars on a RUBBLE MASTER
A rotor has either 3 or 4 blow bars. In case of a 4-bar rotor you can either run 4 tall hammers, or 2 tall and 2 short. Generally speaking, 4 tall hammers work best in a tertiary crushing application with a homogenous small infeed material. In all other applications, 2 tall and 2 short hammers work best. The short hammers (also dummy hammers) have no function other than protecting the rotor body from damage. They also don't wear as fast as its long counterparts.