As Natural Resources are Getting Depleted Nathan is Finding More and More Success with his Concrete Recycling Business.
Flatrate Inc is a concrete pumping, trucking, and concrete recycling business out of Big Stone City, SD. Nathan's family used to be in the ready mix concrete business and Nathan found the need to crush the concrete demo piles that people have buried over the years. For years, it was difficult to recycle concrete because virgin aggregates were so much cheaper. This picture changes as quarries and gravel pits are getting depleted and material has to be hauled a long distance.
It All Started With the Rental of a Big Portable Impactor
The rental revealed that there was a market for a concrete recycling business centered around a tracked impact crusher. As he rented the crusher it started snowballing and people started calling for quotes.

No Room for a Big Impactor?
Concrete Piles are not Stockpiled in the Most Convenient Locations.
---
When Nathan operated a big portable impact crushers he needed a lot of real estate to set up a crushing operation. Usually, you work in a landfill or confined yard and there is simply not enough room. By the time you get a portable jaw crusher and an impactor there is no room and you have to move the pile a long distance to a wide open space.
A Small Footprint Makes it Easier to Set Up your Crushing Operation
A mobile concrete recycling business has many moving parts. A primary jaw crusher, an impact crusher, screening plants, and stacking conveyors. Often it is easier to set up a single compact impact crusher than a full crushing spread. Therefore, Nathan pivoted from a big impactor to a compact impact crusher so that he becomes more agile and get to the jobs quickly and easily.
Big portable crushing plants would require multiple moves and the setup of transfer and stockpiling conveyors which takes not a few minutes but hours.
Nathan Has Grown his Concrete Recycling Business with a RM 120X Mobile Impactor
To be clear, the RM 120X Mobile Impactor is a compact machine but in the "same class" as many portable crushers. It features a 44" x 36" inlet opening and has a top capacity of up to 385 TPH (depending on the material). The beauty of the compact size is that you can move it on standard trailers and get to a lot of the smaller job sites.

5' x 12' screen-box
X
The on-board screen box lowers hydraulically to the ground.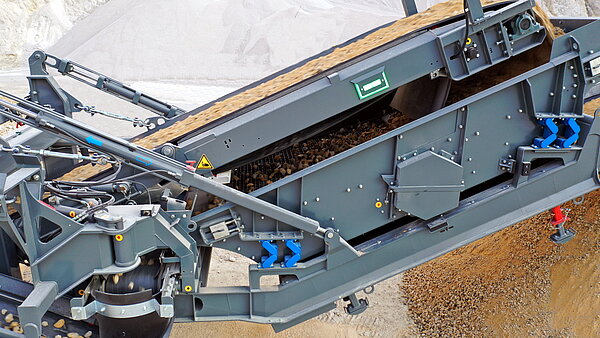 RM Impact Crusher
X
The RUBBLE MASTER proprietary impact crusher has been designed and manufacted for more than 30 years and is suitable for primary crushing, secondary crushing, & recycling. It features, a proven 4-bar rotor that is directly driven by the diesel engine via v-belts. The single-piece 3-stage apron can be adjusted hydraulically with ease.
Inlet opening: 46" x 32"
3 rotor speeds
Hydraulic crusher adjustment
Baffle impact plate for maximum reduction
RM Release System to keep crushing by the press of a button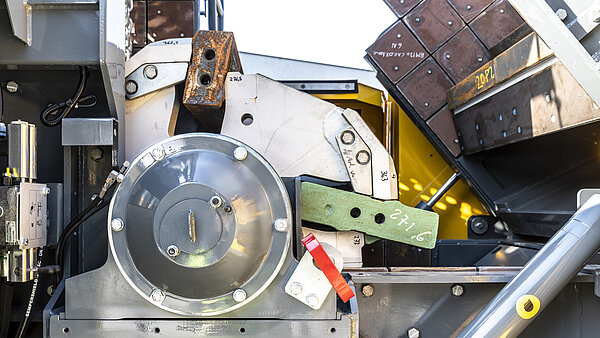 5.2 yd³ Vibrating Feed Hopper
X
The single-piece vibrating hopper features
Assymetric Single-Piece Hopper
Integrated grizzly pre-screen to bypass fines
Low feed hight
Self-regulating feeder
Stepless adjustment of the feed speed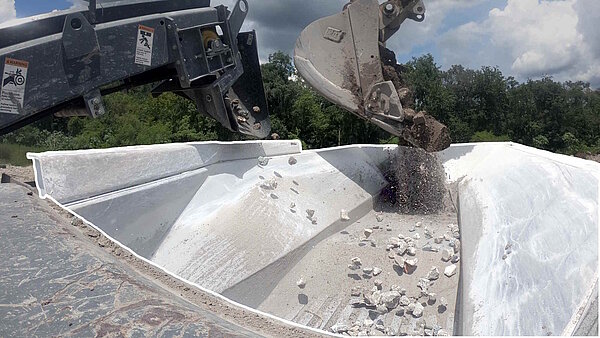 Save up to 30% in fuel
X
Fuel-efficient diesel-electric direct drive saves up to 30% in fuel compared to same size diesel-hydraulic crushers.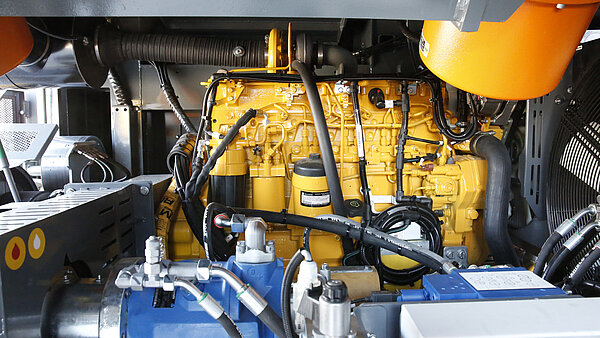 Self-cleaning magnet
X
Permanent magnet to segregate rebar and ferrous materials. Discharge material to the left or right side of the machine.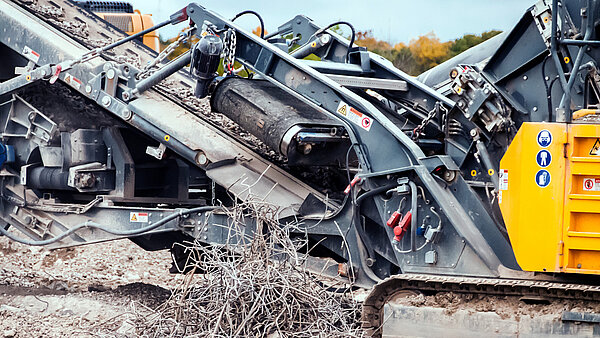 Nathan Dominates the Market with His Concrete Recycling Business
As you grow your concrete recycling business you find the need to offer more services and increase capacity. You start adding more pieces to the puzzle such as tracked jaw crushers to take the brunt, conveyor systems, a RM HS5000M scalping screeen for dirt screening and scalping applications, and a RM MSC8500M incline screen for his gravel pit. Flatrate are on their third RM 120X mobile impactor to add more flexibility to their business and service customers faster.
"The reason why we keep buying RUBBLE MASTER is service support. We are in John Deere country here. Everybody can fix them. In our area, this is a no-brainer."
- Nathan Henrich, Owner Flatrate Inc.
A concrete recycling business is a never ending challenge. You never know what you are getting into. Every pile is different.
"The RM 120X mobile impactor is the answer to everything we are doing."
- Seth Henrich, Operator
Capacity

350 tph

385 TPH

Inlet opening

1,160 x 820 mm

46" x 32"

Ideal feed size

660 mm

26 "

Crusher unit

4-bar rotor

4-bar rotor

Feed unit

4 m³

5.2 yd³

Feed unit (extended)

5 m³

6.5 yd³

Prescreen Grizzly (standard)

1,560 x 910 mm

5.3 x 3 ft

Active Prescreen (optional)

2,000 x 1,050 mm

6.5 x 3.5 ft

Screen-box

1,480 x 3,708 mm

5 x 12 ft

Engine

298 kW

400 HP

Drive

diesel-electric

diesel-electric

Transport dimension

16,180 x 2,990 x 3,600 mm

52'10" x 9'11" x 10'6"

Weight

44,000 kg

95,000 lbs