Turn your materials into money
Dominate the jobsite with mobile crushers and screens that work as hard as you.
Turn your materials into money
Dominate the jobsite with mobile crushers and screens that work as hard as you.
Mobile crushers, screens, and tracked conveyors for the profitable processing of materials. High Performance
RUBBLE MASTER mobile crushers and screens provide the best throughput capacity in their class without sacrificing mobility. Easy to Use
RUBBLE MASTER reduces complexity in operating crushing & screening equipment. Safe to Use
Safety is our top concern so that you can trust your guys around the machine.

If you don't have a reliable material processing solution, you're leaving money on the job.
---
Without easy to operate equipment you're wasting man hours on repairing equipment, you are overwhelmed by the complexity, you are eating away at profit margin with outdated processes, and the growth of your company is being held back.
We make machines that make you more money.
Turn your materials into money with refined machines that maximize profits and minimize downtime.

Go Anywhere, Anytime
Aggregate equipment is bulky, heavy, and difficult to move. RUBBLE MASTER machines are designed from scratch with mobility in mind, so you get the freedom to move anywhere and save transport costs.

Operate with Ease
Heavy equipment is hard to work on and getting more and more complex. RUBBLE MASTER builds crushers & screens that make material processing easier than ever. You can put any operator on your RUBBLE MASTER with confidence.

Cut Your Fuel Bill up to 30%
Material processing cost is a driver for your bottom line. RUBBLE MASTER's highly-efficient diesel-electric drives provide the greatest fuel saving without sacrificing power, so you can make more money per ton.

Dominate Your Jobsite
---
RUBBLE MASTER machines do more than just get the job done. You get a premium product you'll feel proud of. RUBBLE MASTER mobile crushers and screens provide the best throughput capacity in their class without sacrificing mobility.
We understand a smooth operation = more profit.
---
At RUBBLE MASTER, we don't just care about the equipment - we care about what our equipment does for your team and for your bottom line. Our mission is to keep you from losing money to high operation costs or wasting time with traditional material disposal processes - so you can take back control of your operations and dominate the jobsite.
That's why we've been leading the pack in mobile compact crushing for 30 years. We're always innovating new ways to help you achieve high output without the hassle - so you can tackle any job knowing your equipment will hold up its end of the bargain.
3 Steps to Own your RUBBLE MASTER

Get The Equipment
We'll pair you with a crushing and screening expert to help you choose the right machine that meets your needs and makes you money. We can even help you find the right financing for your new investment.

Get The Training
Once you get your new machine, we'll train your staff onsite - your material, your machine. We design our machines for easy single-operator use, so your team will feel confident and safe using your RUBBLE MASTER crusher or screener.

Get It Done
Dominate the jobsite with machinery that holds up its end of the bargain. You'll spend time getting the job done - not hauling material or fixing your machines. You'll look forward to watching money coming out of your new machine every day you're on the job.
Browse RUBBLE MASTER Equipment
RUBBLE MASTER offers a large range of mobile compact crushers, screens, and tracked conveyors that meet the demands of any size contractor or material producer.
Operating a RUBBLE MASTER
is just…awesome.
---
Don't just take our word for it.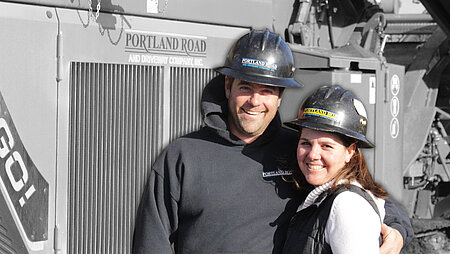 "Everything is well thought out from simple hammer changing to a multitude of crusher settings."

Tom & Amanda Bright, Portland, Road & Driveway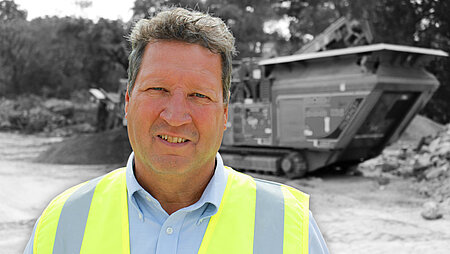 "In 2005 we bought our first RM crusher to launch our new line of business. In nearly 20 years with RUBBLE MASTER, one thing hasn't changed - we have a family that seriously cares about us being successful in our business. That relationship still remains today and I believe it always will."

Ron Garofalo, D.A.G. On-Site Crushing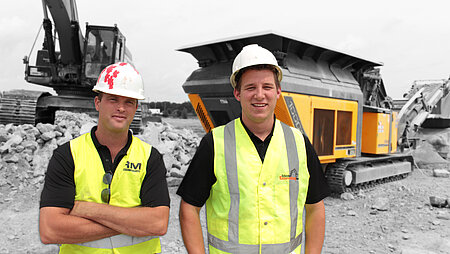 "We have tried bigger machines than ours with the same output as our RUBBLE MASTER".

Calvin Schouten & Wiebren deBoer, Schouten Excavating

Family Business. Family Values.
---
We get it - you have to make payroll and you're responsible for others. RUBBLE MASTER is a family business that takes care of its own. When you're part of the RM family, you can rest assured knowing we've got your back.

World-Class Support & Service
---
RUBBLE MASTER provides local parts, service and operator training so that you can get the most out of your investment. You'll even enjoy 24/7 access to North American support.

More Output with Less Hassle
---
Many operators struggle with running and maintaining their aggregate equipment. RUBBLE MASTER is passionate about crushing and screening and we constantly think of new ways to make everything more efficient, easier and safer so that you can make maximize your profits and reduce downtime.
How the heck do I start crushing?
---
In this FREE 45-minute masterclass, you'll learn from an experienced panel of contractors just like you who own crushers. RUBBLE MASTER has helped thousands of contractors get started with material processing, boost their profits, and grow their business.
Will you be next?