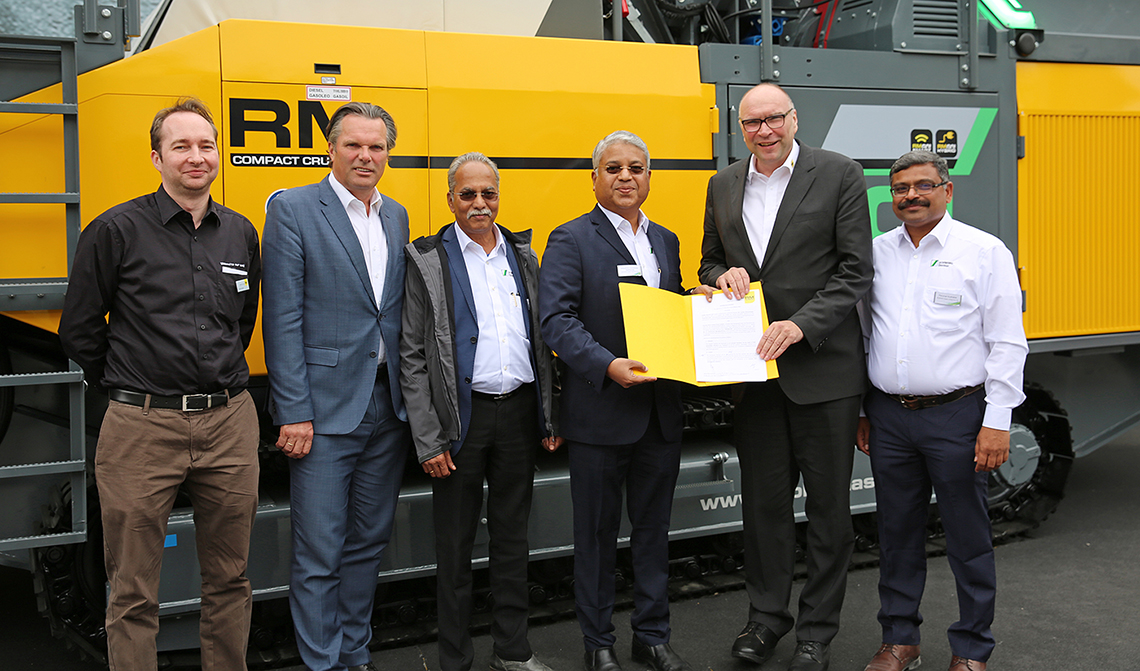 RUBBLE MASTER sees great potential for compact crushers in the Indian market. The largest country in South Asia is known for its major construction projects. For 20 years, the Indian government has been investing in road construction, the railway network and modern airports and ports. Increasing urbanisation, industrialisation and links to international networks require constant ongoing expansion. Gerald Hanisch, founder of RUBBLE MASTER, says: "Our mobile crushers are ideal – especially in terms of versatility and the long distances in India – a good solution for the sustainable development of the country".
From bauma to India
The cooperation with Schwing Stetter India results from the positive performance of RUBBLE MASTER at the bauma 2019 trade show in Munich. Schwing Stetter India is represented throughout India by 29 sales locations, 9 service centres and 400 employees. "Our products complement the Schwing Stetter range perfectly. Schwing Stetter's concrete plants mainly use aggregates and sand. Our product range will complement the concrete making equipment in India and offers a complete solution", Hanisch is pleased to report.
With the cooperation with Schwing Stetter India, the business owner can now rely on a comprehensive solution. This sees Schwing Stetter expanding its existing range as a road construction and recycling company with the crushers and screens from RUBBLE MASTER. "Large quantities of natural rock are processed to produce building materials. Our machines can do a great job here" says Hanisch. Recycling is also already being used in the road construction sector, another possible application for mobile crushers.
Top marks for size and transportability
RUBBLE MASTER machines score top marks for their flexible range of applications. "The distances between each job are enormous and often the destinations are difficult to reach. Here we have a decisive advantage with our compact machines, which can be transported quickly," explains Hanisch. The compact crushers can be transported at any time and without the need for special permits. Operated by remote control, they remain mobile even during operation and can be moved easily from one place to another even through difficult terrain.