Josef Hamminger's core business is reclaimed building materials. He demolishes around 200 old farm buildings a year and also processes the C&D waste. For more flexibility, he has now purchased his own RM crusher. What crushing has to do with feelings and beer crates, you can find out here.
| | |
| --- | --- |
| Country | Austria |
| Customer | Josef Hamminger |
| Machine | RM 70GO! 2.0 |
| Material | Concrete, C&D waste, bricks, natural stone |
| Feed material size | Depends on application |
| Final aggregate | Depends on application |
| Final material use | Substructure, parking areas |
Josef Hamminger is on the move throughout Austria and Bavaria with his RM 70GO! 2.0. Based in the Innviertel region of Austria, he demolishes farm buildings and old structures on narrow inner city sites as well as in the mountains. As carefully and lovingly as he handles the reclaimed wood, he also puts a lot of feeling into the way he treats his machines: "We look after our equipment!" When preparing material for crushing, Hamminger cites the "beer crate" as the measure of all things: "With a crusher, it is very important to prepare the raw material well. The feed material must not be too big, otherwise you will block the system and everything will stop. If you make sure that chunks of concrete are no larger than a beer crate, then you can keep feeding the crusher at a high throughput rate. We sometimes even feed material in with two excavators because that's the throughput the crusher manages!" His team sort out the reclaimed wood and metal. C&D waste and concrete is broken up in advance using an excavator and chisel and then piled into a heap. When the crusher arrives on site, it can start crushing right away. "If you do that, you achieve a high throughput and much less wear. The hammers last seven times as long!", says Hamminger in describing his experience. All this sounds like years of experience, but the business owner has only been using the RM 70GO! 2.0 for two years.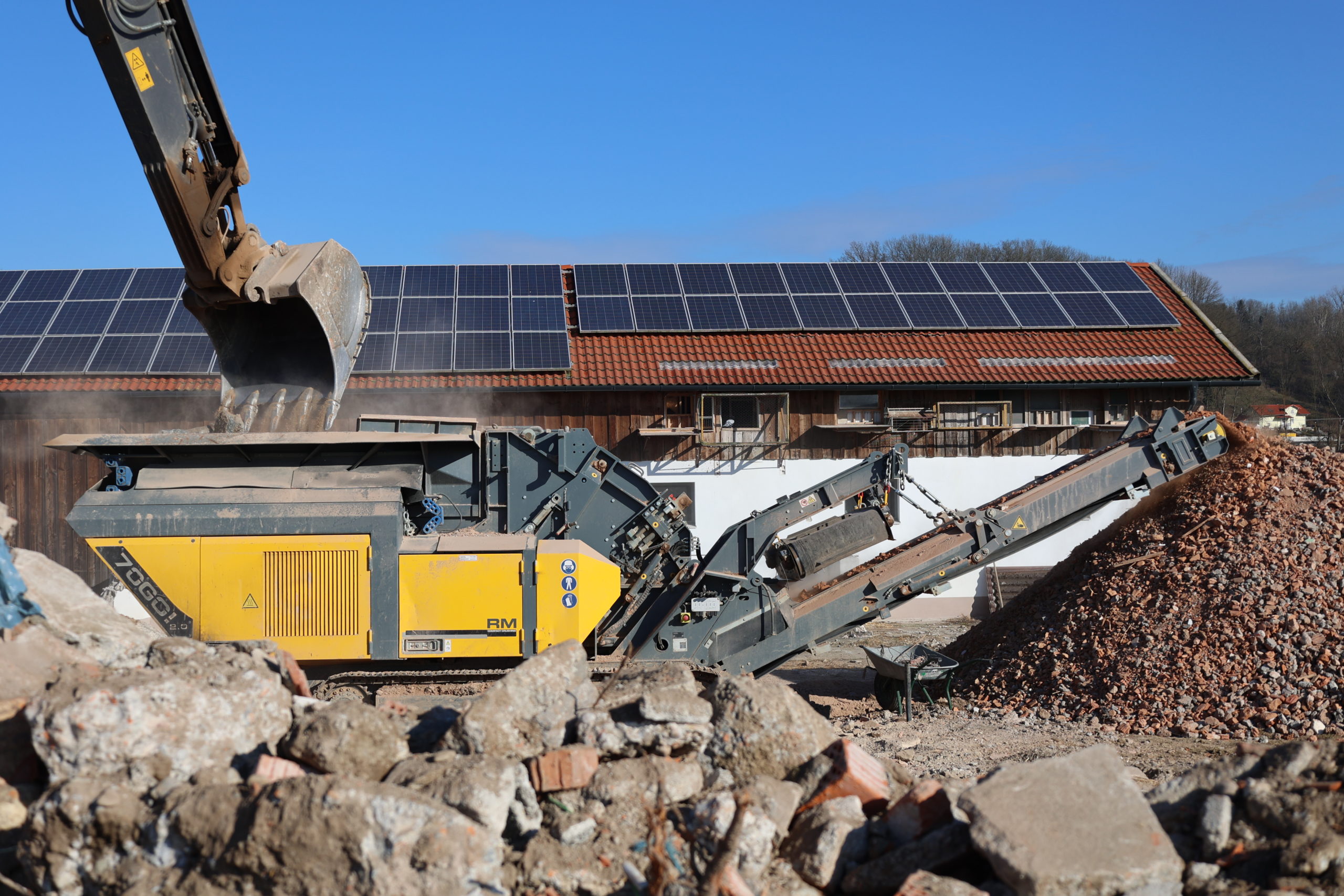 Owning a crusher means more flexibility and sticking to schedules
Before Hamminger purchased his own crusher, he experimented with excavator crushing jaws and rented mobile crushers. "My customers want a complete package. It's not enough for me to just to collect the old wood. They want demolition and recycling from a single source. Many can reuse the recycled material directly on site. In the past, I often had to make a lot of phone calls to then have a crusher available at the right time. When you have to rely on another company, there is always the possibility of delays and waiting times. That's why I bought the RM 70GO! 2.0 in 2020. I have a much quieter life now I have my own crusher and can plan better. I know when my job sites will be completed," says Josef Hamminger, who likes to be able to keep to deadlines. That is how he can reliably offer his customers a complete package for the demolition and processing of C&D waste.
Optimising costs with your own crusher
Having his own crusher not only makes Hamminger flexible and saves stress, it also reduces his costs. "We used to have up to pay up to €60,000 a year for rented crushers," the company owner explains. He has calculated the purchase costs and the operation of his RM 70GO! 2.0 at 400 hours per year over five years. "We used to rent crushers for 350 to 400 hours a year. Now we crush 400 to 500 hours a year. That's where we have optimised our running costs with our own crusher," says Hamminger.
The RM 70GO! 2.0 hardly damages the ground
When you rent a crusher, you never really know how big and heavy the machines that are available will be. "Sometimes we have job sites where only 40-50 m³ need to be crushed. This is only possible with a crusher as flexible as my RM 70GO! 2.0. It is quickly loaded onto the low-loader and soon ready for action. At just under 20 tonnes, it also hardly causes any damage to the ground, plus I can drive it up mountains and work in inner cities. It operates very quietly and manages a super throughput despite its compact size," says Hamminger.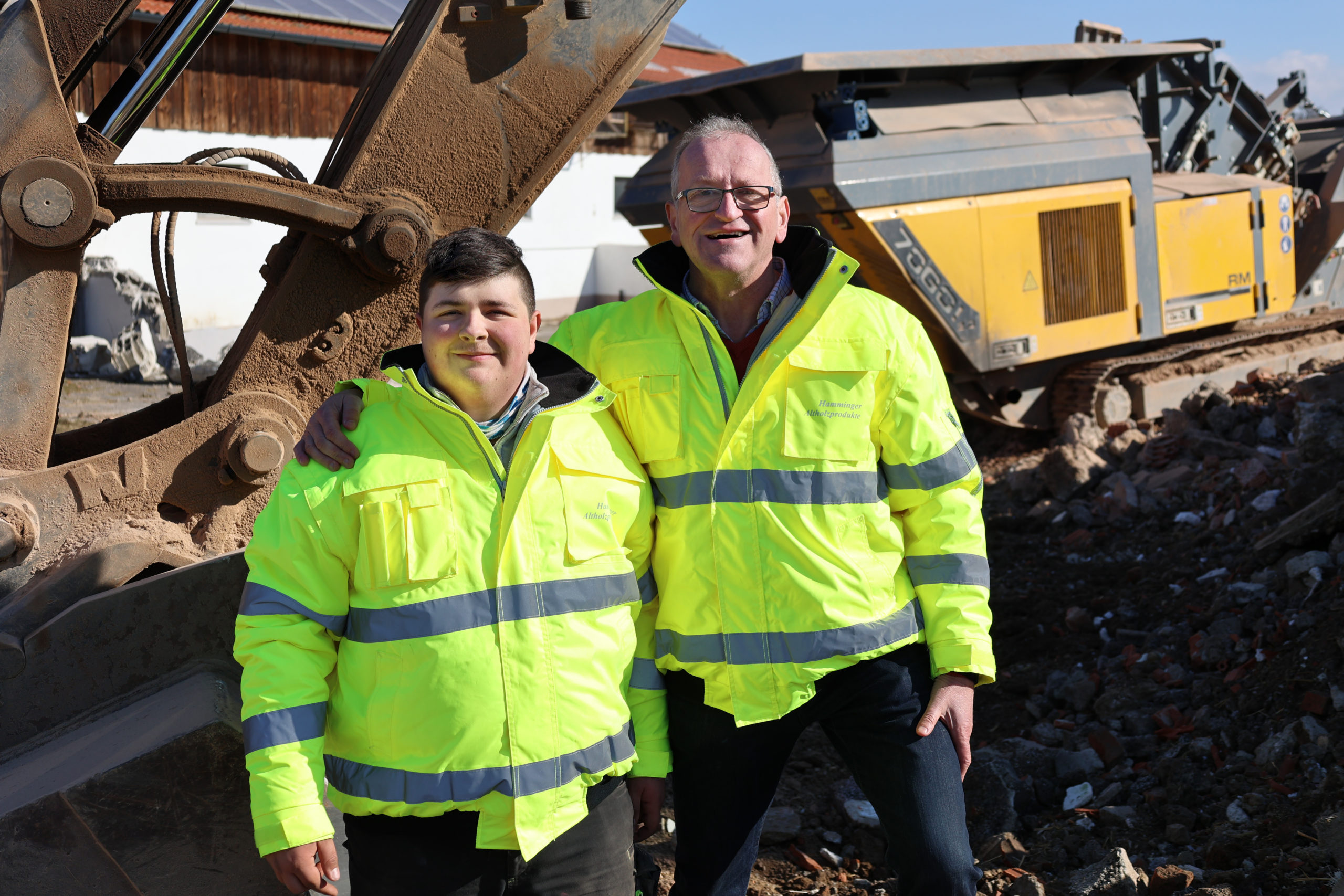 Josef Hamminger with his son Alexander and their RM 70GO! 2.0
ABOUT JOSEF HAMMINGER's COMPANY
Josef Hamminger founded his company in Gurten in the Innviertel region of Austria in 1995, originally as a building materials firm. Its main business is now recycling and selling reclaimed building materials. The resourceful entrepreneur has registered seven different businesses and sells the reclaimed wood all over Europe. He currently employs around 30 people. More at: www.hamminger.at
Our crushers in action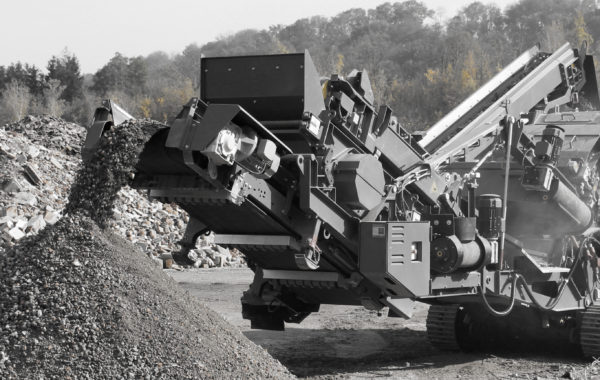 Aus Bauschutt, Asphalt, Beton oder Naturstein zaubert der RM 70GO! 2.0 bis zu 150 t/h kubisches Wertkorn. Als mobiler Brecher ist er die ideale Anlage für Unternehmen, die Aufbereitung als profitables Geschäftsfeld für sich entdeckt haben. Einfach, kompakt und leistungsstark.