RUBBLE MASTER crushers have again and again been the number one choice of Günter Prast, Managing Director of the Earthworks Team at Halbeisen & Prast KG in Vorarlberg. He started building up the recycling business in Dornbirn, Bregenz, Feldkirch and Bludenz in 1999 with a hook-lift RM60. "We started out small and did a number of jobs building access roads at 2000 metres above sea level", says Günter Prast. The demand for recycling and processing natural stone on site increased and became more and more profitable, so that six years later he bought a new, larger RM crusher: the RM 80. While he compared various manufacturers when purchasing the smaller model, there was no doubt about who to turn to for the new machine: "The product and service provided by RUBBLE MASTER simply works," explains Prast. In addition, the performance of the RM crushers and the quality of the final aggregate has become even better with every technical improvement. He should know, since with the RM 80GO! – and for the past two years with the RM 90GO! – he has direct experience of all the technical innovations and developments at RUBBLE MASTER, in particular the jump from RM 80GO! to RM 90GO! which brings so many advantages to your working day: "Using the new pivoting refeeding belt we can produce two different factions simultaneously. But there are loads of other details that have been optimised and save a lot of time during a working day. For example, the crusher housing now has just two bolts instead of ten." These numerous innovative features make the RM crushers intuitive and easy to use, and together are referred to as the RM GO! principle. RM Crushers are so appreciated in the plant hire business because they are so easy to use.
Crushing asphalt for Hilti & Jehle
At Halbeisen & Prast the RM 90GO! operates around 800 hours a year and is mainly used for their own projects. Around 20 % of the year, however, it is rented out to customers, like in April this year to Hilti & Jehle, the well-known construction company based in Feldkirch. "The RM 90GO! was on site for three weeks and crushed 15,000 tonnes of asphalt. The material is recycled as an additive" says Prast. Being able to rely on the product and the service is as important for rental customers as it is for your own projects. "RUBBLE MASTER really does provide 24h service! Even the warranty issues are processed without any trouble, if they do occur." This is ensured by having reliable local dealerships. Like Laurer Baumaschinen GmbH & Co KG based in Jenbach, who supply rapid spare parts deliveries and service.
An investment that retains its value
While Halbeisen & Prast are now recycling asphalt and concrete, there is still a great deal of hard stone and riverbed material to process. That's why the RM 90GO! has been working out in the mountains for several weeks. At a reservoir project in Latschau 10,000 tonnes of rock are being processed and used directly on site for road construction. It is especially on remote job sites that you realise the importance of the RM crusher's reliability and the fact that it is built using high-quality components. Downtimes are reduced to an absolute minimum as a result. The high quality standards during manufacturing also pay off when you want to exchange your RM crusher for the next generation: "A RUBBLE MASTER retains its value and is easy to resell" says Prast.
About Halbeisen & Prast KG
Founded under the name Halbeisen Transporte in 1965 by Ernst Halbeisen with two trucks
1992 expanded into earthmoving when son-in-law Günter Prast joined the firm
1999 entered into recycling and crushing natural stone with the RM 60
2005 changed to the RM 80
2009 upgraded to the RM 80GO!
2017 moved up a gear to the RM 90GO!, now has 25 employees
Our crushers in action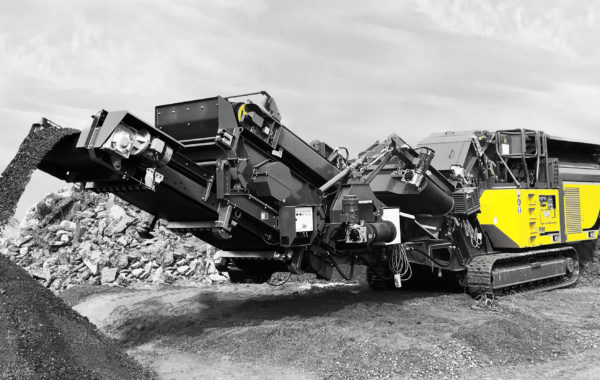 Leistungsstark und rentabel – diese Eigenschaften beschreiben den RM 90GO! am besten. Vielseitig wie er ist, verwandelt er jedes mineralische Material zu hochwertigem kubischen Endkorn, bis zu 200 t/h. Dank seiner Mobilität ist er sowohl in der Innenstadt als auch im Bergland im Einsatz.