| | |
| --- | --- |
| Country | Sweden |
| Machines | RM 120GO!, RM MS125GO! |
| Material | Asphalt, Concrete, Natural rock |
| Feed material | 0-1000 mm |
| Final Aggregate | 0/10 – 0/65 mm |
| Application | Internal and external projects |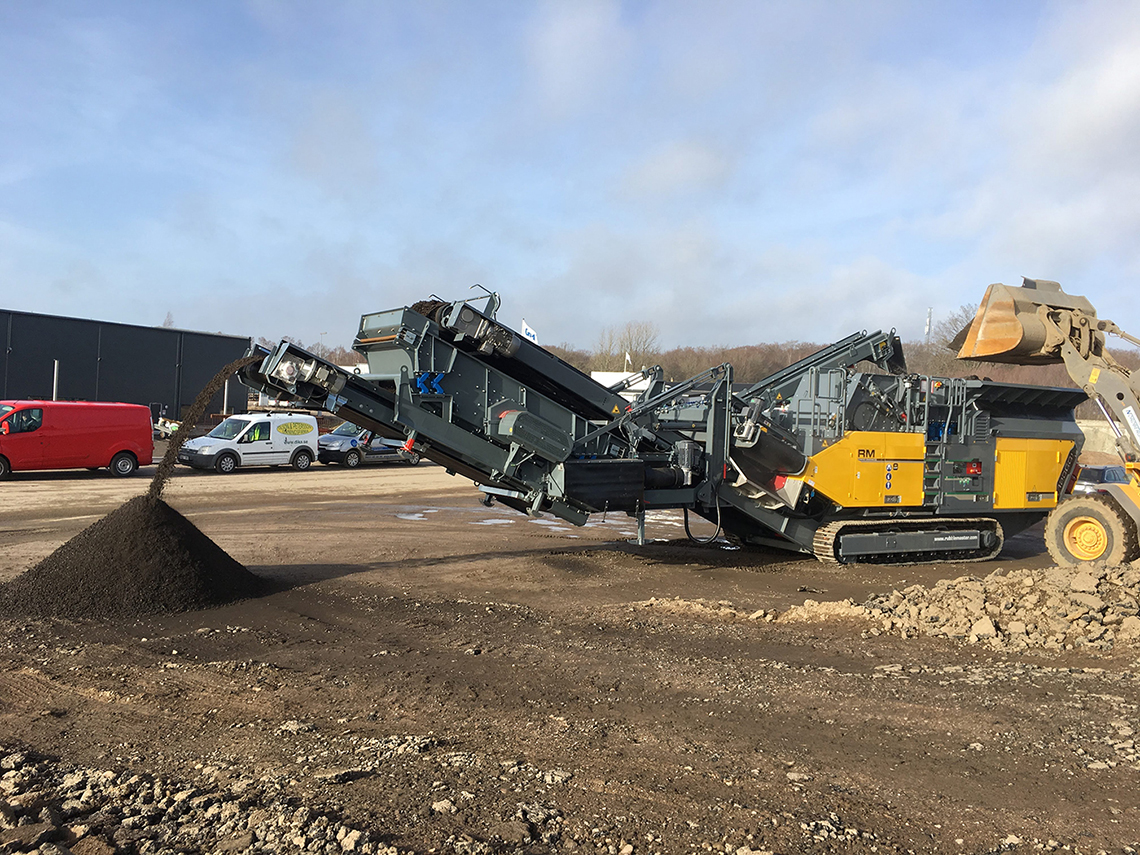 At Tommy Nordbergh Maskin & Transport AB they are sure that "RUBBLE MASTER manufactures best equipment and provides the best service." That is why the Swedish company has opted for a new RM impact crusher to replace their RM 80GO!. Since the RM 80GO! began operating in Sweden in 2012 Nordberghs' business has developed well. Increasingly large amounts of asphalt, concrete and natural rock are being produced and are now being processed by the biggest RM impact crusher, the RM 120GO!. To minimise downtimes the company has also chosen several extremely useful optional extras: an RM crusher works with the RM MS125GO!, a mesh deck screen and a hydraulically pivoting refeeding belt, which give customers great flexibility in daily operation. The machine crushes and screens in a single pass: the RM MS125GO! guarantees precise screening of material from 0/10 to 0/65.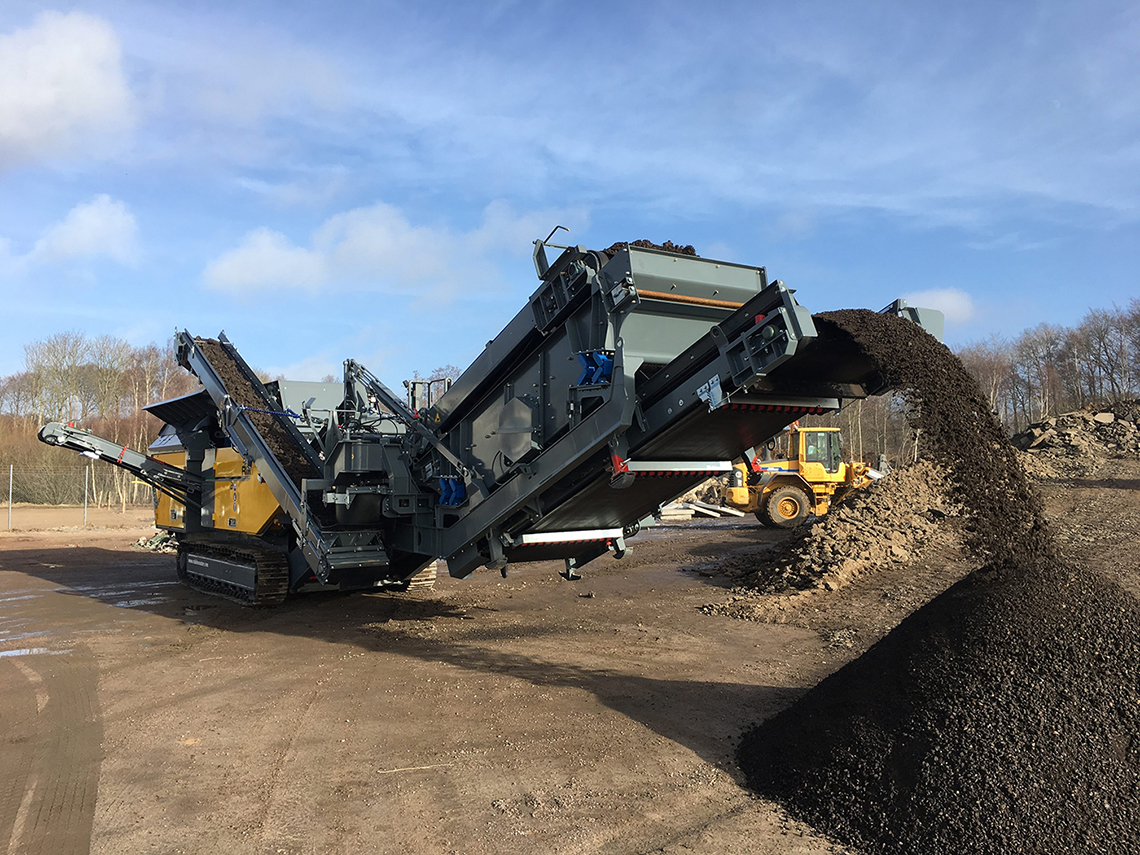 The hydraulically pivoting refeeding belt transports oversize grain either to the stockpile or back to the crusher in a closed circuit. With the aid of a handling frame, the screen is fitted to the machine in less than 15 minutes, and the RM screen tensioner allows rapid changing of the screens when other grain sizes are required. Owing to the frequent changes between types of feed material, the hydraulic hammer changing system is also a worthwhile option for Nordberghs. 40% of the material crushed by the RM 120GO! is concrete and 40% is asphalt, while natural rock accounts for the remaining 20%. Since recycling asphalt and concrete is their main focus, Nordberghs chose an optional even more wear-resistant crusher lining and a steep conveyor belt. The steep conveyor belt improves the separation of steel from the feed material and the lower wear extends the service life of the belt.
Best Service and Smart Maintenance
Nordberghs' vision and business concept are very similar to those of RM: "The aim is always to be first choice when orders are placed and always to exceed customers' expectations with dedicated employees." In Sweden this is done for RUBBLE MASTER by the RM sales partner OP System. Nordberghs is also highly satisfied with the service provided. Additionally, the company has opted for a form of digital support: RM GO! SMART makes analysis, maintenance and spare parts management even easier. This intuitive tool provides live data at any time on the machine's status, daily reports and, in the event of problems, instructions on remedying the fault direct to a smartphone or tablet. However, problems are hardly to be expected, especially with the generator, since the encapsulated generator is tougher than ever and dust-resistant, making it ideal for use in asphalt.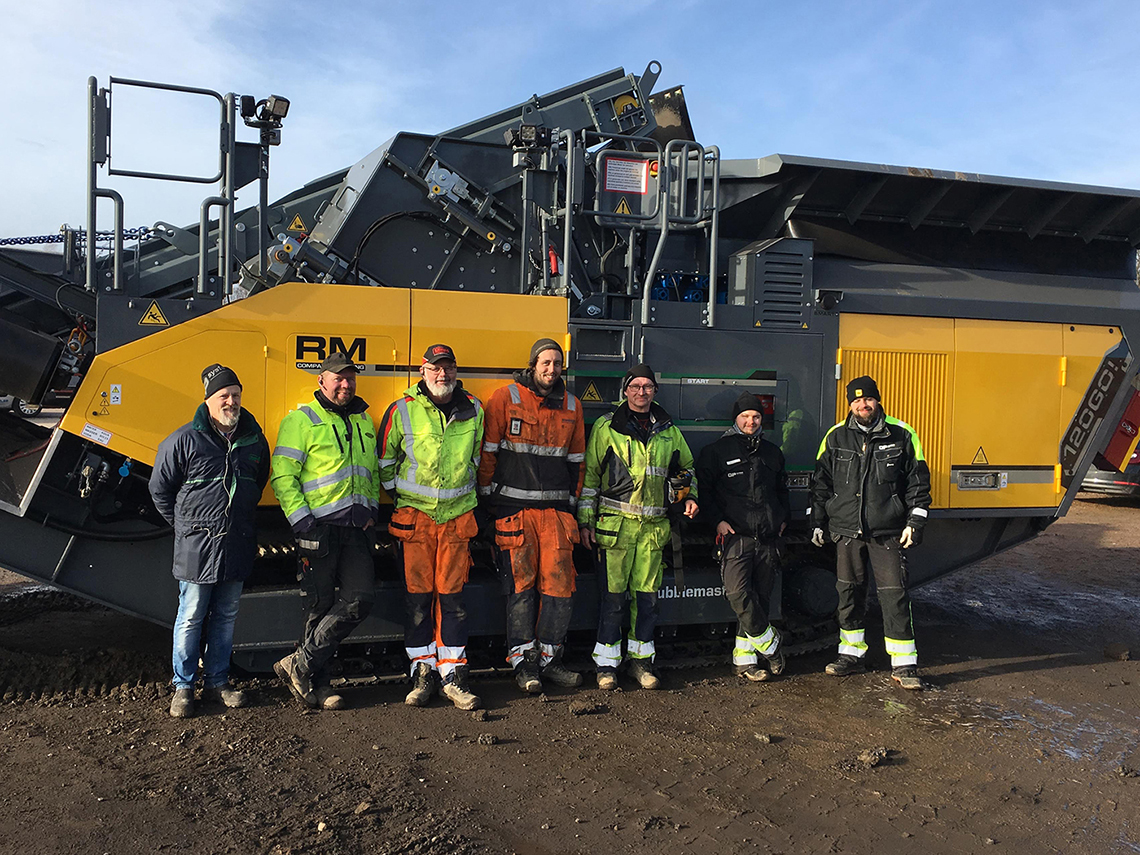 Tommy Nordbergh Maskin & Transport AB
The Swedish firm of Tommy Nordbergh Maskin & Transport AB was founded in 1963 in Hjärnarp, southern Sweden. Initially the company was chiefly active in the agricultural machinery sector, but since the early 2000s Nordberghs has also offered its customers construction and transport services. In 2004 it began recycling leftover construction materials. The company employs around 40 staff.
Our crushers in action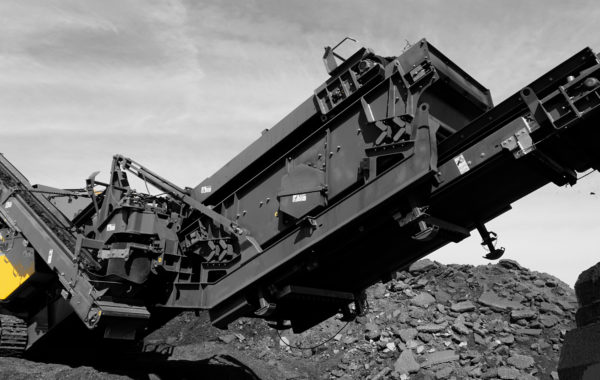 Mit einer Durchsatzleistung von bis zu 350 t/h katapultiert der RM 120GO! RUBBLE MASTER in eine neue Liga. Durch einfachen Austausch der Prallschwingen, ist der mobile Brecher sowohl in der Naturstein- als auch in der Recyclingindustrie flexibel einsetzbar.