The new RM V550GO! from RUBBLE MASTER, the global market leader in Compact Crushing, brings together all the benefits of a jaw crusher, impact crusher and a mill in a single machine and was developed especially for the requirements of the natural stone industry. The new, mobile rotor crusher is currently demonstrating its reliability and strong performance at Europe's largest infrastructure project.
The RM V550GO! is in action on the site of the new high-speed rail section between Stuttgart and Ulm where it is crushing limestone from blasting processes for the construction of the 4,487 metre long Steinbühl tunnel. The 3-stage VORTEX rotor crusher is the heart of the new machine. Thanks to the superior crushing technology, valuable aggregate can be produced with a single machine in a 3-step process. The RM V550GO! is already performing very well in its first major contract as part of the Stuttgart-Ulm rail project where it can take full advantage of all its strengths. The aggregate produced is used for the logistics directly on site such as in securing the concrete works and in building roads. A metal detector prevents the inclusion of any undesired metals.
Absolute reliability, compact mobility and outstanding RM service are what make all the machines from the company RUBBLE MASTER stand out. With the RM V550GO! the global market leader for crushers and screens in the compact class has launched an innovation which sets new standards in the market. The RM V550GO! unites the VORTEX crushing principle and all the proven benefits of the RM GO! principle, thus achieving a high degree of crushing efficiency which is second to none while maintaining maximum flexibility. RM modules can be added to the system at any time. With the mounted screen RM MS100GO! and the compact screen RM CS4800, for example, you can create a fully mobile, compact and high-performance screening and splitting system with convincing quality.
Our crushers in action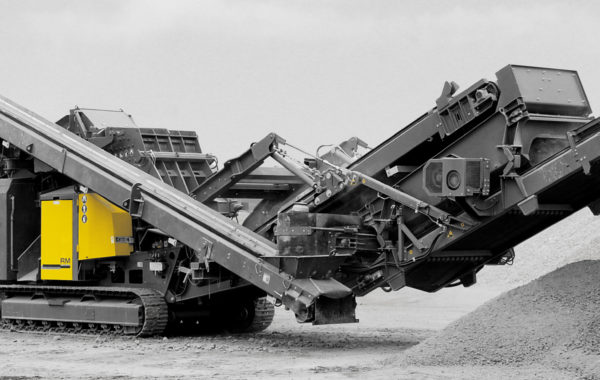 The RM V550GO! brings together the technology of a cone crusher and vertical shaft impactor. Combined with the benefits of the RM GO! principle, it is more of a compact sand and grit mill than a mobile crusher. The crushing technology produces an unsurpassed level of pulverisation.