| | |
| --- | --- |
| Country | Austria |
| Machine | RM 100GO! hybrid, RM HS5000M |
| Material | Building waste |
| Feed material size | 32-63 mm |
| Final aggregate | 0-32 mm |
| Throughput | 180-200 t/h |
| Final material application | road building |
Following 10 years transporting plant machinery, in 2019 Manfred Schrefler decided to expand his company to include material processing. An RM 100GO! hybrid and an RM HS5000M were added to the fleet. The rapid growth in this sector confirms he made the right decision: Due to high demand, he founded MS Abbruch und Erdbau GmbH on the 1st of August 2020.
In order to continue the high rate of growth, Manfred Schrefler will be supported in the future by Armin Stadlober, who has been part of the management team since August. With the help of the two RM machines, their aim is to stand out from the competition by producing, among other things, pure crushed concrete aggregate. "At the moment, recycling businesses tend to offer mixed output materials. Pure concrete aggregate is more complex to produce, as it can only be achieved by pre-screening and precision sorting. However, market demand is very high, which is why we want to position ourselves here," explains Stadlober.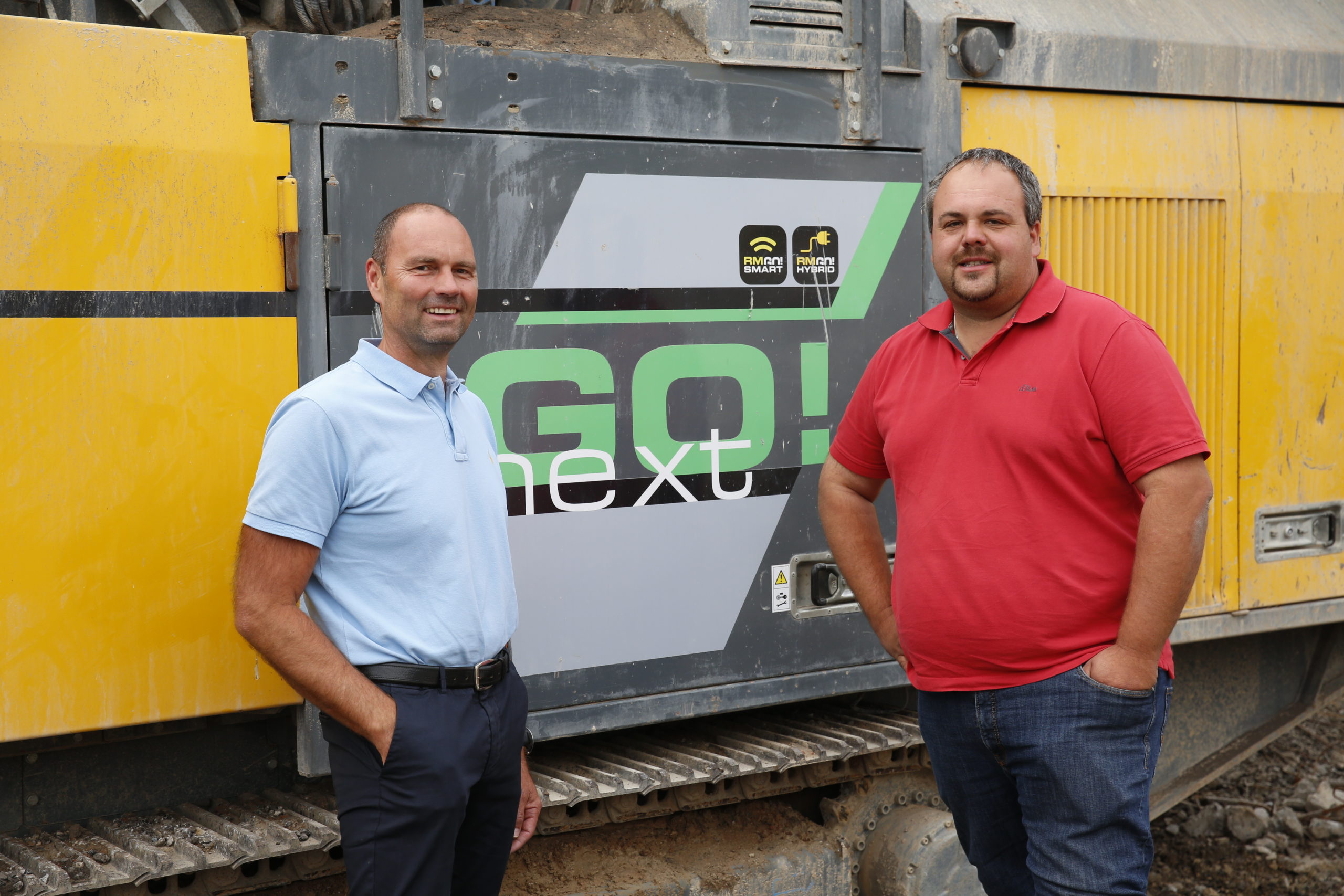 High performance with low consumption
Important components in the recently founded company are the RM crusher and the RM screen. They have really proven what they can do over the past year. The crusher unit was in operation for 1500 hours and processed a wide variety of materials such as C&D waste, asphalt and natural stone. Schrefler is particularly impressed by the low diesel consumption of the hybrid crusher compared to conventional diesel-electric machines. "The RM 100GO! hybrid consumes 5-10 l/h less diesel. This is an enormous saving which, combined with the high throughput capacity, ensures maximum efficiency," says Schrefler enthusiastically. Flexibility both in terms of applications and in fast transport and set-up not only provides added value for the contractor, but also means customers are very satisfied, which is why the company already has a stock of numerous regular clients.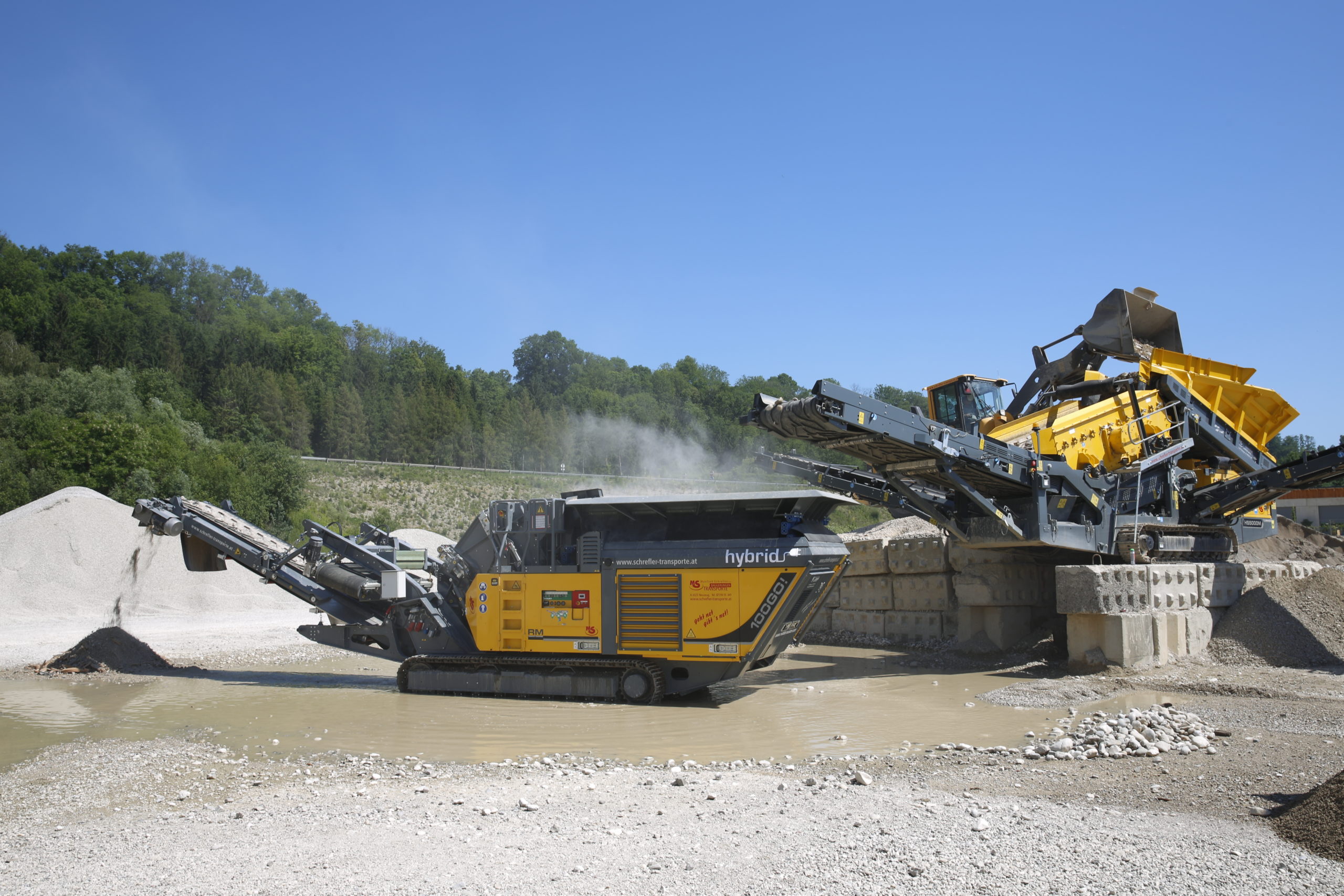 Regular contract work for Swietelsky Waste Management
One of the largest clients is currently Swietelsky Abfallwirtschaft in Asten. Every two to three months, they process between 3000 and 4000 tonnes of C&D waste to be reused for road construction. With a throughput capacity of 180-200 t/h, feed material with a diameter of 32-63 mm is crushed to 0-32 mm final aggregate. The customer appreciates the high output and the high quality of the final aggregate.
Customers help shape RM's future
In order to meet customer requirements perfectly, RM products have always been developed and tried out together with the customer from the very beginning. Manfred Schrefler is one of the customers who tests product innovations and provides feedback on any potential for improvement. "We are proud to trial machinery together with RUBBLE MASTER. It is exhilarating for us to be part of a development and we are happy every time we get to try out a new machine," says Schrefler.
Our crushers in action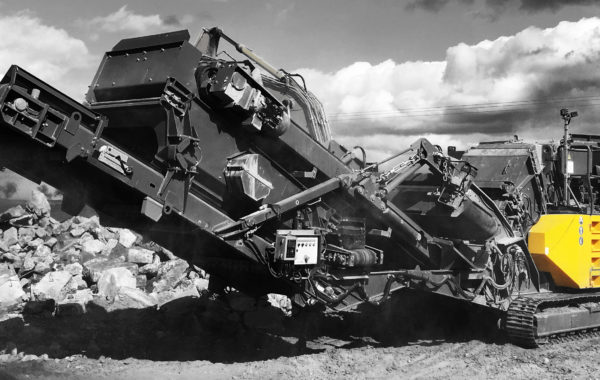 Der RM 100GO! ist der Star der mobilen Brecher – ein mobiles Power-Paket für jede Anwendung. Innerhalb weniger Minuten ist er voll einsatzbereit und verarbeitet rasch die unterschiedlichsten Materialien. Mit einem Eigengewicht von nur 29 t bricht bis zu 250 t Material pro Stunde.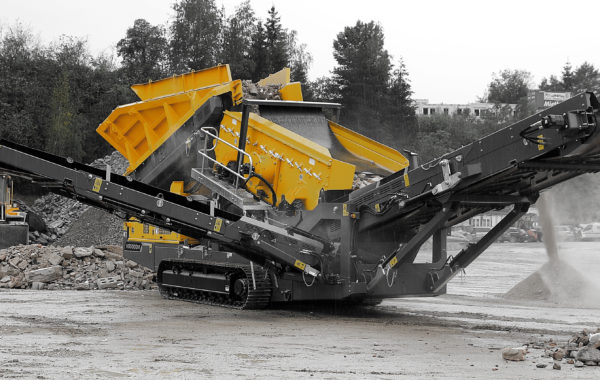 Die raupenmobilen Grobstücksiebanlagen der RM HS-Serie sieben diverses Aufgabematerial wie gesprengtes Hartgestein, sperriges Abbruchmaterial oder Asphalt. Alle Siebe HS-Serie sind extrem robust und leistungsfähig. Durch ihre enorme Durchsatzleistung minimieren sie die Materialmanipulation.