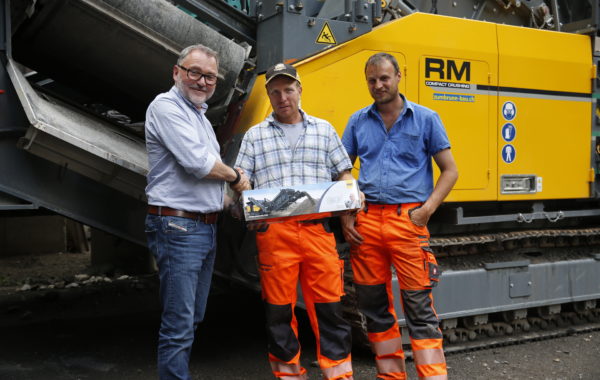 "The advantage is the throughput capacity – we can crush much more within a short time and then I can deploy it elsewhere in the yard. That is the added value, and the reason why we chose the RM 120GO!".
Christian Zumbrunn, Managing Director Zumbrunn Bau AG, Schwitzerland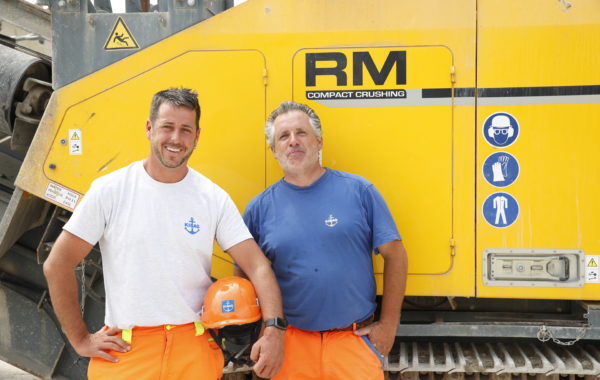 "RM support is friendly and efficient. We work together as a team with the service technicians at RUBBLE MASTER Switzerland. Their focus is not on selling spare parts, but on finding solutions to get the machine running again as soon as possible."

Urs Fischer, head of the Zurich recycling plant at KIBAG RE AG, Switzerland
RM Combo convinces in Florida
As a full-service provider RM offers perfectly matched settings with just one contact person and proven 24/7 service. The RM 70GO! and the RM HS5000M are the perfect combination for processing asphalt in Florida. The two machines score with lowest costs per ton and best performance.
Clean end product with
RM HS5000M
The screens in the RM HS series are durable, robust and high-performance machines. In Florida the RM HS5000M proves once more how efficient it screens topsoil. Therefore, the customer receives a first-class material quality and can re-use it again immediately.
High final aggregate quality with windsifter
The integrated RM wind sifter helps the RM 100GO! achieve an even higher final aggregate quality, creating a new area of application for the recycling sector. Thanks to this cost-effective and efficient solution, it is also possible to obtain a higher market price for the recycled material.
Highest efficiency with maximum flexibility
Efficient crushing at minimum cost is no problem with the diesel-electric powered RM 120GO! It processes concrete effortlessly into high-quality final aggregate within 10 minutes of arrival. True to the motto: Go for it – Start – Earn money.
RM 120GO! – Unlimited potential
Unlimited potential with quality down to the smallest detail – that's what puts the RM flagship in a class of its own. The best weight to throughput ratio is demonstrated yet again with C&D waste – maximum final aggregate quality for maximum resale value included.
On-site recycling with RUBBLE MASTER
The RM 90GO! is powerful, versatile and profitable. The mobile crusher transforms any mineral materials into high-quality cuboid final aggregate. Together with the mesh screen and refeeding belt, the crusher produces even more specific material – perfect for immediate reuse.
RM 70GO! 2.0 now with mesh screen
Starting this year, the proven integrated mesh screen with refeeding belt is available with the most compact crusher in the RM GO! series to enable crushing and screening in a single pass. The additional equipment is transported together with the crusher unit.
Technical highlight – RM HS7500M
This high performance HS series screen is designed to handle the most challenging applications with precision. As a tracked coarse material screening plant, it stands out thanks to technical details such as its large feed hopper, multiple-layer heavy duty belt, its high power screen box and plate feed conveyor.
Leading competence with RM GO! NEXT
A hybrid crusher and a hybrid screen – two RM innovations that set new standards in machine-to-machine communication. Enhanced safety and efficiency thanks to RM Operations Assist and a wide range of application possibilities with Spec2App make an exciting package for operators.
RM 120GO! with ACTIVE GRID
This patented RUBBLE MASTER innovation delivers a considerable increase in throughput capacity as well as self-cleaning of the screen. The revolutionary single-deck screen features extended uptimes, conserves the crusher and outputs a higher performance without increasing fuel consumption.
Bauma: The RM Family celebrates RM NEXT
Europe's largest construction trade fair once again proved to be a great success for RUBBLE MASTER. The highlight was the presentation of the RM NEXT machine generation with the new RM 120GO! NEXT and the RM MSC8500e. We present customer testimonials as well as numerous impressions of the new models and the customer event.
The reliable combination
The RM 70GO! with the mobile oversize aggregate separator for defined value aggregate in one pass is compact and at the same time produces a high output. The tracked crusher unit is a reliable all-rounder that can be used with feed materials such as concrete, C&D waste and asphalt.
Crushers, screens and conveyor belts from a single source
RUBBLE MASTER is a full-service provider offering perfectly matched settings with just one contact person and proven 24/7 service. The RM 100GO! and the RM MSC8500M produce high-quality final aggregate in a single pass.
RM NEXT – RUBBLE MASTER sets a new benchmark
The RM Family gets together in 2019 at the bauma in Munich. Take this opportunity to meet the RM Team and find out more about the future of mobile crushing and screening.
We look forward to welcoming you to the RM bauma stand B2.236.
Crushing and screening for any size contractor
RUBBLE MASTER's range of mobile crushers and screens meet the demands of any contractor or aggregates producer. Experience the RUBBLE MASTER difference at the World of Asphalt/Agg 1 show.
RM customers and employees in race fever
For many years now, the RM Kart Trophy has been a yearly event to celebrate common successes and symbolize the team spirit which is part of the RUBBLE MASTER culture. This year, after awarding the racing winners, 400 guests took the opportunity to exchange ideas, find out the latest news and celebrate at the RM Oktoberfest.
GO! for GOLD in Thailand
RM dealership Watkinson is the expert contact partner for all our customers in Thailand. The Watkinson Team is well-known not only for delivering the highest possible level of service, but also for hosting successful events. Their professional demonstrations with RM products have impressed dozens of customers this year.
RM screens deliver highest efficiency
The RM HS3500M is a 2743 x 1220 mm coarse material screening plant that excels at sorting large pieces of material. The RM product delivers the highest efficiency in a wide range of situations and is often used together with RM compact crushers.
RM HS3500M popular in Norway
The high performance HS series screens are designed to handle the most challenging applications in the toughest operating conditions.
Regardless of whether the starting material is heavy rocks or bulky C&D waste, RM screens optimise the production of high quality final product.
RUBBLE MASTER celebrates World Environment Day 2018
It all began back in 1991 when the idea was born to give as many entrepreneurs as possible the chance to use mobile rubble recycling for value enhancement. It was with this innovative concept that RM created a market: on-site recycling! Since then RUBBLE MASTER products help to protect the environment by refining valuable materials to make even more valuable raw materials.
Happy World Environment Day to everybody!
Crushing river gravel in Costa Rica with an RM 100GO!
Equipped with a mesh deck screen and refeeding belt, the RM 100GO! crushes 0-400mm river gravel in Latin America.
The customer is very happy with the RM product's performance, its versatile application and intuitive handling.
Great benefits such as low fuel consumption are linked to the fact that the mesh deck screen and RM CS4800 post-screen are electrically driven by the RM 100GO!.
Launch of RM products in Thailand
Over 100 Thai constructors got together in March for the official launch of RM mobile impact crushers in Thailand, organized by RM Sales Partner Watkinson Construction Equipment Co., Ltd.
During the event the handover of the first two sets of the mobile impact crusher RM 70GO! 2.0 was celebrated.
RM 120GO! – a winning design for outstanding performance
Start your new year with the high performance impact crusher RM 120GO! – a winning design for outstanding performance!
RM 120GO! – Unbeatably strong. Exceptionally compact.
Weighing in at only 35 tonnes, the RM 120GO! is the most compact crusher of this type, which is able to produce an unbeatable output of up to 350 t/h!
With this product innovation, RM sets new standards in terms of performance, ease of maintenance, efficiency and innovative design.
Call your local dealer to place an order!
RM 100GO! crushing C&D waste in Germany
Weighing in at only 29 t when empty the RM 100GO! is a particularly high-capacity machine which can crush up to 250 t/h.
This mobile power pack is ready for action within minutes and can process a wide variety of materials such as concrete, rubble, asphalt and natural stone extremely quickly.
RM Long Night of Art
Over 250 visitors experienced a sensational "Long Night of Art" at RUBBLE MASTER.
The "RM Kunstereignisse" (RM Art Events) are part of the spirit and company culture practiced by the global market leader.
ON-SITE RM PRODUCT DEMO IN UPPER AUSTRIA
This great drone video was created during a RUBBLE MASTER on-site product demo in Upper Austria. Equipped with mesh deck and post screen, the three compact crushers RM V550GO!, RM 90GO! and RM 100GO! impressed the audience with great mobility, outstanding performance and high-quality cubic aggregate.
RM Kart Trophy 2017
We are pleased to take a look back at this year's Kart Trophy and are happy to see that the winners' trophies still decorate their desks at RM Headquarters. Some of the event's best moments were caught on this video.
Film team at RM V550GO! demo in Paraguay
Our sales partner invited numerous leading road construction firms to "El Camino" quarry in Paraguay for a live demonstration of the RM V550GO! and the RM MSC5700M mobile final screen in action. The film team from the construction industry magazine "MAQUINAS & CONSTRUCCIONES" was on hand to see the crusher's impressive performance for themselves.
RM GO! SMART
RUBBLE MASTER presents THE tool when it comes to optimising the efficiency of your crushing operation. Your RM crusher will communicate with you in real time.
RM GO! SMART tracks key performance data of your crusher, but also has maintenance, servicing and trouble-shooting features. All geared to optimising throughputs, uptime and efficiency.
RM Xperience Days 2016
The RM Xperience Days captivate customers from all corners of the globe! More than 400 international visitors got together at the RM Headquarters and celebrated RUBBLE MASTER's 25th anniversary. Have a look at the summary of these three amazing days with our big RUBBLE MASTER family.
RM Xperience Days 2016 ON-SITE RM PRODUCT DEMO
During the RM Xperience Days 2016 more than 400 customers and partners from all around the world joined a gigantic live product demo.
In an impressive choreography, all RM compact crushers demonstrated why it is worth deciding for a RUBBLE MASTER.
RM 90GO! + RM MS95GO! + RM RFB7540GO! recycling asphalt in Austria
Equipped with the mesh deck screen RM MS95GO! and the refeeding belt RM RFB7540GO!, this rented RM 90GO! crushes asphalt in Upper Austria. The material gets prepared for road construction. So, high quality grain is important.
RM rental machines are always in excellent condition, which is why this customer borrows the RM compact crusher every three weeks now.
RUBBLE MASTER recycles reinforced concrete
See how the RM 100GO! crushes reinforced concrete.
RM at bauma Munich 2016
RUBBLE MASTER was THE attraction at bauma Munich/Germany – the world's leading trade fair and most important exhibition for the construction industry.
We had an extremely successful exhibition: new dealers, new customers, new products and plenty of sales!
RUBBLE MASTER crushes C&D waste
See how the RM 80GO! recycles C&D waste.
RM Headquarters
Welcome! to our world
It all began back in 1991 in a small office in Linz and a hired unit where we began to develop compact processing machines. Our success enabled and required us to build an RM headquarters which we opened in Linz-Pichling in 2001 and expanded in 2008.