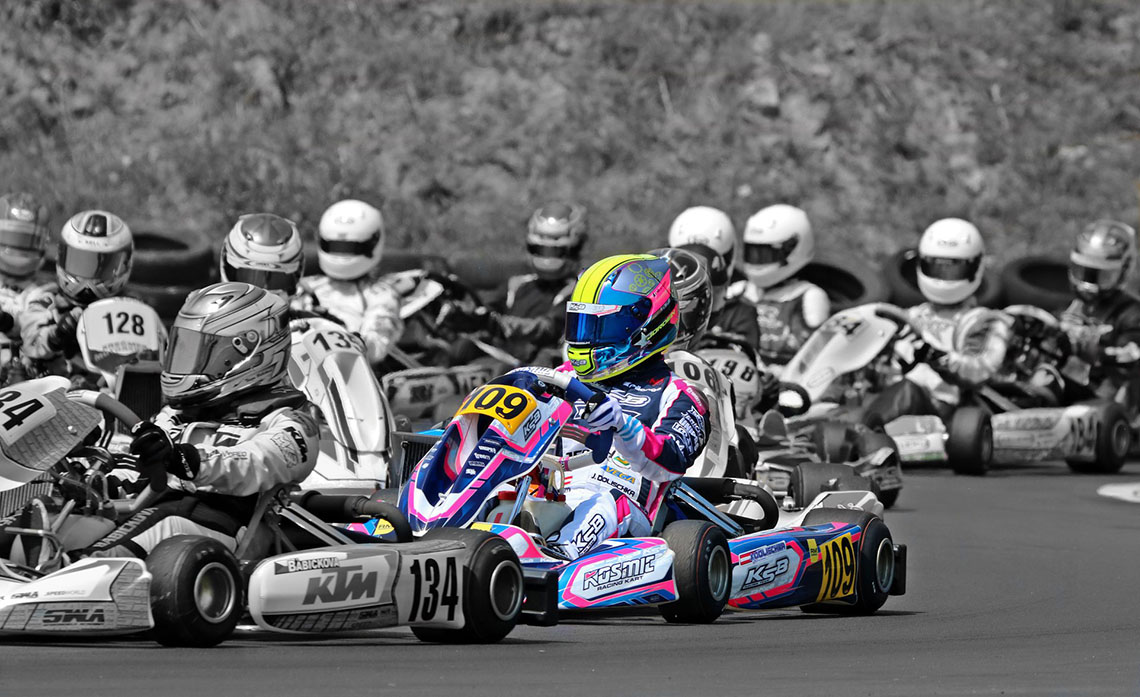 If you take a look at Formula 1, you will find some women who play a major role in the success of talented drivers. Strategy engineer Ruth Buscombe, Sebastian Vettel's press spokeswoman Britta Roeske and Monisha Kaltenborn – who was Chief Executive Officer of Sauber Motorsport AG for almost five years – are just a few examples. A glance behind the dashboard, however, shows that since the first World Championship in 1950, Formula 1 has always been dominated by men.
A person who wants to change that is the successful up-and-coming driver Jorden Dolischka. Her motto is: "Don't let it get you down", because her big goal is to be the first woman Formula 1 driver.
How it all began
The 14-year-old is now in her sixth year of racing. What she particularly enjoys is the speed, the adrenaline rush and the duel. The young motor sportswoman's greatest successes include the title of the first woman in Austria in the RMC and winning 4th place in the Grand Final. Furthermore, she is proud to represent Austria in the FIA as the only girl in the OK Juniors class. 2018 was also a very successful year for the young driver because she always managed to bag a final place out of 60-90 starters. "To be successful in this sport you need determination, enjoyment, endurance and a defined goal", says Jorden. Over the years Jorden's interest in technology has continued to grow and now she wants to learn all about engines. During her training sessions there is nothing she enjoys more than fine-tuning her kart and working hard to get the best performance. On race weekends she leaves this work to the professionals, however, so that she can concentrate fully on the race.
Between normal teenage life and the racetrack
Friends are especially important to Jordan. "I also have many close friends who have nothing to do with racing. I like to spend time with them too. Some understand why I am often away, and others are less appreciative, but it always works out somehow," she says. On average Jorden trains 3 to 5 times a week, depending of course on the races, because she has to adapt endurance and speed specifically to each course.
Jorden travels a lot through racing. This means that she spends a lot of time together with her parents travelling to the various races. The races are usually far away from home and the long journeys to and from the races can often get on your nerves.
It's a man's world …
Young girls in racing are still a rarity. Jordan thinks that is a shame. What is clear is that the cliché of racing being a sport dominated purely by men is still widespread. Jorden is convinced: "Of course it's physically demanding, but I think that's true for every sport".
Her greatest role model is Max Verstappen. Jorden says: "As the youngest driver in Formula 1, he has always had great success, no matter where he drove."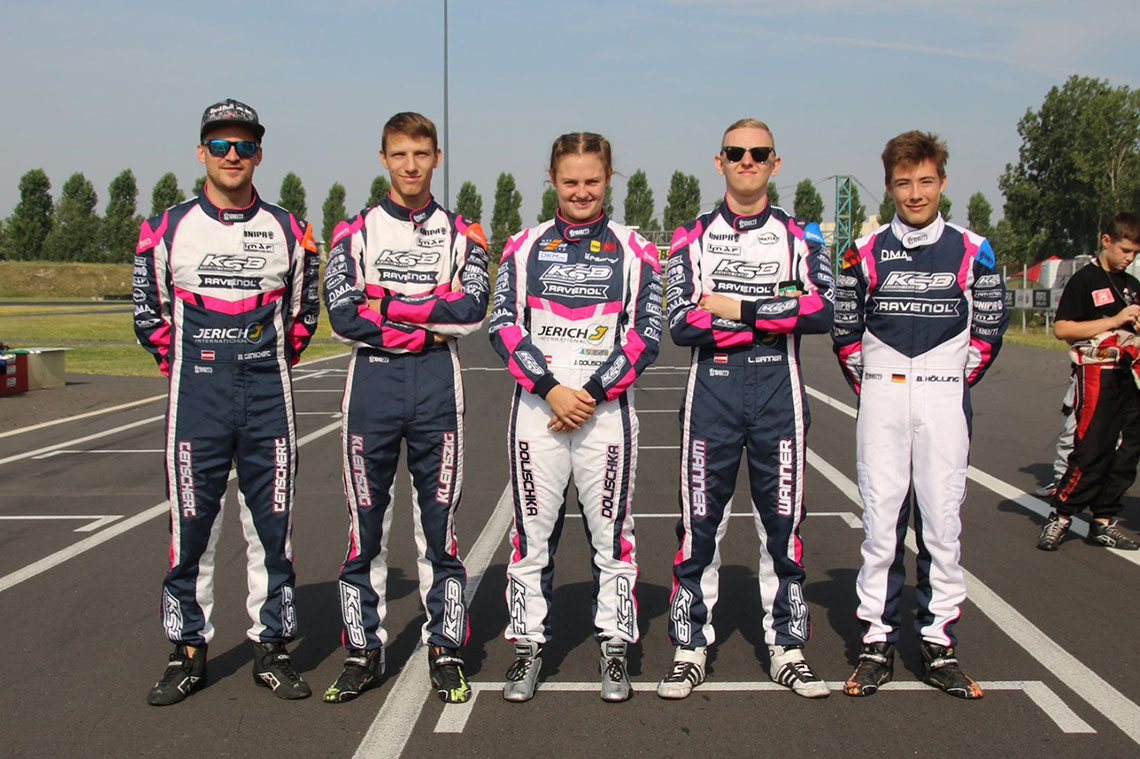 Looking to the future
Jorden's goal for her next race at Le Mans is to be at the front of the field. It is her first year in the OK Junior class and it is therefore a special challenge. She says: "It is my first year in this class (age 15 and up). The drivers already have a lot of experience and it won't be that easy because everyone is older than me. But that doesn't stop me from doing my best to show the guys and girls that I'm damn fast."
For the future, Jorden wants to stay in motorsport, to continue racing and to reach the top.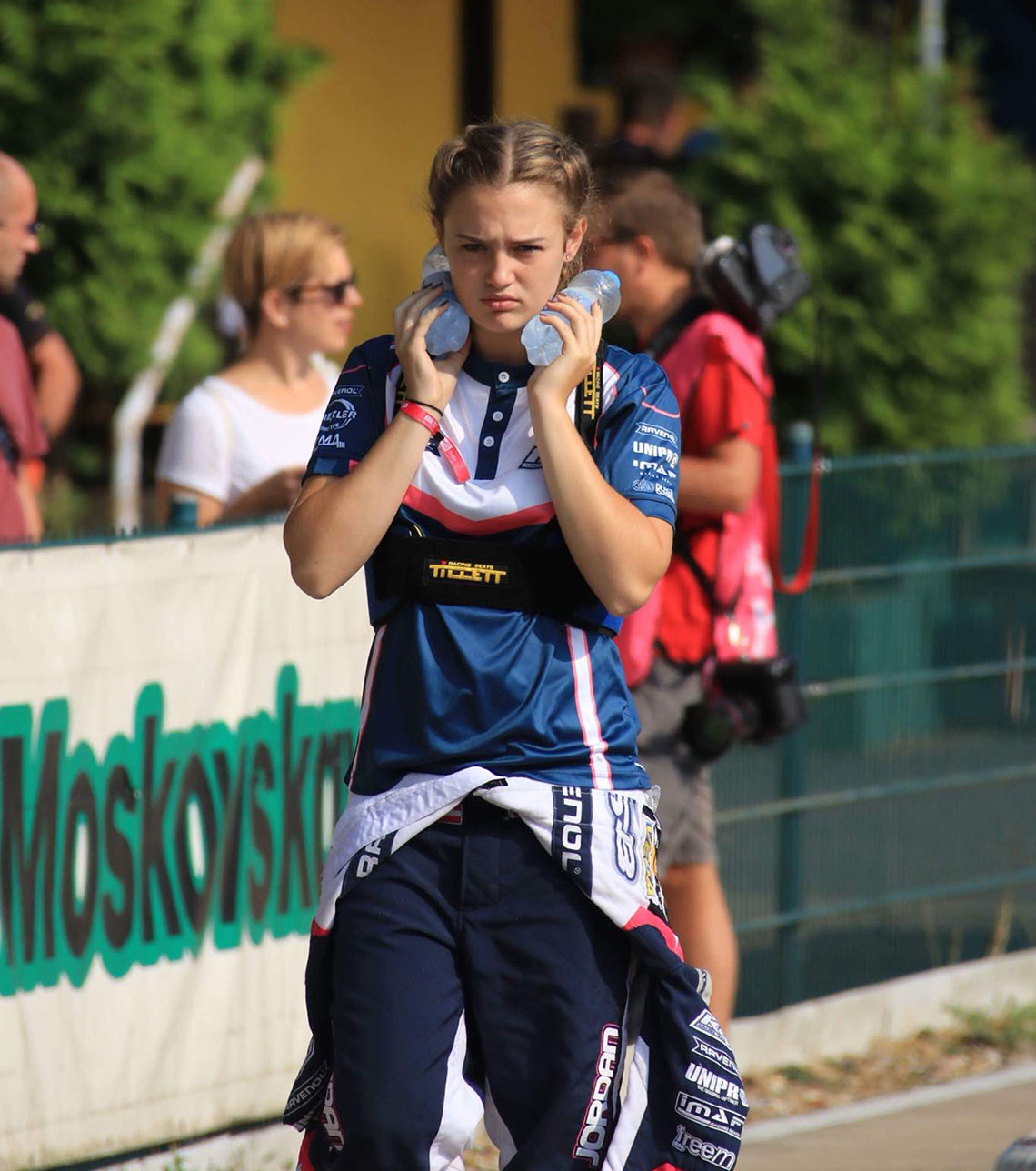 Race schedule for 2019
Jorden's plan is to compete in all the EURO ROTAX TROPHY races in order to build a foundation in the strongest class, the seniors, to develop tactical strategies and implement them successfully. The races will be held in Belgium, Italy, Sweden, Germany, Poland and Hungary. Up to 70 drivers from all over the world will compete in each race.
"My major goal in kart racing for 2019 is to develop quickly, to gain valuable experience at professional level and to work even harder and be more focused in order to reach the top of the DKM (German Kart Championships) at the end of the season," says Jorden. In addition, the ambitious motor sportswoman has set herself the goal of competing in selected races of the ADAC Kartmasters Series in the OK Class. The overall goal for 2019 is to be in the top 10 and drive the first tests in a formula car to get a feel for the big racetracks.
This week Jorden will compete in the Rotax Max Challange (RMC) in Le Mans, France. Around 350 drivers from all over the world will take part in this race. The Rotax Max Challange International Trophy is an open race that gives riders and their teams the opportunity to choose their own equipment. Jorden wants to enter the race as the youngest in the Senior MAX category. Jorden says, "I'm highly motivated to win this race."
Jorden is on the start line at the following races in 2019:


TROFFEO MAGUTTI
05.04. – 07.04.2019
Lonato (IT)
EURO TROPHY ROTAX OPEN
19.04. – 21.04.2019
GENK (BE)
EURO TROPHY ROTAX
31.05. – 02.06.2019
Adria (IT)
12.07. – 14-07.2019
Kristianstad (SWE)
06.09. – 08.09.2019
Wackersdorf (DE)
ROTAX MAX CHALLENGE INTERNATIONAL TROPHY
21.08. – 24.08.2019
Le Mans (FR)
CEE CENTRAL EUROPEAN ROTAX MAX CHALLANGE
28.06. – 30.06.2019
Slomczyn (PL)