As a significant step towards expanding its global presence, RUBBLE MASTER has recently appointed a new dealer in the Philippines. The new partner, company G220 AGGREGATES, is seen as a new dynamic force in the stone recycling industry, ready to have a big influence in the market, and be the central connecting point between existing as well as new end customers and the RM Group. RUBBLE MASTER is thrilled about this collaboration and anticipates a fruitful partnership in order to meet the increasing demand for its products in the region.
The focus on the Philippine market comes with no surprise considering the rapid infrastructure and building project development. "RUBBLE MASTER is delighted to appoint the new RM dealer G220 AGGREGATES in the Philippines. We are looking forward to a successful and prosperous partnership, as well as the great opportunities ahead of us," says Gerald Badegruber, the Area Sales Manager for Southeast Asia.
The new dealer has recently ordered five RM machines, which include RM 100GO! and RM 120X crushers, as well as RM MSC8500M-3D and RM MSC10500M-3DR screens, and has high expectations for the future growth of the market. G220 AGGREGATES is excited about partnerships with existing customers, as well as looks forward to new collaborations. By building strong relationships the dealer aims to foster trust and loyalty, as well as better understand the specific needs and deliver customized solutions.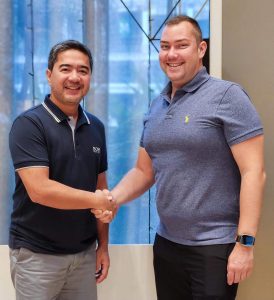 Rendy Macaraeg (G220 AGGREGATES) and
Gerald Badegruber (RM Area Sales Manager)
For enquiries in the Philippines please contact our new dealer:
G220 AGGREGATES INC.
Mr. Rendy Macaraeg
Pesa, Bongabon
Nueva Ecija, Central Luzon
3128 Philippines
+63 9688511185
[email protected]