Another school year is over – the RM apprentices can look back on a successful year. Five distinctions (Stefan Kamptner, Daniel Pils, Sofie Mayerzedt, Vera Redl and Philipp Schöller) are the wonderful result of the apprentices' year. Success deserves rewards, which is why the RUBBLE MASTER management team presented each of them personally with a gift.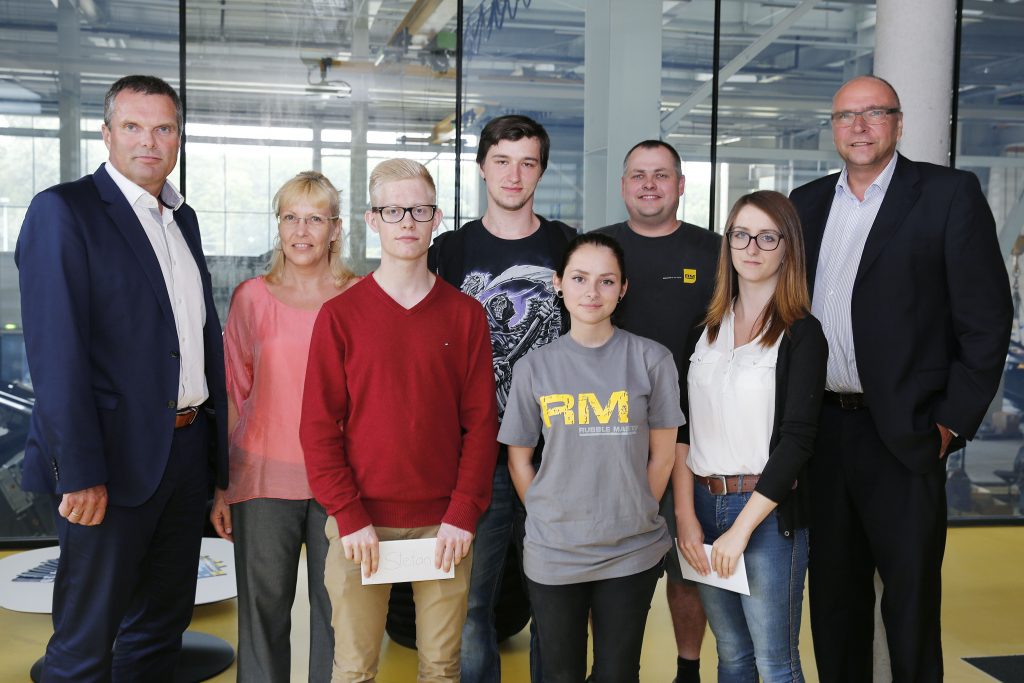 RUBBLE MASTER gives the training of its apprentices high priority. RM has been convinced for many years that the integrated training of apprentices in all processes promotes and provides the next generation of qualified specialists. This is the reason why apprentices are involved in big projects from early on. Thurid Ferstl, for example, who is in the third year of her apprenticeship, played an important part in the building of the prototype of the RM 120GO!.
"Do you speak English?" – one of the most frequently asked questions in the business world. And this is why the apprentices should also benefit from the best teaching available for the world language. The creatively named English training programme "RUBBLE MASTER Young Potentials" – in short RMYP – was launched for the apprentices in May. But this is nothing like a normal language course in which you learn phrases and vocabulary by heart: the apprentices get together in focus meetings where they can "ask the boss", "bring and show" or enjoy a "movie night" and "eat and greet".
One thing is for sure at Rubble Master – no two days are the same and there is no time for boredom! The often demanding day-to-day life of an apprentice however, is relieved with exciting excursions and apprentice workshops. This includes an outing to Schlierbach, for example, where apprentices enjoy a 3-course meal in the "darkened dish delight room" and then put the rock climbing centre to the test after. And when the sun comes out, a cool dip in the lake in Pichling is never far away.
As part of the apprentice training the company created a series of attractive initiatives including "Apprentices & Management" once or twice a year when the management team is delighted to invest their time. The apprentices have been able to put their acquired know-how and ability to the test in various projects. There is currently a motor project and a project with frequency converters in which apprentices are also the project managers.
Depending on individual interests the apprentices can also acquire and develop knowledge in a variety of fields such as project management, communication and processes at RM in apprentice workshops held in July and August.
The company is currently training ten apprentices in the professional fields of mechatronics, office administration, mechanical engineering and warehouse logistics. The variety of opportunities at RM is widely popular and we will be delighted to have many applications and enthusiasm for our mobile crushers in the future, too.