"When I founded RUBBLE MASTER as a mechanical engineer 30 years ago, I never imagined that one day the RM team would file a patent to do with artificial intelligence and digitalisation," says RM founder and CEO Gerald Hanisch. This reflects the openness of Hanisch and the RM Group and is the basis for the success of RM crushers and screens all over the world. He puts buzzwords like construction site 4.0, zero emissions, connectivity and the like into perspective: "Yes, these terms describe current trends. But for me, it's important to keep a 360° view. We take a look at everything directly on-site together with the customer to find potentials for how we can contribute to the construction site of the future. And to be honest, I like to set trends myself rather than jump on those claimed by others."
Electrification of crushers AND screens
Hanisch gives a concrete example with electrification, where RM has been a pioneer for decades: "We electrified all the drives of our crushers right from the start in 1991. Other suppliers are only now following suit after 30 years and boasting about something that we have been consistently implementing since 1991." As a pioneer in the electrification of processing machines, the company will launch a completely revised pre-screen later this year. "Screens are still almost exclusively equipped with diesel-hydraulic drives. We set a milestone here and continue to develop our screens. This means we offer customers a fully electrified solution that not only reduces costs but also increases efficiency," explains Hanisch. Following the spirit of RM NEXT level electrification, this pre-screen is part of a smart processing line. Find out more about RM next level electrification.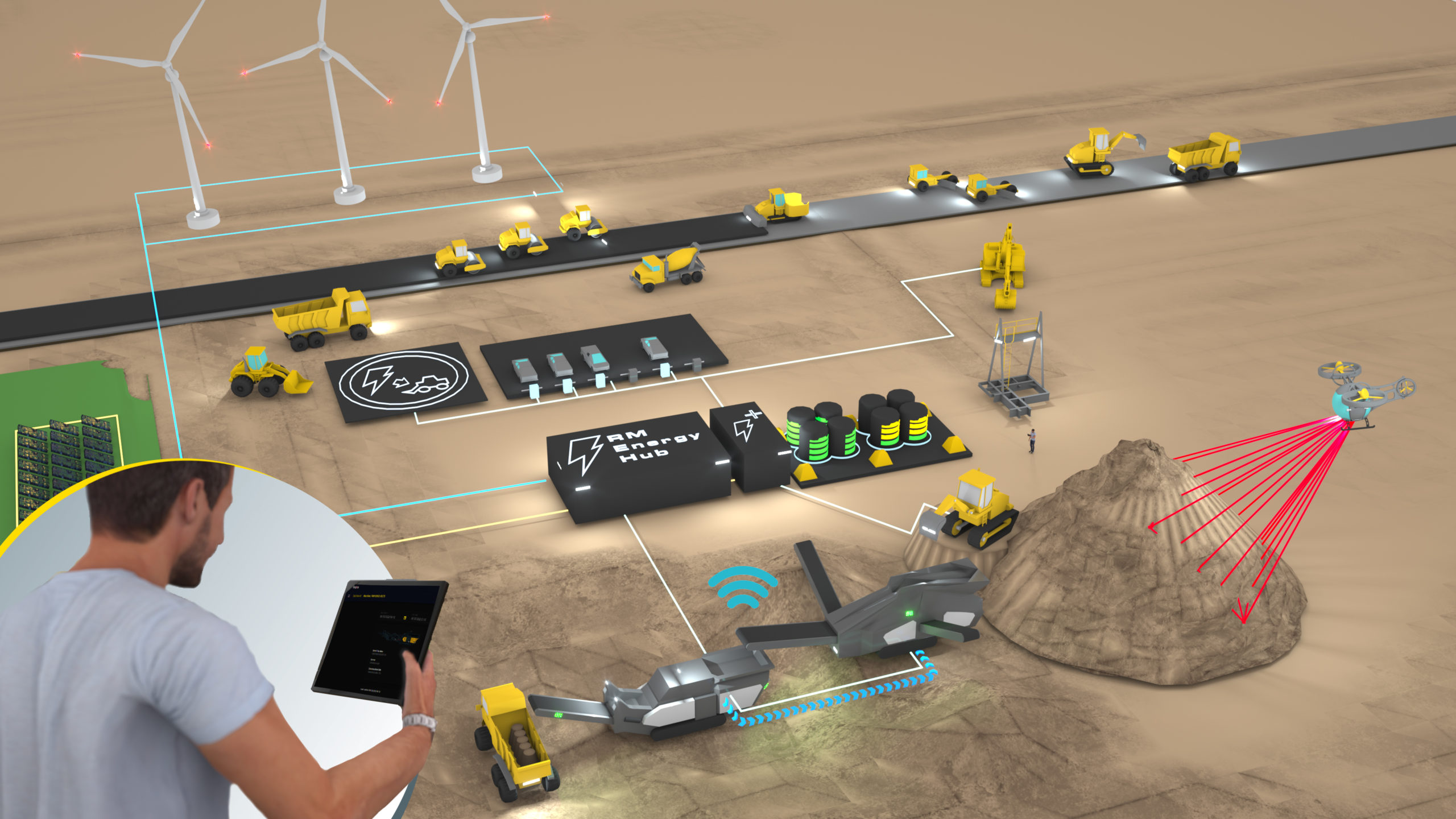 Visions for the construction site of the future
Reading about the construction site of the future often brings up the image of urban construction sites and terms such as autonomous driving, digitalisation and zero emissions dominate. Gerald Hanisch, however, knows his customers: "Construction sites will still vary greatly in the future. Of course, it will be extremely important in urban areas that noise, emissions and dust are kept to a minimum. For construction sites in remote areas such as the jungles of Southeast Asia or desert regions in Central and South America, on the other hand, issues such as energy supply and predictive maintenance are key. That's why our top priority is to respond flexibly." Digitalisation and artificial intelligence are essential for RUBBLE MASTER to evaluate and manage the entire flow of information from sensors and cameras. "Many machine builders see their crushers as solo players in processing. With our mobile impact crushers, we are thinking along the entire processing chain. Depending on the application, pre-screens and post-screens are important components in the process. That is precisely why we have also added a jaw crusher to our product range this year, in order to offer our customers the entire processing line to RM standards. These machines can communicate with each other  in order to avoid belts running empty and to save energy, for example," explains Markus Gaggl, CTO. While autonomously operating crushers and screens are still at the development stage, the RM Group already offers its customers assistance procedures to optimally feed the crushers and screens thanks to the Performance Indicator. https://www.rubblemaster.com/en/rm-next/
Energy supply is a central topic
"Because we take the entire processing chain into consideration, power management has emerged as a particularly important topic for us," says Gaggl, providing insight into another exciting topic from the RUBBLE MASTER innovation forge. Preventing energy from being consumed while machines are idling is one aspect of this topic where we have already come a long way. Still on the desks and PCs of RM engineers, however, are concepts for energy supply. Gaggl also sees the construction site of the future as definitely being electric: "The automotive industry is setting the pace here. Considering that the decision has been made to practically phase out combustion engines by 2030, there will be many more electric construction machines in the foreseeable future." However, the grid operators also need to do their homework and expand the grid more. For RM, this is sometimes the reason to offer its customers the possibility to either connect to the grid or to work completely self-sufficiently or even to supply an entire processing line consisting of pre-screen, crusher and post-screen from a single power source.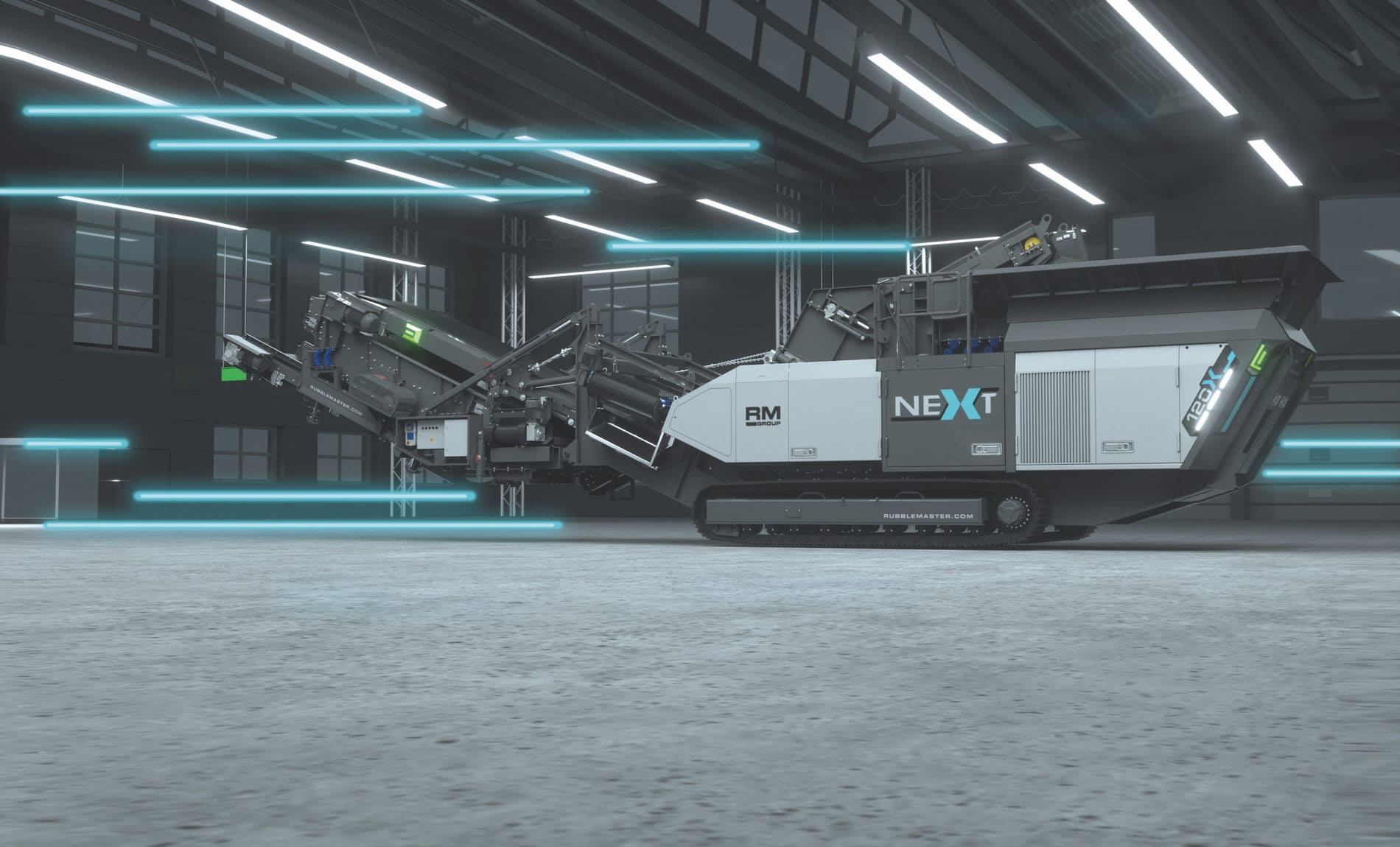 Company culture of innovative design
"We want to remain among the best crusher and screen manufacturers in the world and continue to set the pace for major innovations in mobile processing. We are pulling out all the stops to achieve this," says Hanisch, confirming the company's goals for the next decade. RUBBLE MASTER fosters a culture of innovation and a culture of error within the company. Problems are treated as opportunities to move forward. The key is bringing together the best minds in the industry under one roof at the RM Group. This includes having a dedicated team of employees as well as working together with universities and technical colleges. In keeping with the spirit of open innovation, Hanisch also talks openly about his source of creativity: "Diversity and openness are the most important aspects of creativity for me, to think out of the box and to create something new for our customers."