| | |
| --- | --- |
| Country | Brazil |
| Machine | RM MSC8500M 3D |
| Material | By-product from mining iron ore |
| Feed material | 0/22 mm |
| Final aggregate size | 0/2, 2/8, 8/20 mm |
| Final material use | Steel production |
Brazil is the world's second largest exporter of iron ore. That is why Brazil Iron Ltd's output is correspondingly high: The company's site is located in the northeast of Brazil and produces around 50,000 tonnes of high-quality iron ore every month. Brazil Iron took over the mine in Mocó about a year and a half ago. In doing so, the company found large quantities of 0/22 mm material that had been stacked into huge heaps during previous iron ore production. The material could not be sold because it contained too many fines in the range of 0/2 mm. Sorting the material would have been uneconomical at the time due to the high processing costs and low iron ore prices. After a few months, however, this situation changed abruptly when market prices for iron ore skyrocketed. It became worth processing, so Brazil Iron decided to screen the material. However, this called for a powerful screen being deployed as soon as possible to separate the 2/8 mm material from fines and oversize aggregate to obtain a profitable end product.
RM screen throughput exceeds customer expectations
The customer's expectations were high: the screen had to be available as soon as possible and be able to process at least 80 tonnes per hour in the specified fraction. Máquina Solo, RM Group's Brazilian sales partner, delivered the brand new RM MSC8500M-3D within a few weeks. The 2/8 mm fraction is exported from Brazil Iron to London and is the most lucrative part of the material. The RM mobile screen easily met the customer's needs: the total throughput of 260 tonnes per hour containing around 35% of the valuable fraction, corresponds to a throughput of 90 tonnes per hour of the 2/8 mm material. The tracked triple-deck screen even exceeded the customer's requirements by more than ten percent! The customer was extremely satisfied with the overall operation and reliability of the screen, which ran consistently 16 hours a day for eight months.
Dry mining iron ore – focusing on the environment
Profitability and sustainability go hand in hand at Brazil Iron. That is why ore extraction at the Mocó mine was converted to dry mining. The iron ore is extracted from the mine in its raw form, crushed, graded using screens and cleaned of fines. Water is no longer used to process the mined ore. Dry mining without using water significantly reduces the environmental impact of iron ore extraction. This makes mining more sustainable, safer and easier.
Our crushers in action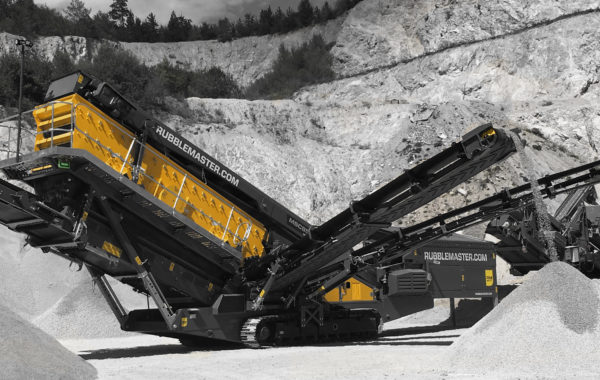 Produce up to five fractions in a single pass – that is what the RM tracked MSC series screens can do to give you a decisive advantage in the market. Depending on requirements, you can use 2-deck or 3-deck machines in quarries, for gravel and sand or for rubble.