Portland Road and Driveway is a family-owned company in Portland, Oregon in north west USA. The owners, Tom and Amanda Bright had been looking for some time for a crusher that finally met all their requirements: recycling, quarry work, compliant with all US health and safety legislation and perfect product to a specified grain size. The company was founded in 1947 and now operates in all sectors of the construction industry. A special challenge was waiting in their own sand and gravel pit: basalt. In RUBBLE MASTER they met the right partner at last.
Looking for crushers in Las Vegas
During a course at CONEXPO, Tom first discovered RUBBLE MASTER's mobile crushers. At the RM trade fair stand, Tom and Amanda Bright quickly realised that RM follows the same business ethos as theirs: both companies focus on customer service and are reliable and fair business partners.
Decision made at RM Xperience Days in Austria
Tom and Amanda urgently needed a machine that can crush asphalt and concrete, as well as basalt. RM listened to their requirements and took samples of the basalt back with them to Austria in order to find the best solution for the company owners. Shortly afterwards, they both decided to attend the RM Xperience Days in Austria to see the RM headquarters in person. "We were looked after from the moment we landed at Linz airport, with a schedule combining business with sightseeing. At RM headquarters it became clear that the extraordinary RM design applies not only to the crushers. The building itself is also an imposing sight," is how Tom Bright describes his first impressions. During their visit they saw for the first time an RM crusher in action: "To say that I was impressed would be an understatement". Three days later he left Austria as the proud owner of an RM 100GO!.
The customer relationship starts with the purchase
When the machinery arrived in Portland, RM Service Manager Scott Price and RM Sales Manager Franz Niedermeier were there to train the employees of Portland Road and Driveway. They demonstrated the most important steps and then let the operators get down to work. The crew were soon able to operate the crusher and screen on their own. With the telephone numbers of Scott Price and Franz Niedermeier they always have somebody at their side to provide support. "With the help of RM, we were finally able to meet the official regulations for crushing concrete and basalt", says Amanda Bright about one of the greatest successes. Even after a very short period of operation the RM machines proved to be very cost effective. "Everything is technically advanced and ingeniously designed, from the impact hammers to changing the screens and the way the crusher is set up. The RM 100GO! has been developed to do one thing and to do it very well: crushing!", adds Amanda Bright.
RM complies in full with US safety standards
The RM 100GO! fully complies with the strict requirements of the Mine Safety and Health Administration MSHA. During an unannounced safety inspection the inspector was amazed to discover the first crusher during his career that met all safety criteria without one single issue. That is thanks to the high level of the safety equipment installed as standard on RM machines.
Our crushers in action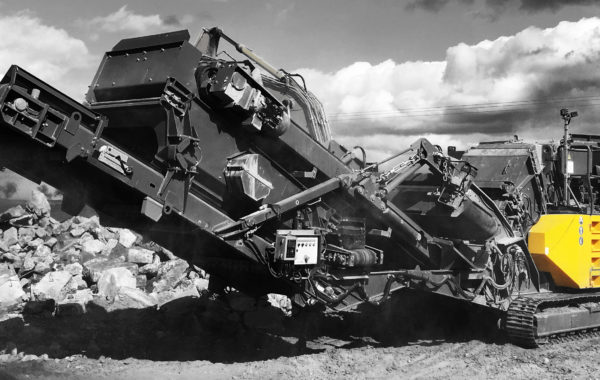 The RM 100GO! is the star among the mobile crushers – a mobile power pack for every application. It is ready for action within minutes and can handle a wide variety of materials extremely quickly. Weighing in at only 29 t when empty, it crushes up to 250 tonnes of material per hour.